Shell's Corrib Deal Gets Final Approval (Correction)
The original Sept.7 version of this story incorrectly reported that the regulator had "provisionally" cleared the Corrib transaction and that its final decision will be published by end-November. Its spokesperson and the government have pointed out that the regulator's Sept.5 announcement was its final approval of the deal - and that full details of how it reached its decision will be released no later than end-November. A corrected version follows:
Ireland's competition regulator has definitively cleared Shell's sale of its Corrib gas field stake.
The Competition and Consumer Protection Commission (CCPC) said September 5, following a phase one investigation, it had agreed to Canadian producer Vermilion Energy becoming operator of Corrib and Canadian fund CPPIB becoming Corrib's largest shareholder. The proposed deal was notified to the regulator on August 7 2018, just over a year after Shell first announced its decision to sell up.
CCPC said it will "publish the reasons for its determination on its website no later than 60 working days after the date of the determination and after allowing the parties the opportunity to request that confidential information be removed from the published version." Sixty working days from Sept.5 should be around the end of November.
Shell announced July 12 2017 it would sell its upstream interests in Ireland, primarily its 45% stake in the Corrib gas field, for up to $1.23bn. The buyer is CPPIB but it will onsell a 1.5% working interest to Vermilion, as well as transferring field operatorship. If finally approved, Corrib final interests will be Vermilion 20% interest (and new operator, previously 18.5%), CPPIB 43.5% and Statoil (unchanged) 36.5%.
Corrib reached full capacity of 350mn ft3/d or 3.6bn ft3/yr (both gross) by end-June 2016, according to Vermilion. At peak, it estimates the field can supply 60% to 65% of Ireland's natural gas needs. First gas was produced at the very end of 2015; it was the first Irish gas field to start up in almost 40 years. The field was shut for one month due to technical difficulties during September-October 2017.
CPPIB has built up a number of interests in energy assets including a 12% indirect stake in Naturgy-run Spanish gas distributor Nedgia (through a joint venture with Allianz), and a 9.6% indirect stake in Norwegian subsea gas system Gassled (the latter through its 40% interest in Solveig Gas).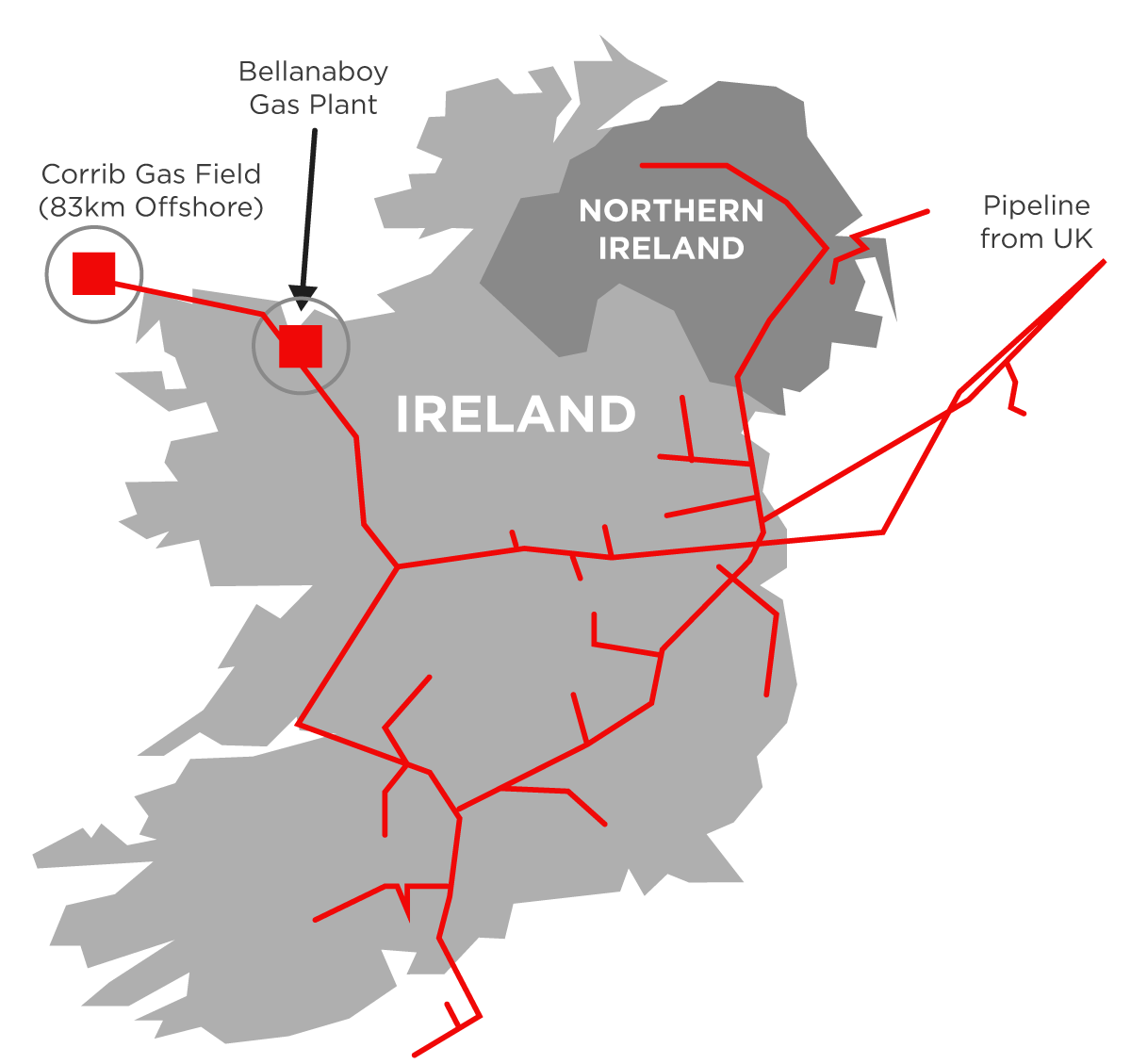 Corrib gas field, offshore northwest Ireland (Map credit: Vermilion Energy)