Shell Says Its Nigeria Power Plant Stymied by Unpaid Debts
Problems facing the Nigeria gas to power sector were among the issues discussed during the Nigeria Gas Summit conference in Lagos, September 27.
Among these were transmission issues which Vincent Chukwueke, the gas integration and planning manager at Shell subsidiary, Shell Petroleum Development Company (SPDC), identified as one of the major problems facing the sector.
Chukwueke said the Shell-run Afam VI power plant was being run on only one turbine, out of the four installed, due to transmission problems as distribution companies (in Nigerian jargon: Discos) were refusing to purchase power due to debts owed them by ministries, departments, and agencies (MDAs), which are all parts of the government.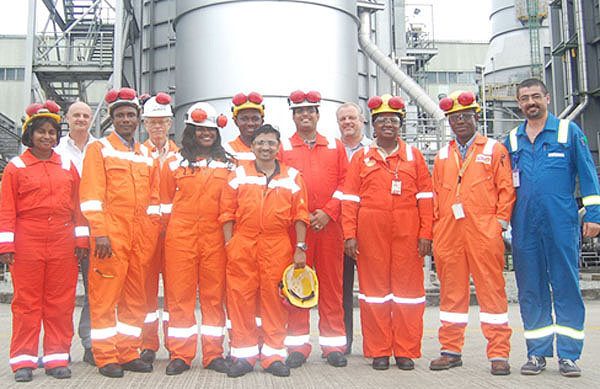 The team at the Shell-run Afam IV gas-fired plant, which in 2015 secured UN carbon credits for reducing emissions (Photo credit: Shell)
Shell's website says that full installed capacity at Afam VI is 650MW, which has the potential to supply 14-20% of Nigeria's power generation. In 2015, it was awarded credits by the UNFCCC for having reduced emissions - becoming the first energy efficiency project based on power generation to be registered from Nigeria and also the first UN-registered Clean Development Mechanism (CDM) initiative in the Shell Group.
Chukwueke told the conference that security challenges also proved to be a formidable obstacle to ensuring gas to power transmission. He said the security challenges and bunkering in the Niger Delta had caused SPDC a lot. In 2017 alone, SPDC has had to shut down the Okoloma gas plant each time there is a leakage in its pipeline.
To these problems, he offered solutions based on the government's willingness to pay up monies owed to the discos, in order to keep the gas to power value chain in constant motion and ensure the country stops experiencing power outages.
While explaining how political hold-ups were bad for business, Chukwueke said that Nigeria's multiple regulations without implementation were scaring off prospective investors, who would like to see strong, clear-cut regulations to be sure they were not putting their money into a shaky sector.
He also advocated for the building of more gas pipelines, so as to increase gas's geographic reach across the country. Currently, the closest pipeline to Northern Nigeria can be found in Ajaokuta, Kogi State. The Nigeria Gas Summit conference lasts from September 26 to 28, 2017 and its key topic this year is 'Driving Investment, Capturing Economic Value and Encouraging Technology Transfer into Nigeria's Critical Gas Sector'.
Omono Okonkwo