Shell and Total Outline How LNG May Help Electrify Africa
"We're at a moment of profound change in the LNG industry," a senior Total executive told delegates at a panel entitled 'Africa's Gas to Power Revolution' at the Africa Energy Forum in London's Docklands on June 24.
Total's vice president for global development Tom Earl said, by that, he meant "the confluence of two factors": a reduction in the price of LNG, and more innovation than before in how the industry can deliver LNG to new markets "so that it is more modular, and at a lower cost than before." It represents an unrivalled opportunity to expand electrification, and in creating an LNG to power value chain in Africa, he said.
"We're ready to invest in power, in ports, where we're needed – and with financing," said Earl, adding that Total also sees "gas as an enabler for solar energy in Africa, in terms of solving its intermittency problem." Earl noted that Chile going forward is only accepting bids for solar projects, if they provide a 24-hour supply solution – including non-solar generation hours – which means that developers now have to offer gas-fired generation or industrial-sized batteries to provide solar generation back-up in those instances. Countries like Morocco may take a similar approach, he suggested.
Jonathan Hoffman, independent generator Globeleq's head of business development for southern Africa, said he often tells his Globeleq colleagues that now is the time to sort out procurement for new projects based on LNG, given how oversupplied the market now is. "It's great to see the big oil and gas players being innovative, given LNG was now a buyers' market," he remarked sardonically.
"We see gas-to-power as the big enabler for our business; whoever lines it up most quickly and responsively will become the winners going forward," added Hoffman.
Globeleq, which is owned by the UK and Norway government agencies, has African gas-fired power plants in Cote d'Ivoire (Azito, 430 MW), Cameroon (Kribi 216 MW) and Tanzania (Songas, 190 MW) all launched on the back of local upstream gas production.
Chris Johnson, general manager for Europe and Africa at Shell's Global LNG division, pointed to Morocco and South Africa as two countries where a large-scale rollout of renewables could make gas the fuel of choice for back-up generation. Whereas in the past, all the oil majors' focus on gas was as an export commodity, now they were beginning to consider piped gas, but also LNG, in terms of supplying local African markets.
LNG could also play a role in meeting the needs of smaller 50-60-MW power plants, added Johnson. China trucks about 10mn tons/yr of LNG on its roads, as such a distribution model from hubs – along similar lines to how Shell distributes in Norway – could play a role in Africa too, he said adding that it's easier to bring small volumes in, and then kick-start larger power projects and terminals later on.
Floating LNG import and regas facilities (FSRUs) can be a solution, but not always where additional breakwaters and jetties are needed that increase the costs, and so small can also mean quicker. Small-scale LNG distribution could also help develop the LNG ship bunkering market, added Johnson. However, Earl cautioned that small LNG shipments can increase the final per kWh cost of generation.
One ongoing challenge in Africa, said Shell's Johnson, is the funding of infrastructure. There was an appetite to invest in power generation, import facilities and even liquefaction – but less appetite to fund gas transmission and distribution pipelines, yet those need to be prioritised: "Achieving the right regulatory and financing structure for gas transport and distribution will be very important."
None of the executives were so explicit, but the limitations of not having the right regulatory regime set up in advance are clear in Ghana where, for a month now, the FSRU Golar Tundra has been waiting outside the Ghanaian port of Tema for permission to dock and connect to the country's gas transport system.
The June 24 discussion in London took place shortly after the UK had voted to leave the European Union. The CEOs of Shell and BP had called, prior to the vote, for a vote in favour of the UK remaining.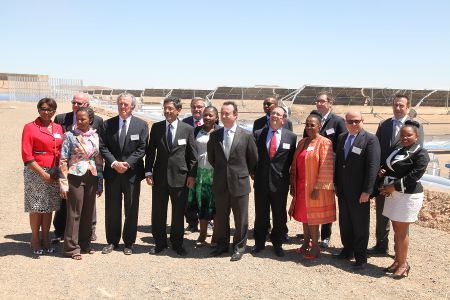 South African government, World Bank and Abengoa representatives at the March 2015 inauguration of Kaxu Solar One (Photo credit: Abengoa)
"Although Shell was in favour of the UK remaining in the EU, we respect the decision of the majority of the British people who voted to elect to leave. We will work with the UK government and European institutions on any implications for us. Our priority is to continue providing reliable, affordable energy to our customers in Europe and the UK," said a Shell spokesman on June 24.
Mark Smedley | www.naturalgasafrica.com