EC, Azeri Officials Meet to Discuss Southern Gas Corridor
The Southern Gas Corridor will start to pump gas from the Caspian Sea to Europe in 2020, the attendees of the third meeting of the SGC advisory council in Baku announced February 23. However there are some risks that may affect the planned schedule.
The chain of the gas pipeline from Caspian Shah Deniz field to the ending point in southern Italy is progressing well, the president of Azerbaijan Ilham Aliev said in the meeting.
The South Caucasus pipeline (SCPX) will be connected to the Trans-Anatolian pipeline (Tanap) that will deliver gas to Greece border and link to Trans-Adriatic pipeline (TAP) – the final section of the project, crossing Greece and Albania on the way to Italy.
The Shah Deniz 2 development project that will produce additional 16bn m³/yr is about 90% done and the SCPX is about 80% done. Lagging behind is the Trans-Anatolian pipeline in Turkey – at 65%, and TAP – at 34%. "We can witness great progress since the second meeting in February last year," he said.
However the slow progress of the construction in Italy raises concerns of possible delays for gas supply to Europe. It was expressed by Azerbaijan energy minister Natik Aliev, during his meeting with US envoy for energy Diplomacy Robin Dunnigan. "TAP has experienced several difficulties with construction. However achievement of SGC goal requires to completion all the segments of the project in time", he said.
The main obstacle for TAP progressed has been resolved, transplant of 200 olive trees will start next week, the Italian minister for economic development Carlo Calenda told journalists in Baku while the European Commission's Maros Sefcovic told them that he will visit Italy for talks on TAP with the governor of Italy's Puglia region.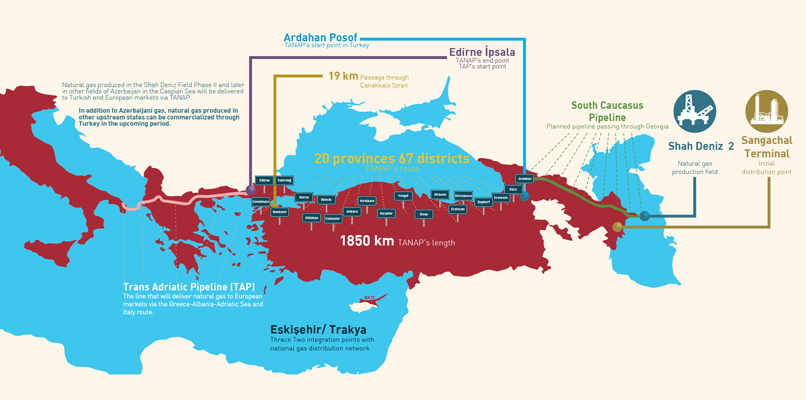 (Credit: Southern Gas Corridor Co)
"This project is very important for all participating countries. It is very important for Europe and it is very important for Italy as well, because Italy will get the most part of the gas delivered by the corridor and may be considered as one of the countries that will benefit most from the project," he said.
Azerbaijan promises to expand gas export to EU in the future by starting up development of another gas field – Absheron. "[The operator] Total has joined the meeting in Baku for the first time," said state company Socar vice-president Elshad Nasirov. Total is so far only committed to supplying a relatively small amount of Absheron gas to the domestic market from 2019, assuming it takes a positive investment decision this year.
However Russia also has an eye on capacity in TAP, bringing in gas further downstream than the SCPX line.
Azerbaijan also wants to include Balkan nations in the project with the development of the Ionian Adriatic pipeline, said energy minister Aliev.
He said that the overall price of SGC was now put at around $40bn, compared with the earlier estimate of $45bn.
Kama Mustafayeva