Serbia Stresses Value of Russia (Correction)
(Corrects Banatski Dvor data)
Russian pipeline gas monopoly Gazprom signed a memorandum of understanding January 17 with Serbian state-owned Srbijagas to develop its Banatski Dvor underground gas storage facility. Gazprom is the majority owner with 51%. The other 49% is owned by Srbijagas.
The signing ceremony beween the two CEOs Alexei Miller and Dusan Bajatovic took place in the presence of the two countries' presidents, Vladimir Putin and Aleksandar Vucic, who said his country would not refuse Russian gas, and it cannot and will not overpay for LNG. Russian investment in Serbia has reached $4bn as of now, Putin said January 15, while blateral trade stood at $2bn last year.
Srbijagas says it plans to increase the capacity of Banatski Dvor from the current 450mn m³ to 750mn m³ and double the withdrawal capacity to 10mn m³/d. Gazprom delivered 2.15bn m3 to Serbia last year, about 1.2% more than 2017 and plans to raise that to 3.5bn m³ this year, Putin said.
Alexei Miller (left), Dusan Bajatovic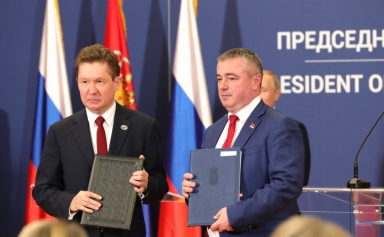 (Source: Kremlin)
Russia is planning to extend TurkStream 2 to Bulgaria, Serbia, Hungary and Austria but recently Putin announced during an interview with Serbia's Politika newspaper that the European Union should provide its members with guarantees that it will not interfere in the project. Putin said investment on Serbian territory would be about $1.4bn.
Russia's earlier attempts to supply more gas to the Balkans ended in chaos as the Bulgarian tendering process for onshore work was deemed to violate EU law and the South Stream project was soon after scrapped by Putin. Its successor is the smaller TurkStream 2 project, which will allow Russia to send less gas through Ukraine.
During the presidential visit, Vucic was – unusually for a non-Russian – honoured with the Russian Order of Alexander Nevsky for services to co-operation with Russia. Serbia and Russia also share the Orthodox faith. Russia is keen to keep Serbia out of Nato, after another former Yugoslav state Montenegro joined in 2017, and the EU wants Serbia and other former Yugoslav territories except Kosovo to become members, following the examples of Croatia and Slovenia.