SDX Finalises Circle Asset Deal
Egypt-focused explorer SDX Energy said it completed the $30mn acquisition of Egypt and Morocco oil and gas assets January 27 from UK-Irish firm Circle Oil. The deal followed a $40mn fund-raising exercise by SDX over the course of the week.
It agreed January 24 to buy the assets, debt-free, from Circle for $30mn cash. The acquisition will increase Canada and UK-listed SDX's total net production by over 247% to some 4,705 barrels of oil equivalent/day, and its net 2P reserves by 64% to 12.03mn boe.
The deal brings SDX a 40% interest in Egypt's NW Gemsa concession, adding net 2P reserves of 3.8mn boe; and in Morocco a 75% interest in both the Sebou and Lalla Mimouna gas concessions, adding net 2P reserves of 0.9mn boe. Circle had a 75% interest in Sebou.
SDX CEO Paul Welch said January 27 the fundraising and acquisition would increase the firm's production and cashflow as it seeks to build a mid-tier E&P company focused on north Africa: "We remain excited about our upcoming drilling campaign in [Egypt's] South Disouq and look forward to updating our new and existing stakeholders on the company's progress over the coming months." SDX operates South Disouq in the onshore Nile Delta where it estimates gross resource potential at 1.3 trillion ft³, with several recent gas finds made nearby outside its perimeter.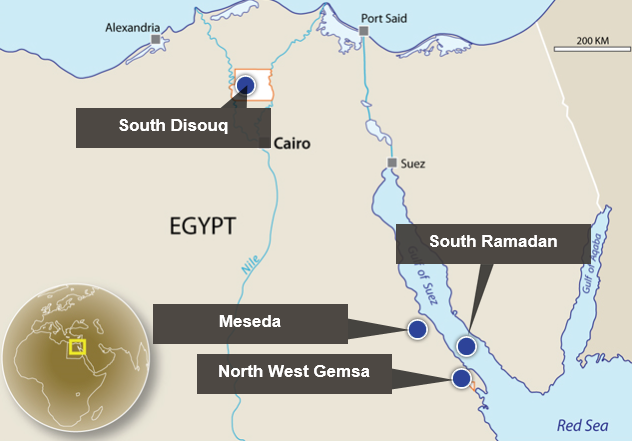 SDX Energy's footprint in Egypt (Photo credit: SDX Energy)
Circle Oil's last regulatory statement December 29 said it had been given yet another extension on a deadline to repay a significant loan plus interest to the World Bank until January 26. It is believed to still retain stakes in three exploration permits: one offshore Tunisia close to the maritime border with the Italian island of Lampedusa; another surrounding the Tunisian island of Djerba, and a third onshore Cap le Bon peninsula.
Mark Smedley