Schlumberger Back in Black
Oil and gas services giant Schlumberger reported a 1Q2017 net profit of $279mn, down from its year-ago $501mn profit, but an improvement from its 4Q2016 loss of $204mn.
CEO Paal Kibsgaard said: "In 1Q, the North America land market continued to strengthen in terms of both activity and pricing." Beyond North America, revenues fell by 7% versus 4Q2016 due to a greater than expected seasonal decline in activity and sales particularly in China, Russia and North Sea.
Schlumberger said its North America revenues of $1.87bn were 6% higher than in 4Q2016, while its international revenues were 7% down at $4.92bn.
Among recent awards, it noted a five-year contract signed with Qatar's RasGas – with optional five 1-year extensions – to provide a broad combination of drilling technologies for up to 70 wells in the North Field, the world's largest dry gas field, holding roughly 10% of the world's known reserves. The country's state-owned producer Qatar Petroleum announced April 3 it was lifting its moratorium on further work on its giant North Field.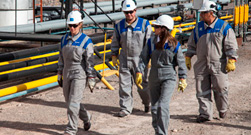 Workers at YPF (Photo credit: YPF)
On April 12, Schlumberger signed a preliminary agreement April 12 with Argentina's state YPF for a joint shale oil pilot project in the Bandurria Sur block in Vaca Muerta, Neuquen, involving a phased investment by Schlumberger of $390mn, in return for which it will acquire 49% in the venture.
Mark Smedley