Scaling up bio-methanation [Gas in Transition]
German startup Electrochaea is looking to scale up the use of a bio-methanation technology it has developed to produce grid-ready methane from hydrogen and CO2, after securing a key investment from oilfield services group Baker Hughes in June.
Electrochaea believes its technology can play an important role in making the natural gas grid cleaner. Decarbonising the energy system using renewable electricity alone would be a "daunting task," CEO Mich Hein tells NGW.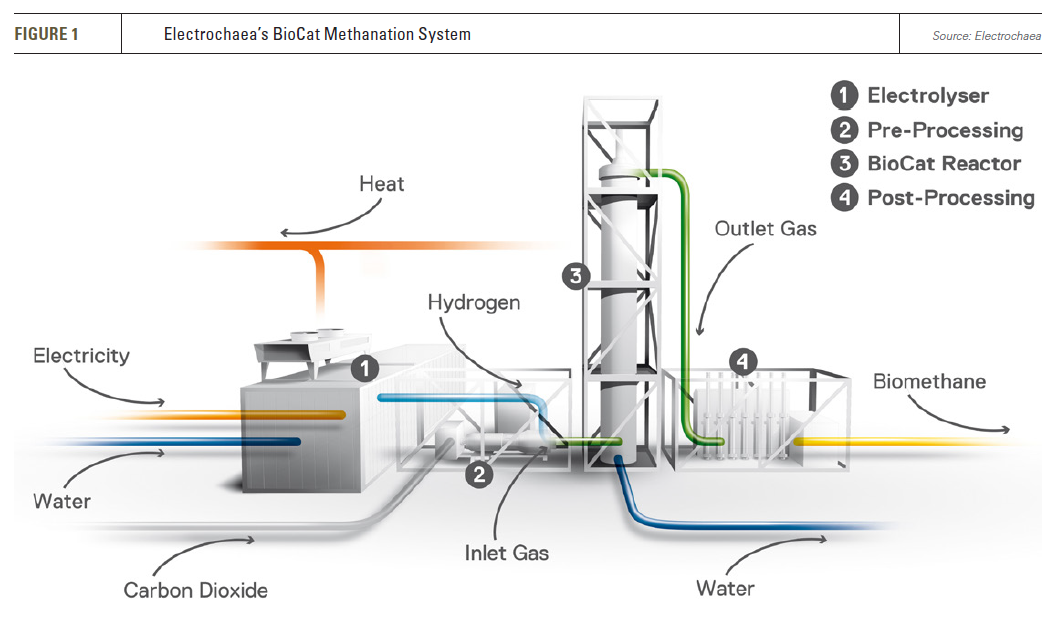 "The best reservoir we have both for energy storage but also for providing reliability and durability of our electrical system is the natural gas grid," he explains. "The backbone of the current power generation system really is the natural gas grid, and I think that most people that love renewables don't realise the critical role that gas plays in maintaining the stability and resilience of that power grid."
The technological process that Electrochaea has developed involves feeding renewable methane into that grid to decarbonise it. The process starts with producing hydrogen at an electrolyser, powered by renewable energy. This green hydrogen is then combined with CO2, potentially that has been captured from industry, and fed into a reactor that houses Electrochaea's patented biocatalyst, a methanogenic archaea. The chemical products of the reaction are water and methane.
The archaea that Electrochaea uses is selectively evolved and has been adapted for industrial application at the University of Chicago. What makes this strain special is that it uses very little of the energy and carbon that passes into the system to grow itself, instead devoting almost all of it to create the methane product.
"This strain is phenomenally inefficient for itself, which makes it really efficient for us," Hein explains. "Only about 1.5% of the carbon and energy that goes into the system goes to make or maintain the organism. The rest of it turns into product. We're able to operate this system with high energy efficiency and high yields of methane."
Unlike chemical methanation, Electrochaea's process also works in relatively low temperatures and pressures, reducing energy needs.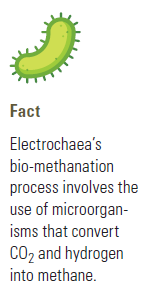 Asked whether the process could be considered carbon neutral, Hein says the carbon index depended a lot on how clean the inputs are.
"The actual carbon index that you calculate is going to be determined by the source of energy that you have and how efficiently you run the process," he says.
Costs likewise depend on market conditions, he says, with the technology best suited for places where there is cheap renewable power that sometimes has to be curtailed because of excess supply.
Watershed investment
Baker Hughes came on board as an investor at Electrochaea in June, obtaining a 15% interest in the startup for an undisclosed sum. Beyond financing, the US firm also brings to the table its experience in carbon capture and utilisation (CCU).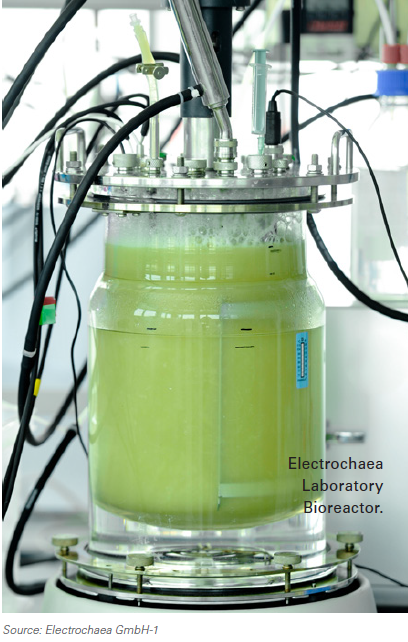 "The combination of these technologies provides an integrated method to decarbonise hard-to-abate sectors such as road transportation and heating," said Rod Christie, executive vice president of turbomachinery and process solutions at Baker Hughes, when the investment was announced. "This agreement is another deliberate step in our strategy to position Baker Hughes for new energy frontiers like CCU by investing in emerging technologies and combining them with our own proven capabilities. Together, we can develop and scale faster, providing integrated solutions that can effectively decarbonise a range of industries."
Baker Hughes is eager to gain a key foothold in the emerging CCU sector. Also in June, it signed memoranda of understanding with Italy's Rosetti Marino and Norway's Borg CO2 to advance projects in their respective countries.
Electrochaea has attracted a number of other investors. Also taking part in its latest financing round were Germany's Munich Venture Partners, KfW and btov, French energy group Engie's Storengy subsidiary, Switzerland's Caliza and Energie 360°, and US-based Focus First Holdings. However, Hein describes Baker Hughes' arrival as a lead investor as a "watershed moment."
Electrochaea has developed two pilot plants for its technology, launched in Denmark and Switzerland in 2016 and 2019 respectively. The latter project received funding from the EU's Horizon Europe funding programme, and has since been moved to Germany and is being prepared for relaunch. The plant in Denmark closed in early 2020 but Electrochaea is preparing to redeploy it.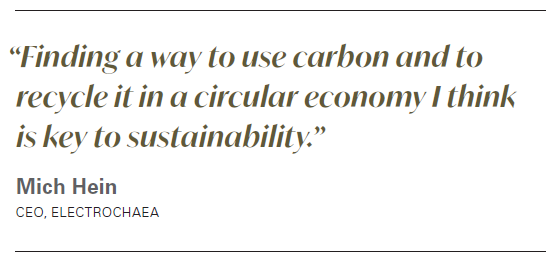 "We've derisked the technology internally with venture capital over the last six to seven years, and now we need to move to scale, in order to meet the market needs and to meet customer needs," Hein says. "The Baker Hughes partnership with us is a watershed event for us. We now have a partner that is integrated throughout the value chain and can work with us to make sure we can accelerate our development at scale."
Hein sees the importance of carbon capture and storage (CCS) but also calls for increased utilisation of CO2.
"Finding a way to use carbon and to recycle it in a circular economy I think is key to sustainability," he says. "And if you store it all under the Atlantic you're not going to have that carbon available as a resource, and as an energy carrier."
The gas industry should see the technology as an opportunity rather than a threat, and although renewable methane is costlier than methane produced from reservoirs, it can ensure that gas infrastructure remains a backbone of energy systems during the energy transition.
"We can change the gas without having to change the business models and without having to change the infrastructure that we have in place that already effectively uses that energy source," Hein says.