Scaling CCUS To Meet Net-Zero Goals
CCUS can play a unique and important role in this transformation, as the only group of technologies that contribute both to direct mitigation efforts as well as to removing CO2 in order to balance emissions that are challenging to avoid – a critical part of 'net' zero goals. The value of CCUS in the climate mitigation portfolio is increasingly being realized and momentum is growing globally, with plans for more than 100 new projects announced in 2021 alone. While encouraging, CCUS developments still fall well short of the scale-up required for net zero. New policy approaches, a focus on industrial clusters, and prioritized development of CO2 storage can help to scale the contribution of CCUS from around 40 million tonnes (Mt) of CO2 captured today to the gigatonnes needed within the next decade.
A key technology for net-zero
CCUS can help to bridge the gap between today's energy reality and a net-zero energy system. Retrofitting CCUS to existing power and industrial facilities can enable these assets to continue to operate and contribute to energy security, energy access, and economic development objectives in a way that is compatible with climate goals. Many of the world's power and industrial assets are located in emerging economies and are relatively recent investments: for example, nearly half of the predominantly fossil-based power fleet in Southeast Asia was built in the last decade. Globally, today's power and industrial facilities could still emit around 8 billion tonnes of CO2 in 2050.
CCUS is a key technology for tackling emissions from heavy industry sectors. This is particularly the case for the cement sector, which accounts for around 7 per cent of global energy-related CO2 emissions. Two-thirds of these emissions are not associated with the use of fossil fuels, but are chemical reactions from the calcination of limestone. These process emissions make achieving net-zero in the sector virtually impossible without CCUS.
CCUS also provides a cost-competitive pathway to scale the production of low-carbon hydrogen – an important energy vector for net-zero – and it underpins technology-based approaches to remove carbon from the atmosphere via direct air capture or bioenergy with CCS.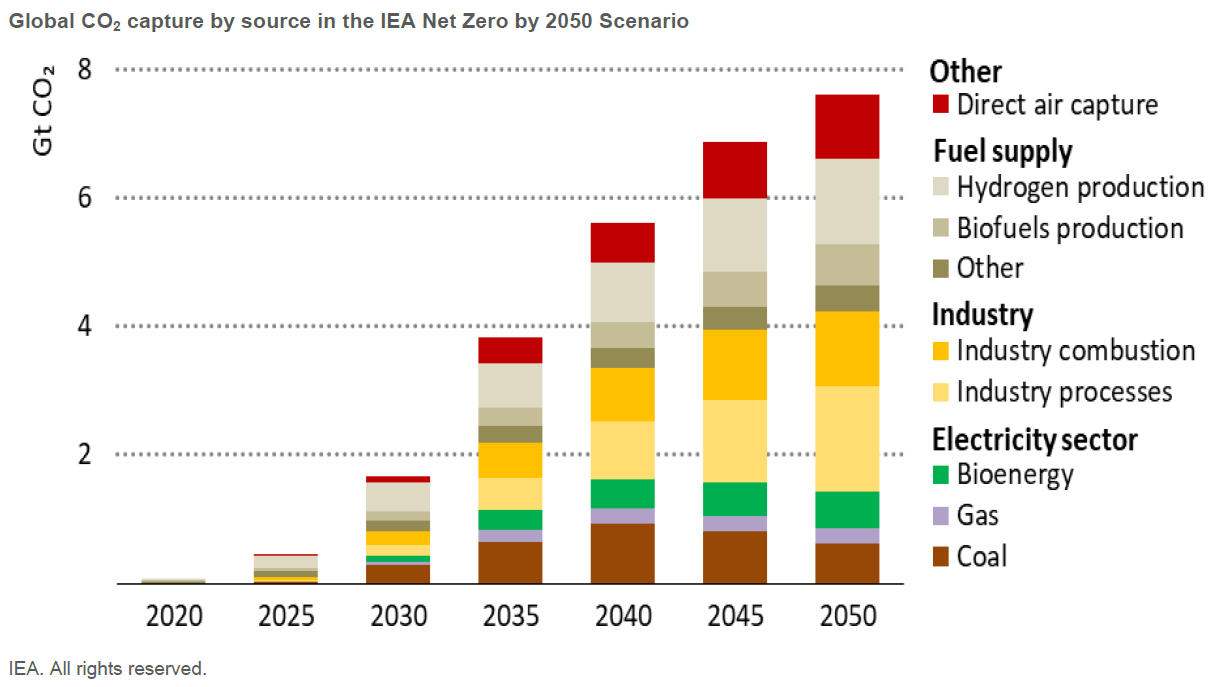 Reflecting this important and diverse role for CCUS, the landmark International Energy Agency (IEA) report 'Net Zero by 2050: A Roadmap for the Global Energy Sector' highlights the need for an accelerated and ambitious scale-up of CCUS to meet net-zero goals. In this scenario, almost 1.7 billion tonnes (Gt) of CO2 are captured across the global energy system in 2030 – a more than 40-fold increase from today. By 2050, carbon management is a major industry in its own right, with 7.6 Gt of CO2 captured, transported, and used (around 5 per cent of the total) or geologically stored.
Unprecedented momentum for CCUS
Today, close to 30 commercial CCUS facilities are operating around the world, with capacity to capture over 40 million tonnes (Mt) of CO2 a year. Some of these facilities have been operating for decades and progress has been relatively slow, with an average of around 3 MtCO2 of new capacity added each year since 2010. Between 2010 and 2017, the global pipeline of planned CCUS projects shrank virtually every year.
This makes the advances for CCUS in recent years all the more remarkable. In 2021 alone, plans for more than 100 new CCUS projects were announced. CCUS projects are now operating or under development in 25 countries around the world and if all projects were to go ahead, the global CO2 capture capacity would quadruple by 2030.
There are three key drivers for this boost in CCUS project activity. First is a growing recognition that CCUS is necessary to meet national, regional, and even corporate net-zero goals. The second relates to the growing interest in producing low-carbon hydrogen, with almost 50 planned facilities linked to hydrogen-related processes. Finally, the investment environment for CCUS has substantially improved as a result of new policy incentives, with governments and industry committing more than $25 billion in funding specifically for CCUS projects and programmes since the start of 2020.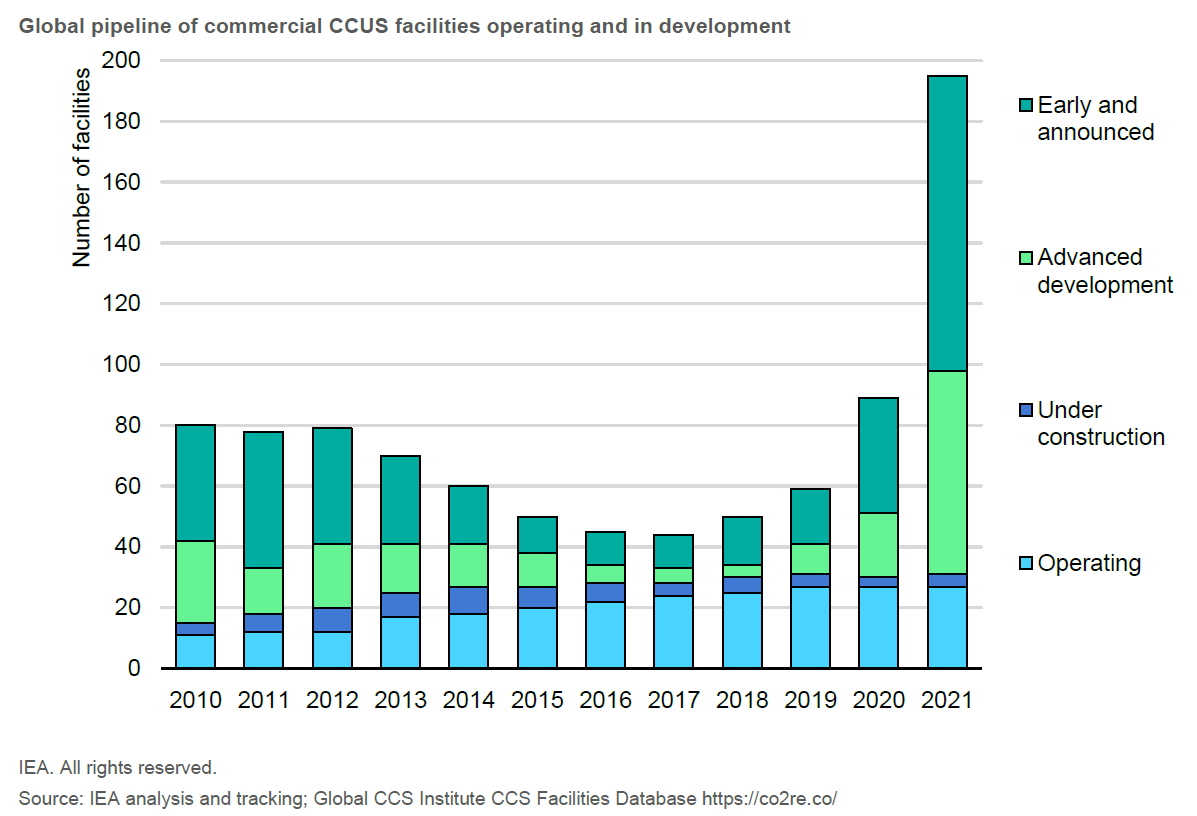 Getting to gigatonnes: priorities to scale CCUS
The recent progress for CCUS is encouraging but also not sufficient for the world to be on track for net-zero goals. Even if all CCUS projects in planning were to successfully navigate the path to commercial operation, the global capture rate in 2030 would be less than 15 per cent of that needed in the IEA Net Zero Scenario.
Further, it is almost certain that not all planned projects will proceed. Many will rely on increased policy support or are in competition for the same funding programmes, such as the EU Innovation Fund or the UK CCS Infrastructure Fund. The availability of CO2 storage could act as a brake on investment if the identification, development, and permitting of these resources is not expedited. And public acceptance and engagement remains a major challenge in some regions, particularly for onshore CO2 storage.
CCUS technologies are not alone in confronting a major challenge to roll out at a pace consistent with net-zero goals. Of 46 critical technologies monitored in the IEA's 'Tracking Clean Energy Progress' analysis, only two are assessed as being on-track: electric vehicles and lighting. This sobering report card is a reflection of the unprecedented scale and pace of the energy transformation required for net-zero by 2050.
Getting CCUS on track will require an evolution in policy frameworks and a major focus on developing carbon management infrastructure, particularly geological CO2 storage resources. Three priorities can help to scale the contribution of CCUS from tens of millions of tonnes to gigatonnes of CO2 capture within the next decade:
---
1. Establish policies that create sustainable and viable markets for CCUS investment.
Targeted policy support for CCUS will be critical to underpin investment at the scale and pace needed for net zero. There is no 'one size fits all' approach to effective CCUS policy design: policies may need to consider different CCUS applications, their maturity, cost, and regional preferences or circumstances. For example
(and all things being equal), the level of incentive or support needed to equip a cement plant with CCUS (with costs upwards of $60 t/CO2 captured) would be higher than for natural gas processing (a mature process with costs as low as $15 t/CO2). In fact, new CCUS projects associated with natural gas processing are now planned in Southeast Asia without any public funding. Across the CCUS value chain, different policy approaches will be needed to facilitate early investment in CO2 transport and storage infrastructure.
Grant funding programmes can play an important role in supporting less mature or more expensive applications of CCUS and for CO2 transport and storage infrastructure. They can alleviate the high capital costs and commercial and technical risks for early projects. However, they can place a heavy burden on public budgets, they are typically limited to a small number of individual facilities, and can be time consuming in their implementation.
A rapid scale-up of CCUS will necessitate an increasing shift towards market-based measures that can complement grant funding and provide a stable and ongoing framework for CCUS facilities to operate over the long term. This evolution in policy is already emerging: the 45Q tax credit in the United States, which was expanded in 2018 to provide $50 t/CO2 stored and $35 t/CO2 used (including for enhanced oil recovery), has been a key driver of the boost in planned CCUS projects across a range of sectors, applications, and regions. In Europe, higher carbon prices are generating strong interest in CCUS, while Australia has made CCUS projects eligible for credits under the Emissions Reduction Fund, a key factor in the Moomba CCS project reaching a final investment decision in 2021.
2. Target industrial clusters with shared infrastructure
The development of industrial CCUS clusters with shared CO2 transport and storage infrastructure can support economies of scale and make it feasible to capture CO2 at a larger number of smaller industrial facilities, for which dedicated infrastructure may be impractical or uneconomic. Concentrating CO2 infrastructure around these clusters can promote more efficient infrastructure investment in the near term and provide a basis from which to further expand CO2 networks consistent with net-zero pathways.
Governments can play a leading role in the early planning and co-ordination of CO2 transport and storage infrastructure, including support for the initial oversizing of capacity. The availability of excess capacity can substantially reduce lead times for future CCUS facilities and be a major factor in new facilities adopting CO2 capture. The Alberta Carbon Trunk Line in Canada received significant government support (around $430 million), enabling it to be built with more than 90 per cent of its 14.6 MtCO2 capacity free to accommodate future projects.
3. Identify and develop CO2 storage
The availability of CO2 storage could act as a brake on the roll-out of CCUS without a substantial increase in investment to develop geological resources. Although global CO2 storage resources are considered well in excess of likely needs, the time to identify, characterize, and develop specific CO2 storage sites can be in the range of 5–10 years or even longer, depending on the location, resource characteristics, and availability of existing data.
The time to develop CO2 storage is typically much longer than the lead times for developing CO2 capture facilities. In some regions, including Europe where CO2 prices are rising and interest in capturing CO2 is expanding, the demand for CO2 storage has potential to outstrip the availability of supply in the coming decade.
---
The required scale-up for CCUS under net-zero pathways represents an immense challenge. However, the recent momentum in project activity together with opportunities to accelerate deployment through durable policies and strategic investment in infrastructure, including CO2 storage, provides a strong foundation for CCUS to deliver the gigatonnes of abatement required this decade.
---
Originally published by The Oxford Institute for Energy Studies.
The statements, opinions and data contained in the content published in Global Gas Perspectives are solely those of the individual authors and contributors and not of the publisher and the editor(s) of Natural Gas World.