Samsung, KBR to Build Texas LNG
Texas LNG Brownsville has selected Samsung Engineering and KBR for construction of its 4mn mt/yr LNG project at the Port of Brownsville in South Texas.
Samsung and KBR will provide Texas LNG with pre-final investment decision detailed engineering and post-final investment decision engineering, procurement and construction services, Texas LNG said March 2. Samsung, a minority equity owner and technical partner of Texas LNG, has already completed the conceptual study, pre-front end engineering design (Feed) and Feed for the LNG export project. Pre-FID detailed engineering is expected to begin this year.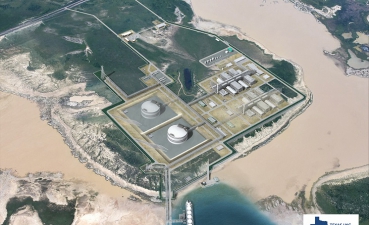 The proposed Texas LNG project (Credit: Texas LNG)
In January, Texas LNG Brownsville signed detailed non-binding agreements with four LNG buyers in southeast Asia and China for a volume of 3.1mn tn/yr which can go up to 4mn mt/yr. It did not name the buyers, but said that they were a mix of state-owned and private entities that currently own, or plan to construct, LNG receiving facilities in the next few years.
FID for the development of the project is expected in 2018.
Shardul Sharma