S Africa Backs Karoo Fracking
South Africa's government will back shale gas exploration in the country's Karoo region, said the mineral resources minister Mosebenzi Zwane (pictured below) in a speech March 30.
Based on the balance of available scientific evidence, the government took a decision to proceed with the development of shale gas in the Karoo formation of South Africa, he said.
He said that if production proves to be economic, "the development of shale gas is expected to create direct and indirect employment opportunities and contribute meaningfully to the country's gross domestic product. Other potential economic benefits of shale gas include business development within local communities, including lower energy prices, creation of black industrialists, employment, specialised skills and youth development."
He noted that he is aware of the "risks and challenges" associated with shale gas development, especially on water and on the environment.
"In addition, the South African Government has augmented the regulatory framework to ensure that the exploration of shale gas resources is orderly and safely developed through technology called hydraulic fracturing. Government has taken comprehensive measures to alleviate the risk associated with the development of shale gas."
In another speech a fortnight earlier, he said that the Karoo basin is estimated to have 390 trillion ft³ in unproven technically-recoverable shale gas resources.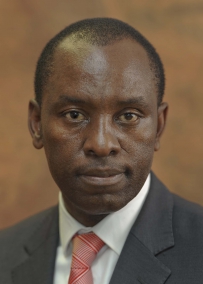 (Credit: government)
He said that "a cautious approach" was being followed, through a moratorium on the processing of applications.
"This was followed by the initiation of a technical study of the use of hydraulic fracturing in the development of shale gas resources. This is to ensure that the process is undertaken in a responsible manner, having regard to the technical nature of the exploration process, environmental and water impacts as well as socio-economic impacts of its development," he said.
South African shadow energy minister Gordon Mackay cautiously welcomed the announcement, recognising "the huge potential shale gas has to radically transform SA's economic landscape through the provision of abundant cheap energy, the creation of jobs and the development of ancillary industries. The highest possible environmental standards must be applied to exploration and extraction with regular monitoring of the health of the underground aquifers."
South African Oil and Gas Alliance CEO Niall Kramer also welcomed the news, saying that "responsible exploration is the only way to get empirical SA data to establish if there is or isn't viable gas. The next step should now be the issuing of licenses to responsible explorers."
Energy company Sasol is SA's largest player in natural gas, importing it via pipeline from Mozambique. Spokesman Alex Anderson said: "While Sasol does not hold any licenses within the Karoo region, we remain interested in the upstream oil and gas potential, including shale gas in the Karoo and elsewhere.
"As a consequence, we continue to monitor regulatory developments, and if new commercially viable opportunities are presented, we will actively evaluate and pursue these."
South Africa also now has a new energy minister: Mmamoloko Kubayi has replaced Tina Joemat-Pettersson in a government reshuffle, it was announced March 30.
John Fraser