Russia Eyes Doubling Gas Exports by 2035
Russian energy minister Alexander Novak told the St Petersburg Gas Forum October 4 that Russia's gas exports are growing by 6-7%/yr while global gas demand growth is at 2.6%/yr until 2035. "Russia could double gas export by this date," he said.
Russia exported 205.4bn m3 pipeline gas and 15.5mn mt LNG (21bn m³ of pipeline gas equivalent) last year, the BP Statistical Review of World Energy estimated. Novak said that by 2035, Russia could export 80-115mn mt/yr of LNG.
"Gas demand in China will increase by 447bn m3/yr; in the US by 446bn m3/yr [some of this might be to meet LNG export demand though]; in the rest of Asia by 197bn m3/yr, and in Europe, we expect growth of about 70bn m3/yr by 2035," Novak said.
Novak's estimates are even higher than the International Energy Agency's most optimistic scenario (see below), which foresees 1.9%/yr growth by 2040.
In the nearer term, Russia's pipeline gas exports to the EU will go up in 2018, reaching 205bn m3, Gazprom CEO Alexei Miller said at a plenary session of the St Petersburg International Gas Forum October 4.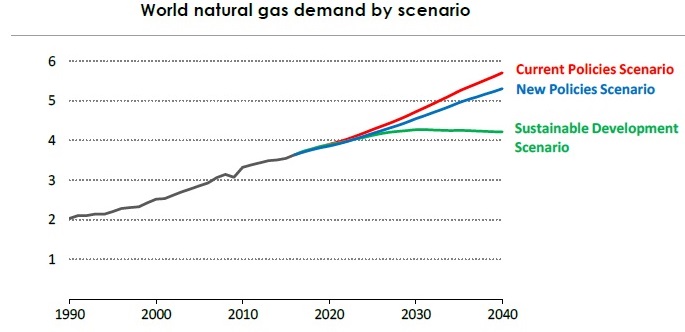 Source: IEA, trillion m³. Current policy scenario assumes no new measures beyond those adopted today, yielding 1.9%/yr groth; the growth rate in new policy scenario is 1.6%/yr; while in the sustainable development scenario, demand grows 0.6%/yr.
Nord Stream beats nameplate
Miller added that over the past 12 months to September 2018, Nord Stream was working at 7% above its design capacity of 55bn m3/yr, further proof that Nord Stream 2 is needed.
He said that the parallel line of the same capacity is expected to become operational in January 1, 2020, while NS2 technical director Sergei Striukov said building work on the offshore section in Finland started September 5 and at the same time, another pipelayer, Castoro 10, is building Germany's offshore section. The offshore section of NS2 is expected to complete in a year and the whole project be ready by December 2019, taking Gazprom gas in the beginning of 2020. The full capacity of project is 55bn m3/yr.
Miller said gas prices in the EU rose a fifth in 2018 as LNG prices are third higher again in Asian markets: "We need to look at China, which shows the highest growth rates of gas consumption. Last year, gas demand in China grew by 15.3%, and in the first nine months of 2018 the growth rate was 17.5%. These numbers are impressive, very impressive."
Gazprom expects to finish the 38bn m³/yr Power of Siberia line to China by 2020.
Miller also said that offshore section of TurkStream on the Black Sea bed would complete in two months. The project with 33bn m3/yr transit capacity is also expected to complete by 2020. Half of this figure is expected to be supplied to EU through Turkey.