Russian gas flow to Europe drops by a fifth in April as gas war begins
Lithuanian president Gitanas Nauseda announced on April 1 that his country had become the first in Europe to stop importing Russian pipe gas. Since then, its Baltic neighbours Estonia and Latvia have also declared their intention to end Russian purchases by the end of the year. The three states imported a combined 2.6bn m3 [1] of Russian gas in 2021, and thanks to Lithuania's 4bn m3/yr Independence FSRU, and Latvia's 2bn m3 of gas storage, they can now do without this supply from Gazprom.
Relations between Gazprom and the Baltic states have been strained for years, culminating in 2018 with the European Commission imposing [2] binding obligations on the Russian supplier to enable the free flow of gas at competitive prices in central and eastern European markets. Given that the three states only account for 2% of Gazprom's sales to Europe, recent reductions have had little impact on overall flow to the continent. But on April 27, Gazprom unilaterally halted gas supply to Poland and Bulgaria. Both had already stated they did not intend to renew their long-term contracts with Gazprom, due to expire at the end of this year. Poland's contract covers 10bn m3/yr of supply, while Bulgaria's is for 2bn m3/yr, amounting to roughly 8% of Gazprom's total deliveries to Europe.
This is to say that Europe already lost close to 10% of its supply from Gazprom in April as a result of political fallout from the war in Ukraine. Poland is better prepared than Bulgaria to manage without Russian gas as over the last decade it has pursued a prudent energy policy, diversifying its supply with the construction of a regasification terminal in Swinoujscie, reaching contracts for non-Russian LNG supply, improving its connection with the Baltic states' gas system, and building a new pipeline from Norway, due to be operational in October.
Bulgaria, on the other hand, only has gas connections with Romania and Turkey, and was still relying mostly on Russian gas until the cutoff. Fortunately, though, Bulgaria also benefited from EU support for increased gas interconnectivity between member states, in particular support for the Gas Interconnector Greece-Bulgaria (IGB) [3], which should come online in September this year, and enable more Azeri gas to flow to Bulgaria via the Southern Gas Corridor. Once IGB is up and running, it will provide Bulgaria with 1bn m3/yr of Azeri gas. As the pipeline's capacity is 3bn m3/yr, the remaining 1bn m3/yr of Russian supply could be met with extra Azeri gas or LNG from Greece's Revithoussa regasification terminal [4].
By cutting supply to Bulgaria and Poland, Russian president Vladimir Putin has kickstarted the EU transition away from Russian gas, allowing the two countries to claim damages from Gazprom for breaching long-term contracts. With Austrian company OMV's long-term contract with Gazprom running until 2040, some further political intervention, whether through Russia halting supply or an EU embargo, will be needed to avoid the bloc waiting until 2040 to fully remove Russian gas, and stop sending $200mn daily to Moscow [5]. But as OMV decided to bypass EU sanctions by opening a ruble account, it might make itself vulnerable to EU sanctions.
The overall 21% month/month reduction in Russian gas flow to Europe could be partially explained by volume cuts by the Baltic states and the halt in supply to Bulgaria and Poland, as well as the usual seasonal swing in demand. The drop was most pronounced in supply via Belarus (-54%). As usual, Russia's direct gas deliveries to Europe were least affected, seeing a reduction of only 8%.
Gazprom's monthly gas exports to Europe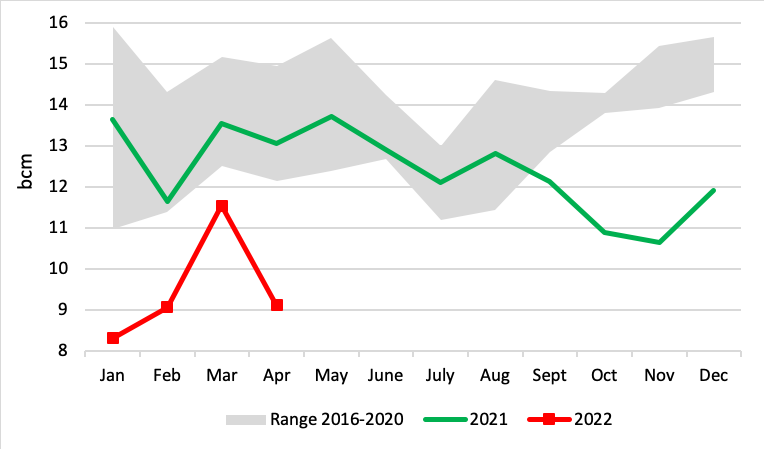 Source: Gazprom, Entsog, thierrybros.com
According to Gazprom, its exports to countries beyond the former Soviet Union amounted for 50.1bn m3 in the first four months of this year, down 26.9% yr/yr. Export volumes to the EU we estimate came to 38bn m3 in January through April, down 25.5% yr/yr.
Split of Gazprom's monthly gas exports to Europe by route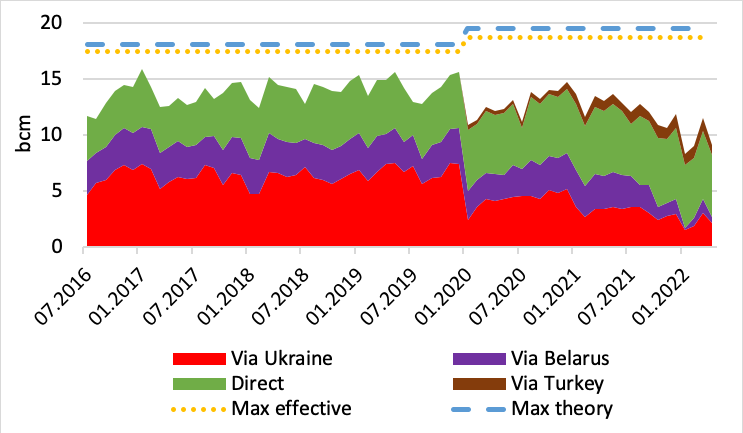 Source: Gazprom, Entsog, thierrybros.com
Outside the contractual structure, Putin requested long-term contracts to be paid in rubles instead of the usual euros and US dollars. Most European utilities declined to consider this request. Unfortunately some, like Hungary, agreed to the Kremlin edict to pay for gas in rubles. Hungary's MVM CEEnergy recently signed a 15-year contract with Gazprom that comes into force this year and covers 4.5bn m3/yr of supply. Slovakia's SPP has a 20-year contract ending in December 2028 that meets 100% of its demand, with the next payment due on May 24.
While Gazprom halted gas flow to Bulgaria and Poland, LNG send-out has hit a record summertime level on April 27. It was up 24% yr/yr in April, and the system still has some upside flexibility to attract, if needed, additional cargoes.
European LNG send-out, excluding Malta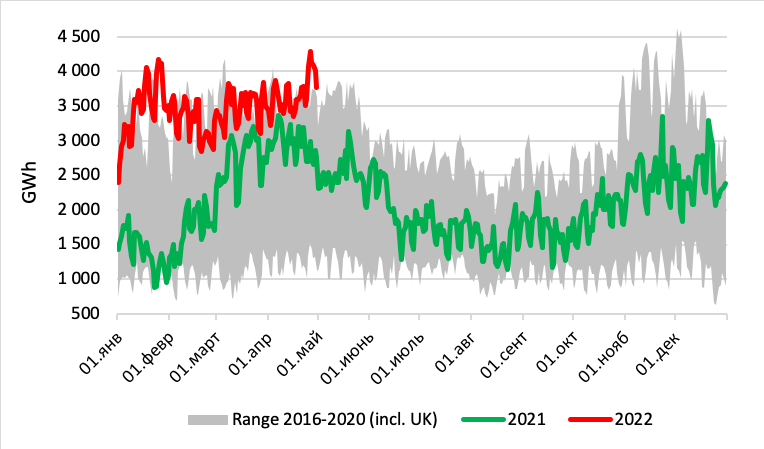 Source: GIE, thierrybros.com
On April 18, the 2022 curve crossed the 2021 one, showing a material increase in the EU storage level. Even if at the end of April, storage is still below the five-year average (33% versus 44%), the trend shows that the market is working towards the European Commission target of having 90% storage utilisation by October 1. Even if the winter-summer spread doesn't incentivise the refilling of storage, the risk of not meeting this target, when states have permanent sovereignty [7] over natural resources and by extension gas storage, is too high to guess estimate state reactions, which could include full nationalisation of facilities if the target is not achieved. We can nevertheless expect European utilities faced with this new obligation to request subsidies.
EU gas storage utilisation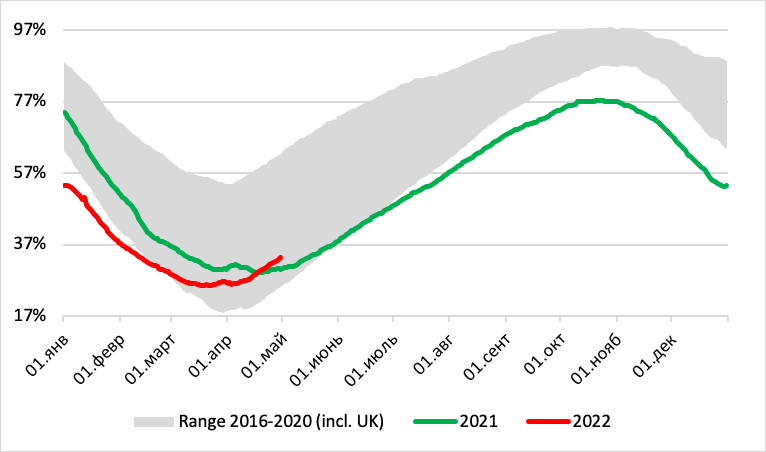 Source: GIE, thierrybros.com
A Russian oil embargo, the second step of my three-step process of banning Russian energy imports that I suggested back in March, is now discussed at an EU level. We shall see how much traction it will gain in the bloc. Pressure is piling up on Germany and its political, diplomatic and business elite that, for too long, had been enjoying the benefit of low Russian gas prices. Given the level of press scrutiny, it is highly possible that the current scandal hanging over Manuela Schwesig, the head of Germany's Mecklenburg-Vorpommern state, who literally allowed Gazprom to dictate government policy regarding Nord Stream 2, could be the first of many.
The latest EU quarterly gas market report depicts an environment where hub spot and long-term Russian contract prices contrast starkly. If recent EU data is correct, we are starting to see that some long-term Russian contracts have a ceiling way below actual record prices. This is particularly true in Italy, where Russian gas is sold at a fifth of the spot price. This could also explain the reluctancy of some countries to ban Russian gas, as this would entail not only a risk of scarcity but would make local industry no longer profitable.
Hub and long-term contract prices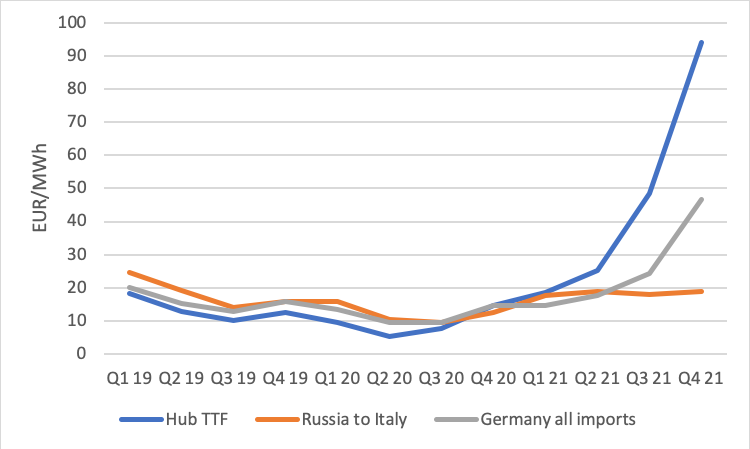 Source: European Commission, thierrybros.com
Strangely, though, this does not correlate with Gazprom's disclosed export prices in its quarterly reports.
Gazprom's gas sales to Europe and export prices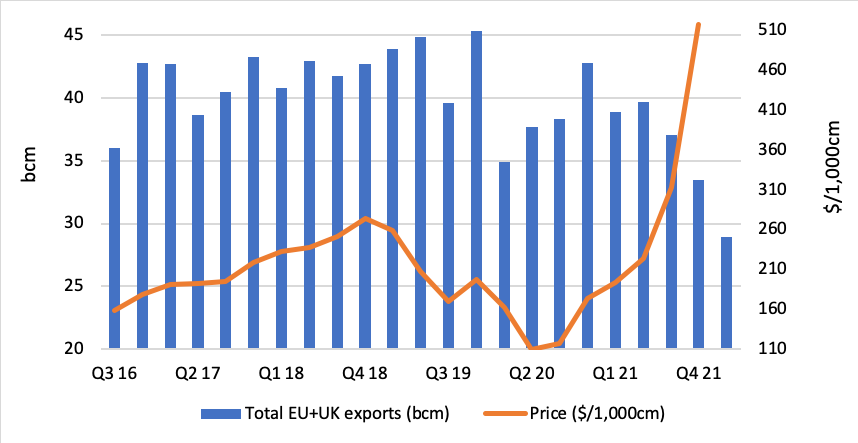 Source: Gazprom, thierrybros.com
Dr. Thierry Bros
Prof SciencesPo & Energy Expert
May 4, 2022
---