Russia keeps gas market tight
Gazprom's flows were down massively in October both year on year (-22%) and month on month (-9%)[1]. Since the end of September, when the energy crunch started in Europe, Gazprom has reined in supply substantially. As COP26 is ongoing in Glasgow, Europe can only wonder why the world's biggest gas producer is keeping the global gas market so tight.
Gazprom's monthly exports to Europe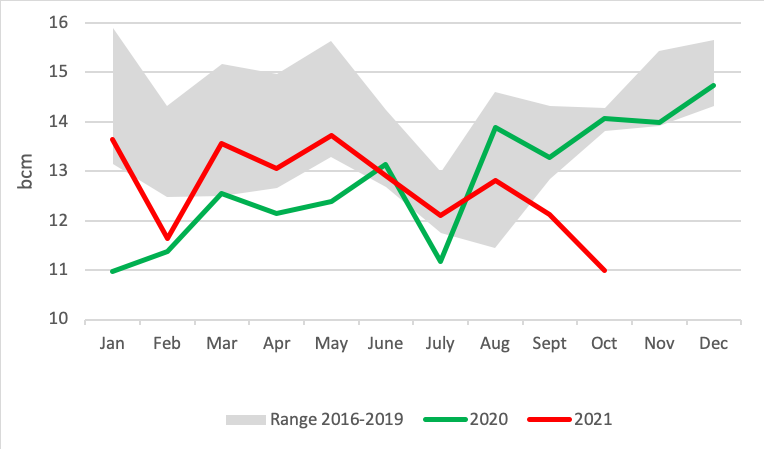 Source: Gazprom, Entsog, thierrybros.com
Year-to-date, Gazprom exported 1.5bn m3 more than in 2020 (+1%) but 12.6bn m3 less (-10%) than the 2017-2019 average. As we are now used to living with the virus, we should compare 2021 to pre-2019 and not to 2020, when the economy was severely affected by the pandemic.
Gazprom[2] produced 15.8% more gas in the first ten months of 2021 than in the same period of last year and exported 10.4% more to the countries beyond the FSU. The difference can be explained partially by geographical factors, such as the exclusion of Turkey in the volume for Europe (exports to that country grew by 110%), and the use of European storage[3]. The increased production benefited first Russia and then its closest neighbours, whereas countries further afield benefited less.
Gazprom's exports to Europe in January-October, 2027-2021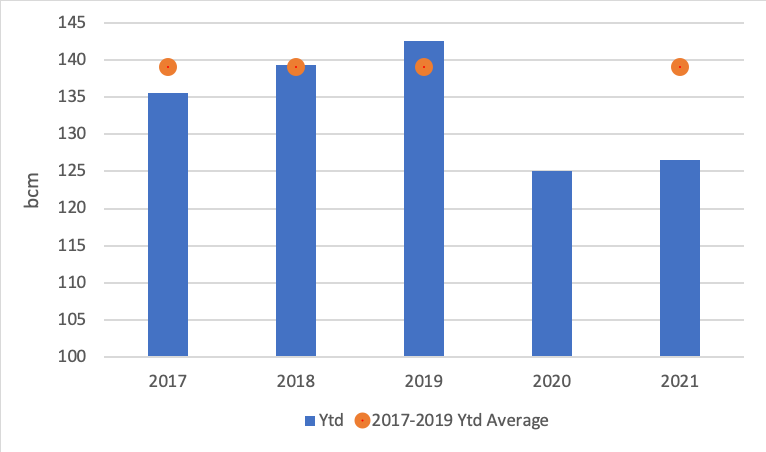 Source: Gazprom, Entsog, thierrybros.com
The transit deal signed in December 2019 between Gazprom and Naftogaz provides for 40bn m3 of transit volumes in 2021. As the 40bn m3 should be flowed at a uniform rate of 110mn m3/day, any lower historical flow cannot be mitigated by higher contracted flows. For higher flows, Gazprom needs to book additional capacity with the Gas Transmission System Operator of Ukraine (GTSOU), as it already did last year. But Gazprom seems, so far, unwilling to do so, with transit volumes via Ukraine capped at the maximum contracted allowance.
On October 1, Hungary and Croatia started receiving Russian natural gas via a new route[4], Turkstream. If we assume[5] 3.5bn m3/year out of the Hungary's 4.5bn m3/yr contract is rerouted to Turkey rather than sent via Ukraine and Belarus, we have a 10mn m3/d (0.3bn m3/month) switch, which is exactly the increase witnessed. In October, flows to Europe via TurkStream reached a new record high on a monthly basis.
On October 29, after intense negotiations, Moldova finally extended its contract for Russian gas supplies for five years[6].
Split of Gazprom's monthly exports to Europe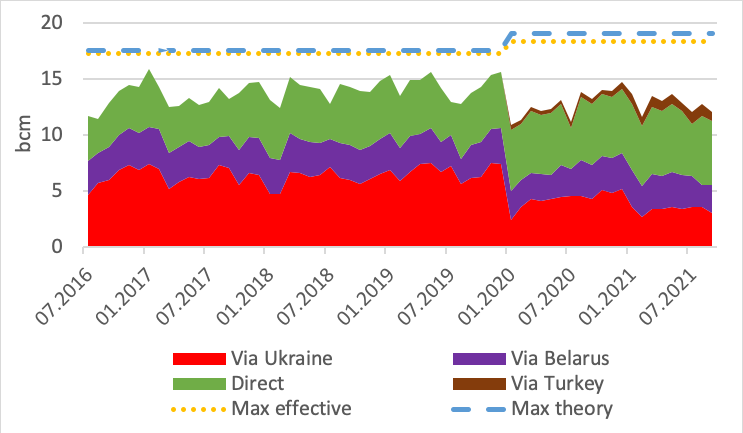 Source: Gazprom, Entsog, thierrybros.com
LNG send outs were up in October both month on month (+15%) and year on year (+2%), as record prices are now making Europe a more attractive destination. Year-to-date, Europe LNG regasification is down by 20bn m3 versus last year, but fortunately up 8bn m3 versus the historical pre-Covid average. LNG supply has been reacting more than the Russian pipe imports to the spike in prices.
European LNG sent outs (excluding Malta)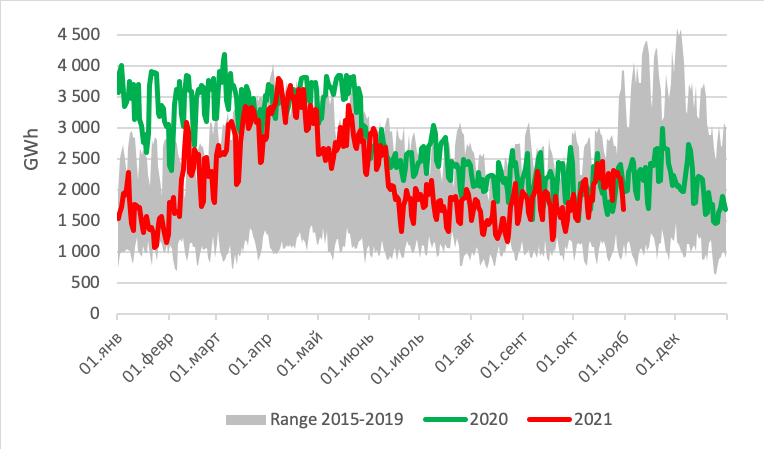 Source: GIE, thierrybros.com
On April 19, Europe's gas storage was at its lowest (29.1% full) before a delayed, feeble injection period. Persistent limited Russian and LNG flows have pushed storage lower than its 2015-2019 historical range, leading to record high TTF prices. Storage started the withdrawal period on October 21 (77.4% full) with a worrying 7bn m3 lower than the past record low (2018) and 15bn m3 lower than the historical average. With 77% storage full on November 1, can we get through winter with such a tight balance and low Russian imports?
European storage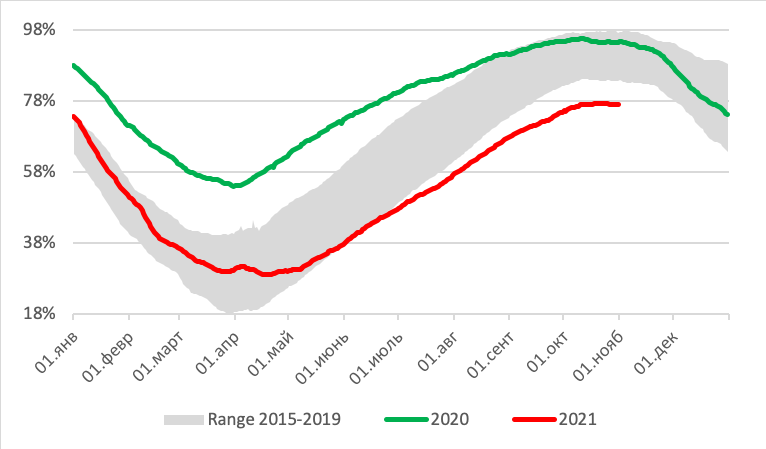 Source: GIE, thierrybros.com
President Putin is mastering his chest game versus European leaders as his country is the only one with spare capacity that could relax the tight supply-demand balance. Now that Russian storage is full[7] (72.6bn m3 on October 29), can we expect more Russian gas in November to ease the next transit crisis (Algeria to Spain via Morocco)? While the market was expecting Gazprom to start refilling its German storage, the flows from Russia to Germany via Mallnow unexpectedly stopped on October 30 and flows via TurkStream were reduced on November 1. Gazprom is mastering the "uncertainty strategy"[8] that is providing added benefits and forcing everyone to react to its unexpected moves. Could there also be a hidden agenda?
Once flows stop via Morocco, Spain gets 0.4bn m3/month less of gas via this transit route. There is some spare capacity in Medgaz (0.3bn m3/month) but Algeria will need the month of November to get Medgaz to full capacity. LNG storage in tanks is at a record high in Spain. Algeria will need, as publicly stated, to increase both pipe flows via Medgaz and provide additional LNG (assuming they have the available shipping), not immediately but from the end of December, to avoid a tighter energy crunch in Spain. To balance the closure of this Morocco transit line, Spain will need to attract 1 cargo more per month from January 2022, on top of Medgaz being fully used.
The EU Green Deal or "fair energy transition", launched by Ursula von der Leyen when taking the helm of the EU Commission back in December 2019, is turning under her own eyes into an unfair climate disaster where customers pay more and EU emissions are worsening. After the EU Council on October 21, Ursula von der Leyen, for the first time, moved away[9] from her official hydrogen dogma to some pragmatism. This is a welcome shift, but it is not enough to alleviate the energy crunch this winter, as she stops short of asking Gazprom to use its spare production capacity and to ship more gas via Ukraine. With high energy prices, pragmatic leaders are fearing an economic downturn and need to find ways to mitigate this increased risk. With Japan asking OPEC for more oil, more and more OECD leaders are shifting to a realpolitik position. The top three countries to turn to if we need more gas are Russia, Qatar and the US. The next step for the EU Commission should be to recognise this and to foster extra investment in those countries to boost global exports. This will take some time as it is clashing with the COP26 agenda. I expect if we avoid a recession[10], that the global gas spare capacity is going to shrink even further next year before extra capital expenditure provides extra capacity.
Spare gas production capacity (on an annualised level)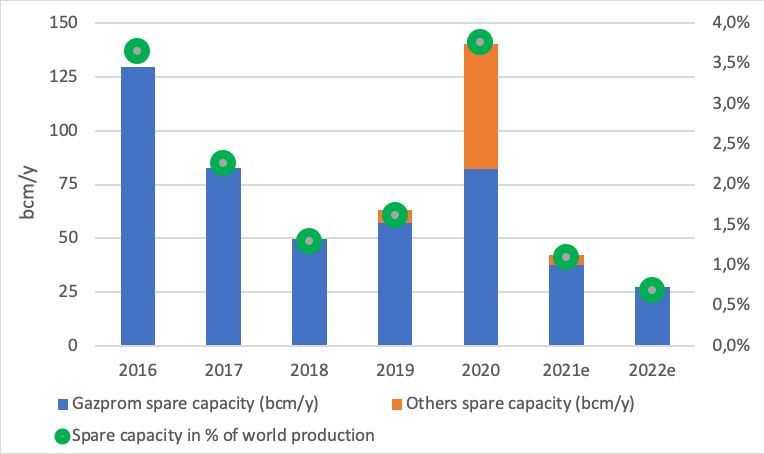 Source: thierrybros.com
The Nord Stream saga continues. On October 4, the filling of the first Nord Stream 2 string with gas started[11], although there are numerous hurdles still ahead (certification[12], insurance, formation of a new German government, etc.). But the fact that Gazprom is able to fill this pipe on top of fulfilling all its obligations (domestic and exports) proves that Gazprom has some spare production capacity as president Putin recognised in his Valdai speech on October 21. Is Europe going to fast-track the regulatory approval of Nord Stream 2 following the recent requests by president Putin? I believe not and I still keep my 2020 views that this pipe is not going to be operational in the near future.
Dr. Thierry Bros
Prof SciencesPo & Energy Expert
2 November 2021
---