Romgaz Sees Lower Demand, Potential Litigation - Update
Update on resolution, disclosed later on August 12, to procure legal advice following EU raids in June
Romanian producer and supplier Romgaz said August 12 its 2Q 2016 net profit fell by 38% year on year to new lei 125.9mn ($31.5mn), while 1H net profit was 20% lower at NL 615.3mn as revenues fell by 44% and 17% respectively.
The company, which is 70% state-owned, said its performance was marked by a 6% decline in Romanian gas demand in 1H 2016.
Among a number of resolutions voted at a shareholders meeting August 11, Romgaz said it was agreed by 99.9828% of votes cast to hire external legal advice and representation over "potential litigation arising from the inspection of the European Commission in 2016." EU anti-trust inspectors raided Romgaz, OMV Petrom and state-owned gas grid Transgaz June 6 to investigate alleged hindering of Romanian gas exports to other EU countries.
On the plus side, Romgaz's August 12 results noted that more intensive exploration in deep rocks had led to the largest gas discovery onshore Romania of the past 30 years, of about 25-27bn m³ during 1H 2016. Also an external audit by US firm DeGolyer & MacNaughton sent to Romgaz on June 30 showed that its annual reserves replacement ratio in 2013-2015 averaged 83%, higher than Romgaz' 70% target.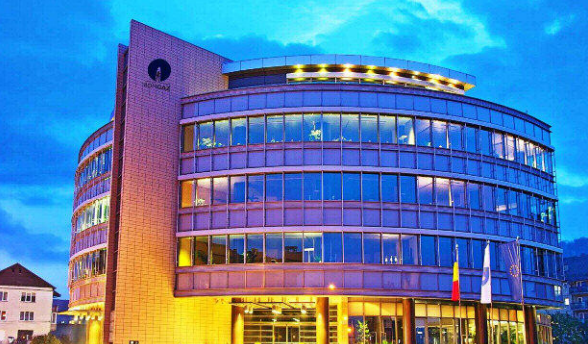 Romgaz headquarters (Photo credit: Romgaz)
Nonetheless, gas production fell by 21% in 1H 2016 to 2.2bn m³, and by 39% in 2Q to 0.82bn m³; it blamed competitively-priced imports and mild weather for the low call on its 1H production.
Romgaz' electricity production revenue was up by 57% in 1H 2016 to NL 45mn, about 2.5% of its total NL 1.85bn overall revenue for the period, with 0.51 terawatt-hours generated.
Larger gas deposits have been found in the deep waters of the Black Sea offshore Romania by international oil companies. OMV said earlier this week its Romanian subsidiary OMV-Petrom is targeting a final investment decision in 1H 2018 on development of its 42.5-85bn m³ Domino deepwater discovery, made with ExxonMobil in 2012.
Mark Smedley