Repsol 1Q Profits Rebound
Spanish integrated oil and gas firm Repsol's 1Q net income of €689mn, a 59% increase year on year and ahead of some analyst expectations.
Pre-tax earnings (Ebitda) grew by four-fifths to €1.84bn, it reported May 4.
Synergies and efficiencies yielded more than €500mn in 1Q2017, keeping Repsol on target to realise its full year 2017 €2.1bn savings goal.
Net production declined by 3% to 693,400 barrels of oil equivalent per day -- of which 63% gas and 37% oil -- from 714,000 boe/d in 1Q2016, although the company said it was higher than at end-2016 thanks to contributions from Brazil, Libya and the UK. Average 1Q2017 realised prices increased by 29% for gas to $3.10/'000 ft3 and by 63% for crude oil to $49.40/b. The Lapa oil and gas field offshore Brazil, which began producing in December 2016, contributed to a new Repsol production record in that country set this March.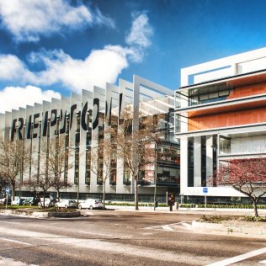 Repsol HQ in Madrid (Photo credit: the company)
Repsol's adjusted net income was €630mn (1Q2016: €572mn), with its income upstream rising to €224mn (1Q2016: €17mn) while downstream remained strong at €500mn (1Q2016: €556mn). Within downstream, it noted better North America gas & power results on higher marketing volumes sold and better margins; North America gas sales volume increased year on year by 35%. In Spain also, Repsol's 1Q refining margin indicator was $7.10/b, higher even than its strong $6.30/b margin achieved in 1Q2016.
Now listed under 'Corporate', rather than in its own right, adjusted net income in 1Q2017 from Repsol's stake in Spanish and Latin America marketer Gas Natural amounted to €60mn, 39% lower year-on-year principally due to the reduction from 30% to 20% since September 2016 in its GN equity.
Mark Smedley