Quebec Bill Welcomed by Shale Firm
Legislation adopted by Quebec's national assembly (bill 106) has been welcomed by Toronto-listed Questerre Energy Corp in a December 12 statement.
"This new law is a milestone for Quebec," said Questerre CEO Michael Binnion adding: "This new law lays the groundwork for the introduction of the associated regulations in early 2017. It will also allow us to accelerate the work to secure our social license to operate in the Lowlands" of Quebec.
The Canadian explorer said that bill 106 is an act to implement the 2030 Energy Policy and amend various legislative provisions, adding that such amendments include the enactment of the Petroleum Resources Act in Quebec.
Binnion said that Questerre and others had lobbied the government for a modern law to develop oil and gas: "After more than six years of environmental studies and public consultations, we are pleased with this important step forward." The bill was adopted with 62 in favour, and 38 against.
Most of the Utica shale is located south of the Canadian border, in upper New York state and Ohio with parts extending into Pennsylvania and West Virginia. However parts extend into Canada's Ontario province, and also into Quebec's St Lawrence Lowlands where Questerre holds some 1mn acres.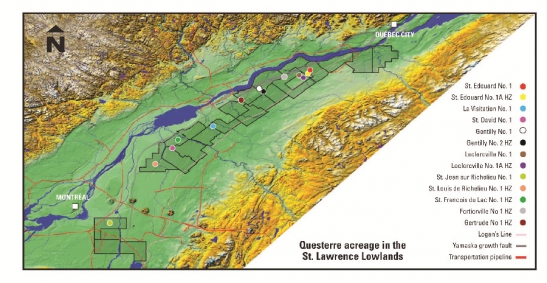 Questerre acreage in Quebec's St Lawrence Lowlands (Map credit: Questerre)
Canada's Globe & Mail said the bill was adopted in the early hours of December 10 and that it contains provisions that potentially could include hydraulic fracturing. The province had previously declared a ban on fracking, following a 2014 report that said shale gas production would "not be beneficial."
Questerre shares firmed in price by up to 60% on December 8 when it looked likely that amendments to the bill would pass; its shares stayed at the new highs of C$0.80/share late December 9.
Mark Smedley