'Publish the Opal Decision,' Poland tells EC
Polish gas monopoly PGNiG has asked the European Commission (EC) to publish the text of its decision to allow Gazprom to use up to 80% of the capacity of the 35bn m³/yr Opal gas line. Until it has done so, the state-owned company cannot take any legal steps against it, it said November 10.
"Increasing Gazprom's access to the Opal pipeline capacity from 50% to 80% is extremely disadvantageous to all of central and eastern Europe," it said in a statement. "We are prepared to take any available legal action against the EC and German energy regulator Bundesnetzagentur to confirm the decision's incompliance with EU acquis." The additional 30% equates to about 21bn m³/yr.
PGNiG will act with equal determination if the EC does not penalise Gazprom for violating competition law in gas markets in central and eastern Europe. PGNiG will also establish co-operation with "highly recognised legal advisers experienced in proceedings before the Court of Justice of the EU," it said.
An EC decision may be challenged in court only after its official publication, within two months of publication date. So far the EC has only issued a press release on Opal, dated October 28. PGNiG said.
The Polish government, PGNiG as well as number of other companies from the region all agree that granting Gazprom access to more capacity of the Opal pipeline will increase its monopolistic position.
Nord Stream at Greifswald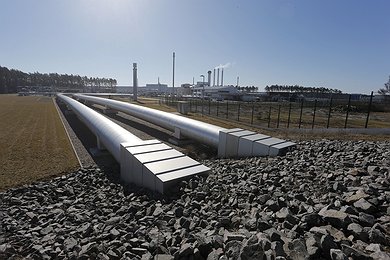 (Source: Nord Stream)
Opal runs through Germany along the Polish-German border. It is an extension of the 55bn m³/yr Nord Stream 1 pipeline, Gazprom's offshore route to market that avoids both Poland and Ukraine. The entry point is in Greifswald and the exit point in Brandov on the Czech-German border.
William Powell