Project spotlight: Driftwood LNG [Gas in Transition]
US LNG developer Tellurian is back making headlines with not one but two offtake agreements for its Driftwood project in the US. Both deals were struck with trading houses rather than end-users.
Trading houses are stepping in where end-users seem cautious to tread, suggesting the traders have a more bullish view on the emergence of a supply deficit in the LNG market in the second half of the 2020s, when Driftwood could be coming on stream.
On May 27, the company announced a 10-year deal to supply 3mn metric tons/year of LNG to Gunvor. The LNG will be supplied on a free-on-board basis and linked to two gas indices – the Asian spot price JKM and the Dutch TTF, netted back for transportation costs.
Then, on June 3, Tellurian announced a second deal, a sales and purchase agreement for a further 3mn mt/yr of LNG, this time to Vitol, and again linked to the JKM and TTF, supplied free-on-board.
Vitol's decision to ink an agreement follows early interest in the project. The company signed a memorandum of understanding (MoU) for 1.5mn mt/yr at the beginning of 2019 at roughly the same time that the Louisiana Board of Commerce and Industry granted the project the first tranche of a tax break potentially worth more than $2bn over ten years.
Closing in on an FID
With French oil major having agreed an offtake deal for 2.5mn mt/yr in 2019, along with a promise to invest up to $900mn, Tellurian is suddenly just 1.5mn mt/yt shy of its goal of marketing 10mn mt/yr of the LNG from the first phase of the project, which will have a 16.5mn mt/yr capacity. Eventually, the development could host as much as 27.6mn mt/yr of capacity.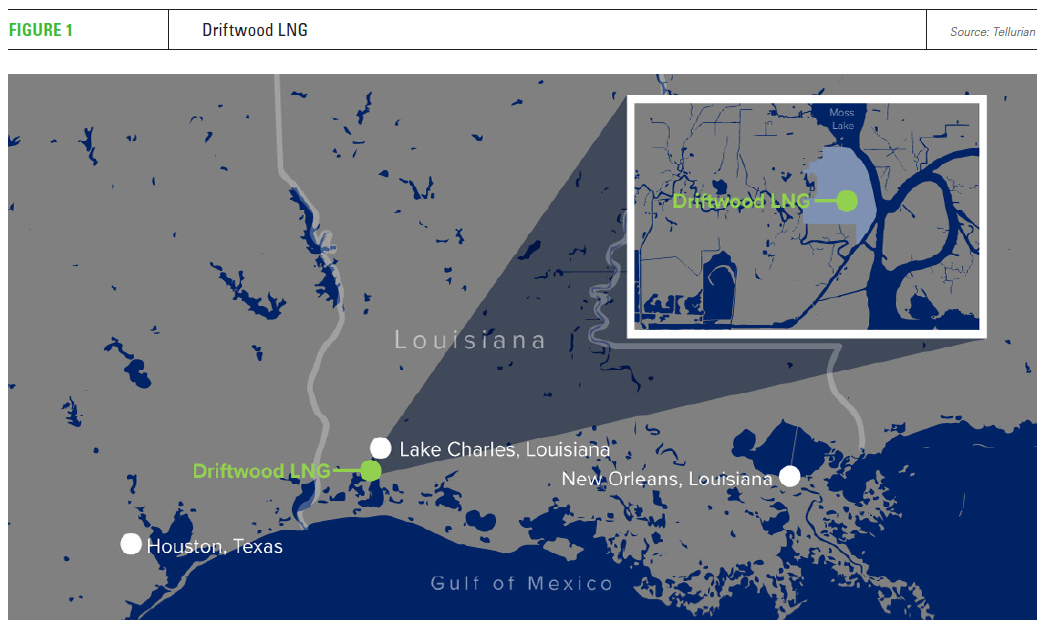 However, the project's development has not always run smoothly. Last year, a potential deal with India's Petronet fell through as the company stepped back from investment in liquefaction capacity, owing to a surplus on the market. An MoU, signed in September 2019, had previously been reached which envisaged the Indian company taking an 18% interest in the project and signing an offtake agreement for 5mn mt/yr.
Now, however, if Tellurian can move to a final investment decision (FID) either on the back of its recent achievements or another deal – momentum can breed further success – the project could be up and running by 2025, two years later than originally envisaged.
This could prove prescient timing, given the pull-back from new project investment witnessed in 2020 and the problems besetting two large onshore LNG projects in Mozambique. Violence and insecurity in the Cabo Delgado province, where both are sited, look set to delay construction of Total's 12.88mn mt/yt plant and a prospective FID on ExxonMobil and Eni's even larger 15.2mn mt/yr project.
Cheap feed gas
A key part of Driftwood's business case is the proposed plant's location and the availability of cheap feed stock gas at local prices below Henry Hub. Driftwood's site is on the west bank of the Calcasieu River in Louisiana. The company saw significant opportunity in the largely shale oil driven boom in Permian gas production, amid limited takeaway capacity and a sharp rise in flaring.

However, both gas and oil market dynamics are changing. Despite firm crude oil prices, US shale oil producers are not rushing to ramp up production, instead focusing on providing shareholder value and delivering improved capital discipline. Baker Hughes data shows the number of oil rigs drilling in the US has doubled from a recent low in August 2019, but the tally remains far below the numbers seen when prices were at similarly high levels in April 2019 and January 2020.
At the same time, the takeaway constraints on gas produced in the Permian basin have eased. Kinder Morgan's Permian Highway gas pipe started commercial operations at the beginning of the year. The 2.2bn ft3/d pipeline carries gas from the Waha gas hub to Katy, Texas, from where it can move on into the US Gulf Coast or be exported to Mexico.
The Permian Highway follows the GulfCoast Express, also built by Kinder Morgan, which started up in 2019. Meanwhile, the 2.0bn ft3/d Whistler pipeline is expected to start commercial gas flows this summer. In addition, Summit Midstream Partners has been granted permission by federal regulators to build its 1.35bn ft3/d Double E pipeline from the Permian to Waha.
Other projects have fallen by the wayside, at least for the moment, including Tellurian's Permian Global Access Pipeline Project, which it withdrew in December 2020.
Low-cost LNG
Delays in securing offtake agreement to underpin financing mean that other aspects of Driftwood are comparatively well advanced. The front-end engineering and design (Feed) study for the project was completed in the first half of 2017 and engineering, procurement and construction (EPC) agreements were struck in November 2017. Bechtel was awarded four turnkey contracts worth $15.2bn covering the EPC and was also the Feed contractor.
Driftwood will source its feed gas from the existing interstate pipeline system, using a proposed 96-mile (155-km) pipe capable of delivering about 3.5bn ft3/d of natural gas. The pipeline will have 13 interconnects and three compressor stations. The first 119 km of pipe will be 48-inch diameter, gradually dropping down to 18 km of 36-inch pipe and 5.6 km of 30-inch pipeline laterals.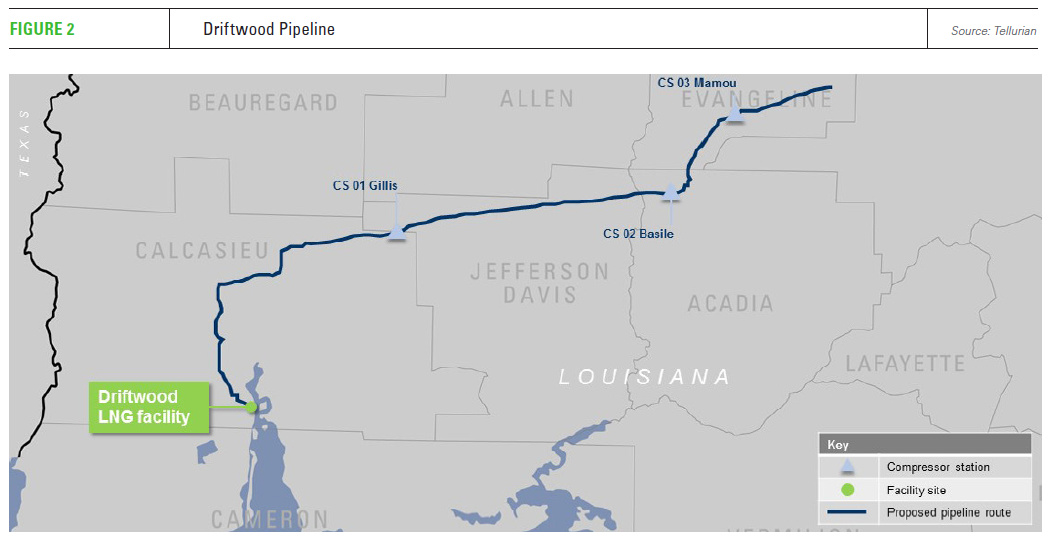 For the plant itself, Chart Energy and Chemicals will supply the liquefaction technology, while GE Oil and Gas will supply the turbines and compressors.
Chart's mid-scale modular LNG concept challenges the idea that a large baseload LNG facility provides the best economies of scale. By gradually getting bigger using smaller modular units, Tellurian should be able to reduce the initial capital expenditure and get early cash flow, scaling the project up as market conditions allow. Tellurian says it can build the plant for $560/mt of capacity.
The project will house five LNG plants, each one housing one gas pre-treatment unit for condensate and water removal, and four liquefaction units, for a total of 20 LNG units. Each will produce 1.38mn mt/yr of LNG using Chart's proprietary Integrated Pre-Cooled Single Mixed Refrigerent (IPSMR) liquefaction technology.

The facility will use 20 GE refrigeration compressors and have three 235,000 m3 storage tanks. Three marine berths will also be required.
The first phase comprises eight liquefaction units, two storage tanks and a loading berth. The second and third phases will add four liquefaction units and one loading berth each. A fourth and final stage would see the addition of four more liquefaction units and other associated facilities.
In December 2019, Tellurian called on the US gas sector to take a zero tolerance approach to flaring and methane leaks in order to make LNG as low emissions as possible, noting then that gas flaring in the Permian basin amounted to the equivalent of 8mn mt/yr of LNG.