Project Spotlight: Arc7 LNG carriers [LNG Condensed]
Developed by independent Russian gas company Novatek, the 16mn mt/yr Yamal LNG project demanded a new kind of LNG carrier (LNGC) capable of operating in the harsh Arctic environment. Now, Novatek's second major LNG project, Arctic LNG 2, will see a second generation of ice-class LNG carrier put to work. This kind will be even more robust, capable and effective than their sophisticated predecessors.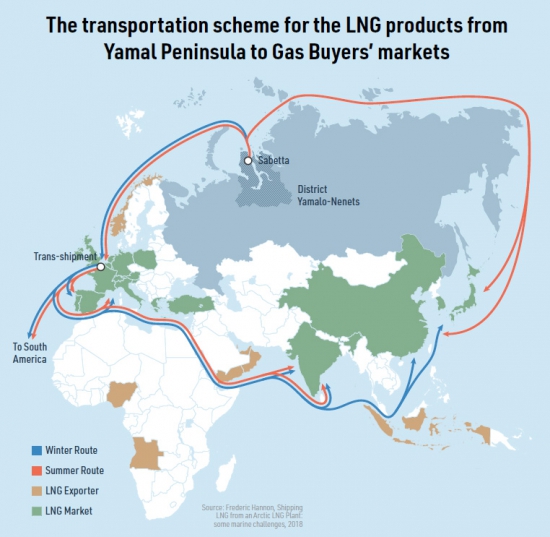 Arc7 version 1.0
Yamal LNG, which came on-stream in December 2017, uses a fleet of 15 Arc7, ice-class LNGCs with tank capacities of 172,600 m3. The ships are 300 metres long and sail in temperatures as low as minus 52° Celsius, cutting through ice as thick as 2.1 m, if needs be, according to French oil and gas major Total.
Total holds a direct 20% interest in the project and an aggregate interest of 21.6% in the 19.8mn mt/yr Arctic LNG 2 development.
To do this, the ships effectively need two bows and need to be strong. The vessels' hulls are made from high-strength steel which keeps the overall weight down and ensures a 12 m draught when fully loaded. At the front is a scaled-down icebreaker bow which allows the ship to move efficiently through open water and even light ice of up to 1.5m.
But when the going gets really tough, the vessel pivots by 180 degrees and puts the heavy icebreaker hull on its stern to work. The ship has two connected pilot houses, allowing for safe sailing either forward or in reverse.
This takes power and lots of it. Six Wartsila 50 DF diesel-electric engines deliver 45 MW of thrust, using LNG in a system designed to provide high power at low temperatures.
Three ABB Azipod units provide the propulsion and each can rotate 360° to change the ship's direction. They create turbulence, which reduces the friction between the carrier and the ice, and then crush the ice broken by the bow and stern, pushing it to either side of the ship, a system more efficient than the traditional ramming method.
All this has to be achieved while adhering to the highest safety standards given the conditions the vessels have to deal with. A divided engine room, partitioned by a fire wall and certified by classification society Bureau Veritas, guarantees that the engines are available in an emergency. In the event of a fire or flooding, the carrier can operate on half of its power with two Azipod units.
The first generation of Arc7 LNGCs are designed for independent operation in the Barents and Kara Seas.
Arc7 version 2.0
However, the Arctic LNG 2 project, which will consist of three 6.6mn mt/yr liquefaction trains, will get ice-breaking LNGCs of an even higher order. Arctic LNG 2 is expected to start production in 2023 or 2024.
At the end of October, Finnish icebreaker designerAker Arctic, along with South Korea's Daewoo Shipbuilding & Marine Engineering (DSME), announced that it has developed a new ship design, which may be so powerful that it can navigate Russia's Northern Sea Route year round even without icebreaker escorts.
DSME will build three of the new vessels for Russian ship owner Sovcomflot and three for Japan's Mitsui OSK. A Mitsui-Jogmec consortium, Japan Arctic LNG, holds a 10% interest in Arctic LNG 2.
The vessels will have a new hull design and even more power – 51 MW – almost as much as Russia's latest generation of nuclear-powered icebreakers of the Arktika class, in order to deal with the challenging conditions in the East Siberian Sea in the winter months.
The new Arc7s will take the LNG to transhipments points either at Murmansk for onward delivery to Europe via conventional LNGCs or to Kamchatka for onward delivery to Asian customers.
Order book building
In January this year, Novatek announced that it intended to place orders for up to 42 additional ice class LNGCs to handle transportation for three planned projects: Arctic LNG 1-3. A further five LNGCs are already on order from Russia's Zvezda shipyard in cooperation with Samsung Heavy Industries for the Ob LNG project. If all four projects are realised, the company's total output would rise to 80mn mt/yr, using a 62-strong fleet of ice-class LNGCs.
DSME built the first fleet of carriers for Yamal LNG, but most of the future fleet will be built by Zvedva. Novatek has permission to buy 10 carriers from foreign shipyards, owing to the pressure the newbuild programme will put on the Russian shipyard. In September, Novatek and Sovcomflot put in firm orders for ten ice-class carriers for Arctic LNG 2, bringing the order book up to 15.
A pilot Arc7 from Zvedva and four carriers are expected to delivered between March and December 2023. Finance was provided by Russian state-owned bank VEB.