[Premium] US Brings Anti-NS2 Message to Brussels
A senior US diplomat expressed concerns over the Russia-backed Nord Stream 2 gas pipeline project in the the strongest terms, addressing an event in Brussels March 20.
Addressing attendees at 'Economics vs Geopolitics: Nord Steam2, Ukraine and Europe's Energy Security', a deputy assistant secretary for energy diplomacy at the US State Department, Sandra Oudkirk (pictured below) said European energy security was not only an important issue for Europe, but was also fundamental to US national security.
Making US opposition to Gazprom's NS2 clear, she said Washington's views were consistent with, and the continuation of, a long-term policy commitment to European energy security. "Gas is a foreign policy tool" said Oudkirk, pointing to Gazprom's actions in not fulfilling deliveries to Ukraine following the recent Stockholm arbitration ruling as a reminder of how Russia uses natural gas for political and economic leverage.
Challenging the project sponsors' claims that the project is based on commercial opportunities, Oudkirk said that present and planned infrastructure could handle demand requirements and that the US did not see a future import gap to justify the Nord Stream 2 project.
Nord Stream 2 and the Gazprom-led Turk Stream pipeline projects create infrastructure dependency for generations, contrary to requirements of energy diversification and energy independence, she said. As the largest global gas producer, the US is aggressively seeking to export global markets.
Oudkirk told event attendees that she wanted to dispel the view that its opposition to Nord Stream was based on a "sneaky plot to sell US LNG." The US has nothing to gain except a stronger, more stable partner in Europe, she said.
Gazprom argues that NS2 – a direct subsea line to a major market, Germany, from western Russia – makes sound economic sense. As its giant Yamburg and Urengoi fields deplete, it is producing more gas from the Yamal Peninsula further to the north. Shipping the gas from there down to the border with Ukraine vastly increases the distances involved, relative to a pipeline to the St Petersburg region. And once at the border it must then pay Ukraine transit fees and lose physical control over the gas.
Gazprom is 100% owner of NS2; five European companies are each contributing a tenth of the total cost.
So far very little US LNG has arrived in Gazprom's main European markets as the prices there have been generally lower than in Asia. Russia is also able to export LNG westwards to Europe and the Americas, from the newly-commissioned Yamal LNG plant, whose major shareholder is Russian Novatek. Exports to Asia and the east will be commercially possible when the ice melts in the Arctic, some time in mid-summer.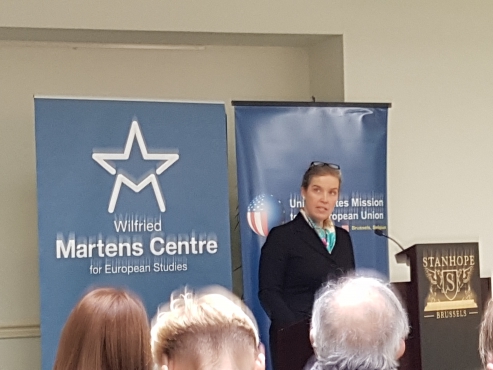 (Credit: Rick Gill)