Poland-Slovakia Pipelink Takes FID
Poland and Slovakia's gas transmission operators said April 30 they have taken a final investment decision (FID) to proceed with a new cross-border pipeline investment.
Polish state-owned Gaz System and Slovakia's Eustream said they signed the connection agreement for implementation of the Poland-Slovakia Gas Interconnection, which they say will enhance security of supply and integration in the region's gas markets. Construction is planned to start 2H2018 and be finalised by end-2021.
It will be a 164km new pipe, of which 58km in Poland and 106km in Slovakia, linking Strachocina near Rzeszow in southeast Poland to Velke Kapusany in Slovakia near its Ukraine border (see map below).
Velke Kapusany is the largest entry point for Russian gas imports overland via Ukraine, but Russia's Gazprom wants to route more of its flows to alternative pipelines (like Nord Stream, Turk Stream). If less flows via Ukraine, then Eustream (the Slovakia transit pipe operator 51% owned by the Slovak state and 49% by Czech investor EPH) will need to develop new income and gas flows.
Gaz System and Slovakia's Eustream said that, once built, the Poland-Slovakia Gas Interconnection will improve central Europe's direct access to LNG regas volumes reaching Poland and Lithuania (the latter via the as yet unsanctioned Gas Interconnection Poland – Lithuania, GIPL), also Norwegian gas through Baltic Pipe assuming it is built by 2022, and extra gas arriving from southern/southeast Europe via the Slovakia-Hungary Interconnection and the planned Eastring pipeline.
The two investors' statement provided details of initial study costs, but not the construction cost.
Update May 2: Eustream has since told NGW that the estimated cost of the Slovak part of the project is €120mn, and that planned capacity is 4.7bn m3/yr when flowing from Poland to Slovakia, and 5.7bn m3/yr when flowing in the opposite direction. In December 2017, Eustream said that the EU had agreed to grant €55.2mn to Eustream for its section of the project and €52.5mn to Poland's Gaz-System for its section.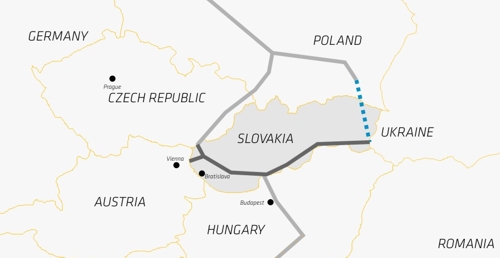 The dotted line shows the route of the planned Poland-Slovakia Gas Interconnection, linking Strachocina in southeast Poland to Velke Kapusany in eastern Slovakia