Poland Prepares for Qatari, Norwegian LNG
Polish gas monopoly PGNiG will receive its first LNG delivery from Qatar and Norway next month, it said May 25. "The first cargo of LNG under the Qatar contract is expected at the Swinoujscie terminal is due on June 17 and a spot cargo from Statoil is scheduled for June 25.
The importer completed the analysis of bids on the spot market for LNG cargoes in June and July earlier this week and Statoil submitted the best bid, it said. About 140,000 metric tons (mt) of LNG (84mn m³ of grid gas) will be transported from the Norwegian port of Snohvit on the Arctic Princess, due to arrive June 25.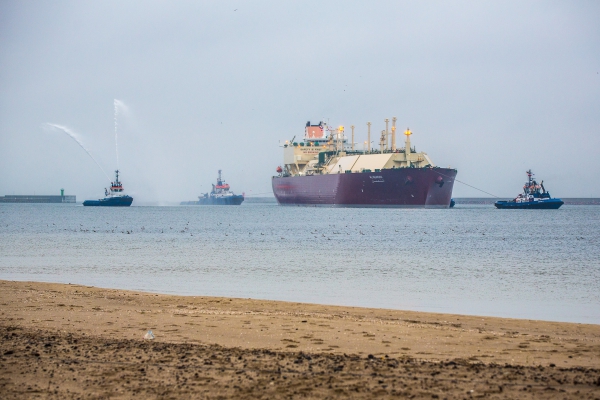 LNG tanker arrives at Swinoujscie (Credit: PGNiG)
At the same time, given the earlier commencement of services by the LNG Terminal in Świnoujście, PGNiG decided to accelerate LNG imports under the long-term contract with Qatargas. Its terminal is starting much later than originally planned.
The Q-Flex Al-Nuaman tanker will bring 206,000 mt as the first delivery and a second will come mid-July, it said. The Al-Nuaman brought one of the commissioning cargoes, in February.
William Powell