Poland Expects 1st US LNG in June
Poland's dominant gas supplier PGNiG said April 27 it expects Poland to receive its first US LNG cargo in the first half of June.
It will be delivered by US supplier Cheniere Energy from its Sabine Pass complex in Louisiana to Poland's Swinoujscie import terminal, following a spot deal by PGNiG's newly opened LNG trading office in London. It is PGNiG's second spot LNG purchase, following one bought from Norway in June 2016.
The June cargo will be the first LNG delivered to Poland by a US supplier. Most of the LNG imported by PGNiG to date has been sourced under its long-term contract from Qatar.
"This is a historic moment for PGNiG," said CEO Piotr Wozniak, arguing that the future delivery "proves that Poland can become a gateway to Central and Eastern Europe for American LNG."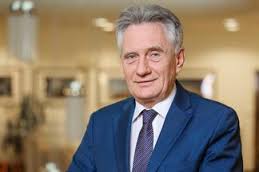 PGNiG CEO Piotr Wozniak (Photo credit: the company)
Poland and state-controlled PGNiG see LNG as a way of diversifying its portfolio away from over-reliance on piped supplies from Russia's Gazprom.
"Delivering this cargo from Cheniere to Poland demonstrates the continued demand for US LNG and for Cheniere's full-service model that includes the delivery of LNG directly to customers," said Jack Fusco, President and CEO of Cheniere. "PGNiG has been an excellent partner in this purchase, and Cheniere is pleased to support Poland accessing LNG."
The Sabine Pass facility in Louisiana began shipments in February 2016 and Cheniere is building a second complex in Corpus Christi, Texas.
PGNiG last month announced that its only long-term LNG supply contract, with Qatargas, would be doubled to 2mn metric tons/yr starting 2018. PGNiG opened its London LNG trading office in February this year.
Last week Polish state-owned gas grid operator Gaz-System said it had decided to expand its Swinoujscie LNG terminal by increasing its regasification capacity from 5bn m³ to 7.5bn m³/yr, although a final investment decision has yet to be taken. It is also considering a 2nd terminal, this time a floating FSRU one, at Gdansk – also on Poland's Baltic coast.
Mark Smedley