Poland Expands Norwegian Position
Polish state-run PGNiG has bought a share in the Storklakken oil discovery from operator and, so far, the sole shareholder Aker BP, it said March 23, without disclosing terms.
The deal is "part of implementation of PGNiG's strategy and will allow an increase of hydrocarbon production outside Poland," it said.
Aker BP is already the operator of our two largest producing fields including Skarv, said PGNiG CEO Piotr Wozniak (pictured below), noting his "strong confidence in Aker BP's professionalism and its ability to deliver projects on time and budget as we expect short payback period from this investment."
The deal brings a 35% working interest in the license PL460 in the North Sea, near the Vilje field, where PGNiG holds 24.243%. It includes the Storklakken oil field which was discovered in 2010 by Aker BP. Reserves attributable to PGNiG amount to 3.85mn barrels of oil equivalent. PGNiG told NGW: "At this point in time it is difficult to properly asses the size and commercial viability of gas cap production." The field is expected to be developed as a subsea tie-back to the Alvheim FPSO with the production start-up in 2020.
The transaction and future investments in Storklakken will be funded from the operating cash flow of PGNiG's Norwegian operations, it said.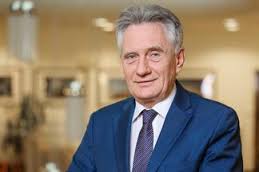 (Credit: PGNiG)
Buying assets in Norway is a natural investment direction for PGNiG, its statement said. "The Norwegian continental shelf is recognised as a prospective area where PGNiG has both experience and organization. The historical projects in Norway, including Skarv, offer good profitability with low risk exposure. These projects as well as future investments should create basis for future gas supplies to Poland."
PGNiG is working on plans for a new pipeline to bring Norwegian gas to shore in Poland, if gas production justifies the cost.
Danish gas grid operator Energinet said late last year that it and Polish counterpart Gaz-System were studying a potential 10bn m³/yr-plus capacity pipe from Norway via Denmark to Poland that could start up by 2022. Such a scheme was abandoned a decade ago, but this time may garner more support.
William Powell