Pivotal year for Mozambique's LNG ambitions [LNG Condensed]
Mozambique looks set to become an important LNG exporter, as two large onshore projects move towards final investment decisions (FID) this year.
Following years of delay, a succession of off-take agreements have been signed in recent months to support 28 million metric tons a year of LNG capacity planned for northern Mozambique. FIDs on the onshore Mozambique LNG and Rovuma LNG projects are expected to be taken by the middle of this year, allowing the developers to convert all non-binding deals into sales and purchase agreements (SPAs) by December.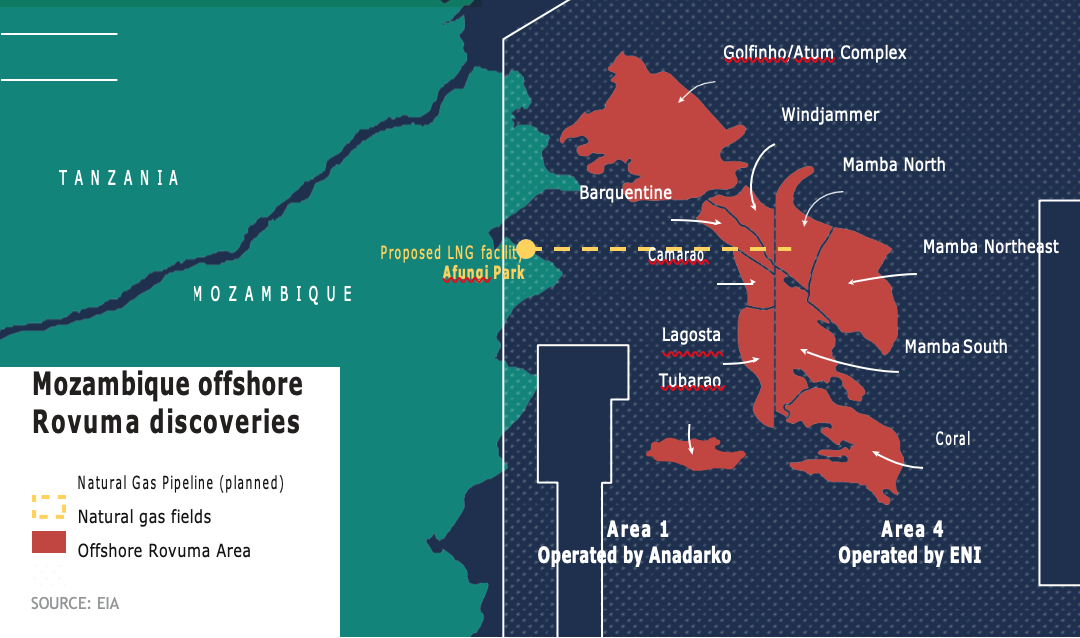 The two projects are to be developed by consortia operated by US company Anadarko and Italy's Eni respectively on a joint site at Afungi in the far north of the country. The government of Mozambique decided at an early stage that it wanted the two consortia to develop their liquefaction capacity at a single location to facilitate licensing and reduce infrastructural investment costs. It also means that they can use the same export terminal. Another, smaller scheme, the Coral Sul floating LNG (FLNG) project – also operated by Eni – is already under development.
Mozambique LNG
Anadarko holds a 26.5% stake in Mozambique LNG, with the remaining equity held by Japan's Mitsui (20%), India's ONGC Videsh (16%), Mozambique's state-owned Empresa Nacional de Hidrocarbonetos (ENH) (15%), India's Bharat PetroResources (10%), PTT Exploration & Production of Thailand (8.5%) and Oil India (4%).
The first two Mozambique LNG trains will have production capacity of 6.44mn mt/yr each, with total project costs put at $25bn. They will be supplied by Offshore Area 1's proven reserves of 75 trillion cubic feet (2.1tn m3), including on the Golfinho and Atum fields.
Mozambique LNG already has SPAs in place with PTT for 2.6mn mt/year and EDF for 1.2mn mt/year, both for 15 years. Most recently, in mid-October, Tohoku Electric signed an SPA to take up to 280,000 tonnes a year from Mozambique LNG over 15 years, firming up a previous Heads of Agreement (HOA) between the two parties.
Another particularly innovative HOA has been signed on the project. In June, the UK's Centrica and Japan's Tokyo Gas agreed a co-purchasing arrangement for 2.6mn mt/year designed to give flexibility as to when they take shipments for their home markets. The government of Mozambique has suggested that the contract could last 20 years.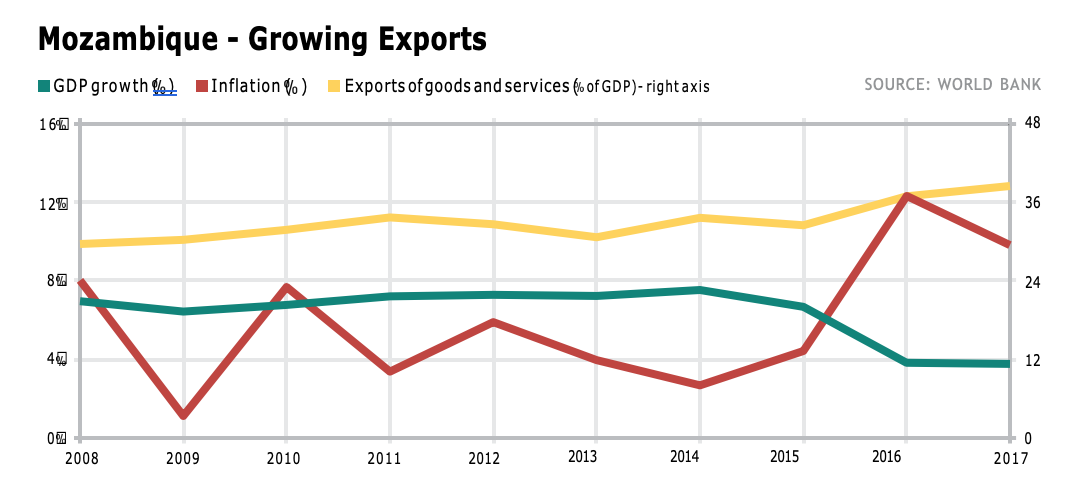 Anadarko executive vice president for international, deepwater & exploration, Mitch Ingram, said: "This HOA represents a significant portion of the marketing off-take target we have set for FID…our focus now is on converting these non-binding commitments into fully termed sale and purchase agreements."
Anadarko has revealed that it expects to sign preliminary deals with other Asian customers in the near future. Mozambique's President Filipe Nyusi said that his government is working with Anadarko to conclude SPAs with buyers in the UK, the Netherlands, China, Japan and Indonesia.
FID is scheduled by the end of this year, with the project due to come on stream in 2023 at the earliest. It is expected to cost $20bn to develop. The Indian consortium members have said that equity holders will provide about a third of this figure, with the remaining investment to come via debt.
Rovuma LNG
The other side to the Afungi project is Rovuma LNG, a consortium of Mozambique Rovuma Venture (70%), alongside South Korea's Kogas, Portugal's Galp Energia and ENH, with 10% each. Mozambique Rovuma Venture is owned by Eni (35.7%), ExxonMobil (35.7%) and China National Oil and Gas Exploration and Development Corporation (CNODC) (28.6%).
Its two trains will each have 7.6mn mt/year of capacity, which would make them the biggest LNG trains in the world outside Qatar. They will be supplied with gas from Area 4's Mamba fields, with first LNG production due in 2024. Eni previously operated the whole project, but now ExxonMobil is to manage the construction and operation of the LNG plant, while Eni is to retain control of upstream operations. South Africa's Standard Bank calculates total project costs at $30bn.
While most LNG developers have to secure external sales agreements, on December 28 ExxonMobil confirmed earlier suggestions that all production from Rovuma LNG is to be sold to equity partners. They will then have to sell it directly to consumers themselves, as with Kogas, or sell it on to other companies at a later stage via either short or long-term contracts. This will be a particular challenge for ENH, which may need the support of the other investors in marketing its share of the gas.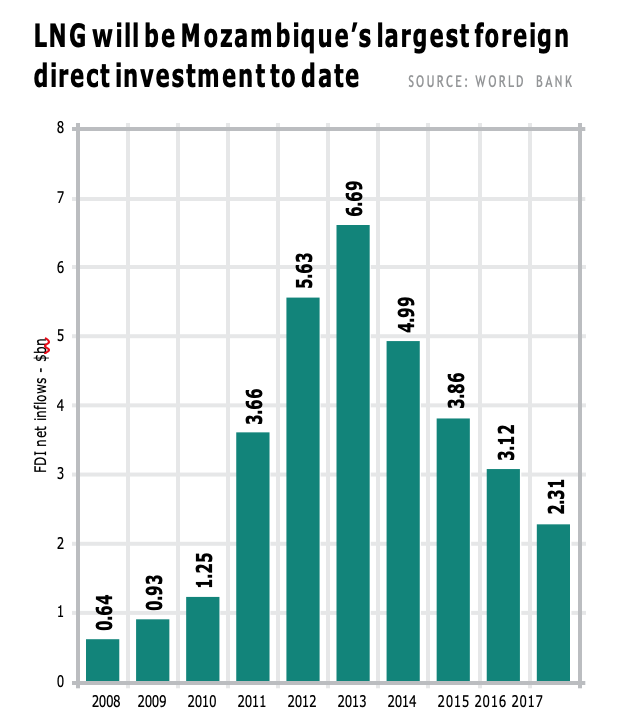 Massimo Mantovani, Eni's chief gas and LNG marketing and power officer, said: "These commitments are an important step forward for the Rovuma LNG project and provide a solid foundation for securing project financing." This approach should speed up project development. The tender for the engineering, procurement and construction contract will be launched in the first quarter of this year.
Eni also operates the $10bn Coral Sul FLNG project with a 50% stake, with the remaining equity held by China National Petroleum Company (CNPC) (20%) and 10% each held by ENH, Kogas and Galp Energia.
The FLNG vessel is due to sail from the Samsung Heavy Industries shipyard in South Korea to Mozambique in 2021, with first shipments scheduled for November 2022. BP is buying the project's entire production capacity of 3.4mn mt/year. The $4.8bn venture has been backed by a variety of export credit agencies.
Financial credibility improves
It now seems very likely that the two onshore projects will be developed. The government of Mozambique has already approved the development plan for Mozambique LNG and is currently examining Rovuma LNG's plans, which were submitted in July 2018.
In addition, Anadarko announced in November that it would invest another $200mn in preparing the plant site even before the FID is taken. The process of resettling people who currently live on the LNG plant site is already underway. Anadarko has been appointed to prepare the entire site for both consortia.
The government is desperate for the LNG schemes to proceed. The two onshore LNG projects will be the biggest investments ever made in Mozambique by value and will become the largest sources of government revenue. Maputo also wants some gas produced on the upstream elements of the two schemes to be piped onshore for use in power generation and petrochemical and fertiliser production.
The revenues should enable the government to pay off newly-admitted debts and end its self-inflicted debt crisis. Three state-owned companies were found to have taken out secret loans totalling $2.05bn to finance the purchase of tuna fishing boats, a radar surveillance network and patrol boats in deals that were badly overvalued.
Confidence in the government was badly shaken by the revelations, by the fact that the government defaulted on repaying the loans, and by the slow pace of the investigation into who was responsible.
However, Maputo has reached an agreement with creditors. The terms of the bonds in question have been extended and, in the meantime, creditors will receive 5% of Mozambique's future LNG revenues, with payments capped at $500mn.
This deal was necessary to help rebuild the government's damaged financial credibility, particularly as it needs to support ENH in securing its share of investment costs on the two onshore LNG schemes.
This in turn should encourage the government to rubber stamp Rovuma's LNG development plans and provide any support it can to ensure the development of the Afungi site as a whole. Max Tonela, the minister of mineral resources and energy, said that the government will issue sovereign guarantees to allow ENH to secure its financing on international markets.
Security threats
In addition for the potential to pipe gas onshore for local industry, on all three projects, the foreign investors have promised to train Mozambicans to take up technical positions and include local companies in their supply chains. However, there have been claims that most of the Mozambicans employed to date have come from the south. Providing more jobs for local people could be one of the best ways of securing local support for the onshore plant, particularly given recent events in the region.
The far north of the country, where Afungi is located, has been targeted by apparent Islamist militants over the past 18 months and perhaps 200 people have been killed in the attacks.
The threat was one of the main reasons Wentworth Resources announced in December that it would give up its onshore acreage in northern Mozambique, despite the potential of its Tembo gas discovery. Given the current level of sophistication of the militants, it seems unlikely that they could pose a threat to LNG plants, but it is nonetheless a risk which will have to be monitored closely.
More capacity to come?
The three LNG projects should give Mozambique total production capacity of 31.48 mt/year by 2024, which would make it the sixth biggest LNG producer in the world after Qatar, Australia, the US, Russia and Malaysia.
Both onshore consortia aim to build further trains on the same site and sufficient gas reserves are already in place to supply them. At an Africa Petroleum Club meeting in London in November, Paul Eardley-Taylor, the head of oil and gas for Southern Africa at Standard Bank, said: "We expect four or five additional onshore trains could be operational by 2029-2030."
This would take the total number of trains in the country up to seven or eight, and total production capacity up to 60-70mn mt/year. He partly based his assessment on Standard Bank's collation of 12 LNG global demand forecasts by different organisations, which calculated that demand will rise from about 300mn mt/year in 2017 to 500mn mt/year by 2030.
Most of the additional demand will come from Asia. Companies from China, Japan and South Korea are involved in the Mozambican consortia, suggesting that LNG will be shipped to the world's three biggest LNG markets.
China is likely to provide much of that additional growth. Beijing is seeking to reduce pollution quickly, so gas is likely to continue to gain ground at the expense of coal. Chinese LNG demand has doubled over the past two years as a result.
Market sentiment has already moved towards new LNG projects being sanctioned after a lull over the past few years, although the amount of new capacity planned around the world is huge. Mozambique looks likely to be a key part of the next wave of investment targeting a forecast supply deficit in the mid-2020s.
Like this article? Subscribe to our complimentary publication dedicated to LNG below (next Issue February 27, 2019:
LNG Condensed brings you independent analysis of the LNG world's rapidly evolving markets.

Covering the length of the LNG value chain and the breadth of this global industry, it will inform, provoke and enrich your decision making. Published monthly, LNG Condensed provides original content on industry developments by the leading editorial team from Natural Gas World.

LNG Condensed is your magazine for the fuel of the future.
Sign up now to receive LNG Condensed monthly FREE