Pipeline operators: European "hydrogen backbone" possible at "very modest cost" [GasTransitions]
The paper, called European Hydrogen Backbone, "describes how a dedicated hydrogen infrastructure can be created in a significant part of the EU between 2030 and 2040, requiring work to start during the 2020s." It describes "what transport capacity can be made available while continuing to enable natural gas transport in parallel, although in gradually decreasing quantities."
"It is crucial that throughout the partial transition of gas infrastructure from natural gas to hydrogen, security of gas supply is ensured," the authors point out. They expect that "alongside dedicated hydrogen infrastructure, a methane transport grid will remain operational to transport increasing quantities of biomethane and decreasing quantities of natural gas including natural gas for blue hydrogen."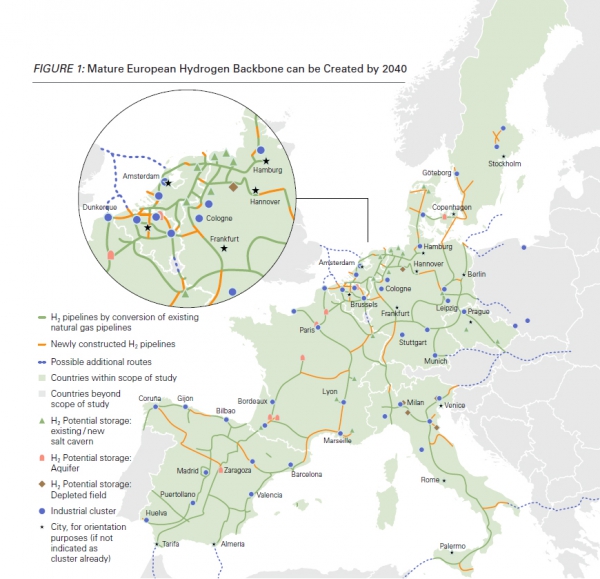 The paper should be regarded as an "initial offer by TSOs on what the European gas grid can deliver mainly based on existing gas pipelines." It notes that all 11 TSOs – Enagás, Energinet, Fluxys Belgium, Gasunie, GRTgaz, NET4GAS, OGE, ONTRAS, Snam, Swedegas, Teréga – "are studying and testing the repurposing of (parts of) their gas networks to enable dedicated hydrogen transport."
The proposed 2040 hydrogen backbone covers over 22,900 km of pipelines in Germany, France, Italy, Spain, the Netherlands, Belgium, Czech Republic, Denmark, Sweden and Switzerland (see map). The pipelines consist of approximately 75% repurposed natural gas infrastructure and 25% new dedicated hydrogen pipelines.
First-of-a-kind
According to the paper, by 2030, green hydrogen production capacity may reach 40 GW, as is the ambition stated in the European Hydrogen Strategy launched by the European Commission in July. This capacity could produce around 100 TWh of renewable hydrogen within Europe.
In addition, 80 TWh of "blue" hydrogen (derived from natural gas) may be created by 2030, "including retrofitted grey hydrogen production plants as well as newly built blue hydrogen facilities. Whereas blue hydrogen production will likely be located near hydrogen consumers, green hydrogen will be destined to consumers and offtakers located elsewhere, requiring dedicated transport routes already from the late 2020s onwards, which can be provided by the emerging backbone."
Regional backbones are expected to form in and around first-mover hydrogen supply and demand hubs, or "hydrogen valleys". These include industrial clusters, ports, cities, and other regions that are already embracing pilot projects and commercial hydrogen developments today.
Based on ongoing and planned projects, an interconnected cluster will likely emerge in the north of the continent including parts of Belgium, The Netherlands, and North-West Germany. Similarly, regional networks could emerge around clusters in Denmark and Sweden, in and around the regions of Jutland and Göteborg, respectively.
Beyond these northern hydrogen valleys, market developments are also encouraging the development of regional networks in France and Spain, where a range of projects are ongoing in the regions surrounding Lacq, Marseille, Fos, Lyon, The Basque Country, Castile and León, Aragon, and Asturias. Lastly, dedicated hydrogen infrastructure developments in Italy are likely to start around existing industrial clusters in the south of the country (Sicily, Puglia), supplied with green hydrogen from regional renewable energy sources.
Today, the authors note, "small-scale dedicated hydrogen networks of approximately 1,600 km in length exist in Europe to transport fossil-based, 'grey' hydrogen between industrial clusters. These pipelines, mostly operated by private hydrogen producers, have limited transport capacity and are not included in the paper's infrastructure maps." Yet "these networks demonstrate that hydrogen transport over longer distances is possible – and safe."
Retrofitting
Retrofitting is often achieved through conversion of existing pipelines where parallel ("looped") routes are available, according to the study. This is the case in areas in the Netherlands, Germany, France, Spain, and Italy, where pipeline availability is not constrained by long-term natural gas commitments and capacity contracts.
In most accelerated climate scenarios, "aggregate natural gas demand in the EU is expected to decline between 2020 and 2030…. As such, gas network utilisation at peak demand is expected to decrease over time in certain EU countries. Combined with changes in supply routes due to closure of the Groningen Field and the transition from low-calorific gas supply to high-calorific gas supply in North-West Europe, this will create space in existing pipelines in specific regions and offer possibilities to convert the latter into dedicated hydrogen pipelines."
From 2030 onwards, renewable electricity generation will have scaled up sufficiently to enable large-scale growth in green hydrogen production, making use of solar resources in the south of France, Italy, and Spain, and wind resources around the North, Baltic, and Mediterranean Seas. As a result, notable additions in the 2035 backbone include (1) the interconnection between Denmark and Germany; (2) extension of the north-south French corridor to Marseille; (3) additional coverage in central and eastern Germany; (4) a dedicated hydrogen microgrid around industrial clusters in the east of Sweden; and (5) the potential completion of an interconnection between eastern Germany and Poland.
The paper notes that "the increasing share of green hydrogen produced from volatile renewable energy sources will lead to an inherently more intermittent nature of hydrogen supply. As such, dedicated hydrogen storage facilities become increasingly important to balance daily and seasonal fluctuations in supply and demand. These dedicated storage facilities will complement linepack flexibility in pipelines and can be added to the grid by repurposing existing natural gas storages in salt caverns, by making available new salt caverns, and potentially by using depleted fields and aquifers currently used for natural gas."
2040
The proposed network should be able to adequately meet the 1,130 TWh of annual hydrogen demand in Europe by 2040, notes the paper. According to the Decarbonisation Pathway analysis published earlier by Gas for Climate, European natural gas demand will have continued to decrease alongside the expected growth of green gas, with natural gas down to approximately 50% of 2020 demand.
In time, green hydrogen is expected to win out over blue hydrogen. "As a result of rapid cost declines and increased system integration, green hydrogen production will overtake blue hydrogen shortly after 2040 and continue to accelerate up to 2050."
Given that hydrogen flows need to cover significant distances by 2040, "compression requirements will increase between 2030-2040 and the corresponding investments in pipeline and compression infrastructure will need to scale up in line with capacity requirements needed to meet this demand."
In addition to supporting development of the intra-EU hydrogen market, "the EHB enables connection to global hydrogen flows via new import routes. These include green hydrogen imports from North Africa, the North Sea (Norway and the UK), and possibly Ukraine and Greece, as well as blue/ turquoise hydrogen from Russia, and connections with retrofitted LNG terminals – insofar the latter are technically feasible."
"Hydrogen imports from these countries are expected to replace existing natural gas imports and will make up a material portion of hydrogen volumes, approximately 50 TWh by 2040 and continuing to increase to up to a quarter of total EU hydrogen volumes, or 450 TWh by 2050."
It is important to note that "even more growth in volume is expected to occur during the 2040s. As such, the 2040 backbone…should be considered as a critical milestone, but not a final product." The backbone as proposed for 2040 represents a foundational network, "a mature hydrogen highway", upon which further developments can be built.
Cost
Pipeline costs are limited, notes the paper, "given that most of the network will be retrofitted. Secondly, limited volumes translate to low capacity requirements, which results in modest compression costs. At the same time, the presence of a centrally coordinated European Hydrogen Backbone by 2030 will provide commercial security and project bankability to market actors as well as the political signal that hydrogen will play a critical role in ensuring a decarbonised and integrated European energy system."
Hydrogen can be transported through pipelines which need "little modification, and new stretches of dedicated hydrogen pipeline do not differ a lot from natural gas pipelines either."
However, depending on the capacity at which the pipeline is operated, "major modifications on the compressor stations may be needed. Hydrogen has a lower energy density than natural gas: at the same pressure, a cubic meter of hydrogen only contains 1/3 of the energy of a cubic meter of natural gas."
This does not mean that three times as many pipelines are required to transport the same amount of energy. "The volume flow of hydrogen can be higher than for natural gas, bringing the maximum energy capacity of a hydrogen pipeline to a value of up to 80% of the energy capacity it has when transporting natural gas. That way, a 48-inch pipeline, one of the widest pipeline types in the intra-EU gas network, can transport around 17 GW in hydrogen (LHV), and a 36-inch pipeline can transport around 9 GW (LHV)."
Moreover, this design can be further optimised. "Exploratory analysis by gas TSOs shows that operating hydrogen pipelines at less than their maximum capacity, e.g. 13 GW (LHV) for a 48-inch pipeline and 7 GW for a 36-inch pipeline gives much more attractive transport costs per MWh transported as additional expensive high capacity compressor stations and corresponding electricity consumption can be avoided."
For new stretches, "the picture is similar, meaning that when more than 13 GW of transport capacity is required on a route with one 48-inch hydrogen pipeline, it can be more attractive to partly build a second one with the same or even larger capacity rather than investing in expensive compressors to ramp up the capacity of the first pipeline."
The paper notes that "the concept of compression versus pipeline dimension, while considering the characteristics and availability of the existing gas network, is one of the main levers for cost optimisation."
Total investment costs of the envisaged 2040 European Hydrogen Backbone are expected to range from €27 to €64 billion (Table 1), covering the full capital cost of building and retrofitting the backbone. "This compares to the hundreds of billions in investments in green hydrogen production that the EC Hydrogen Strategy foresees, already for the period up to 2030."
Pipeline transmission costs "only represent a small portion of total hydrogen costs when considering the full value chain from production through to end consumption. Even assuming future production costs of 1-2 €/kg for green and blue hydrogen, transport through the hydrogen backbone will add less than 10% on top of production costs for 1000 km transported."
Taking the example of the Marseille-Essen corridor, "pipeline transmission will add 0.2 €/kg in the most pessimistic scenario, assuming the full distance is covered by means of newly constructed pipelines. This illustrates that the European Hydrogen Backbone can be a cost-effective 'first-mover' and facilitator for the European hydrogen market," concludes the paper.
German operators propose expansion of gas network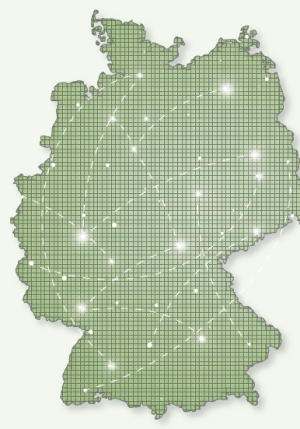 The FNB, the association of Germany's gas pipeline operators, has presented a plan to add 1,746 kilometres of new connections to the natural gas network and additional compressor stations with a capacity of 405 megawatts by 2030. They are estimating investments of €8.5 billion for these additions. The new network development plan 2020-2030 also outlines the new pipeline infrastructure for hydrogen. This will consist mostly (1,142 km) of converted pipelines, with only 151 km of newly built hydrogen pipelines foreseen. Of the €8.5 billion, just €0.7 billion will go into hydrogen and green gas pipelines. The plan will now be checked by the Federal Network Agency (Bundesnetzagentur). The members of the FNB are Bayernets, Fluxys TENP, GASCADE Gastransport, Gastransport Nord, Gasunie Deutschland Transport Services, GRTgaz Deutschland, Nowega, ONTRAS Gastransport, Open Grid Europe, Terranets bw and Thyssengas.
German Industry association BDEW (German Association of Energy and Water Industries) recently published a cross-sectoral plan for the restructuring of the gas supply, including the incorporation of hydrogen on a larger scale so that by 2050 climate neutral gases could entirely replace the combustion of natural gas.
Germany has put its ambitions to become a global leader in hydrogen technologies to paper in a National Hydrogen Strategy. The gas grid operators said in May that establishing an initial grid for transporting green hydrogen could be accomplished by repurposing natural gas pipelines at a "justifiable cost".