Petronas, Baku Discuss Turkmen Exports Westwards
The export of Turkmen gas to Europe via Azerbaijan was on the agenda during a July 27 meeting in Baku between the newly appointed head of Malaysia's state-owned Petronas Hanafi Talib, Malasiya's ambassador to Azerbaijan Dato' Roslan Tan Sri Abdul Rahman and the Azeri energy minister Natig Aliev.
Turkmen gas could access to European markets with building a Trans Caspian gas pipeline, the ministry said in a statement.
Petronas is a partner for giant Shah Deniz development in Azerbaijan having bought 15.5% stake from Norway's Statoil. Aliev said he greatly appreciated Petronas' participation in that major project as well as the company's quest for further cooperation with state-run Socar.
"Despite the sharp decline in oil prices on global markets, Azerbaijan is implementing oil and gas projects and carrying out all its international obligations," he said. "There is great potential for the expansion of Petronas' activities in the Azerbaijani sector of the Caspian sea."
In May the energy minister said that there are two options for bringing gas from Turkmenistan to Azerbaijan. One is a transCaspian pipeline and the other is the connection of existing offshore platforms on either side of the border by subsea links.
Petronas is developing gas and condensate fields in Turkmenistan's sector of the Caspian in Block 1, with output of 5bn m³/yr. Petronas has been implementing a further programme, to double this capacity.
Turkey, Azerbaijan and Turkmenistan are planning a summit with aim to lay groundwork on possible future deliveries of natural gas from Turkmenistan to Europe, Turkey's envoy to Turkmenistan Mustafa Kapucu said. According to reports, the trilateral meeting of presidents is planned for later this year.
The export of Turkmen gas resources westward has been strongly supported by the EU; there were several experts meeting from Turkmen, Azeri and EU energy commission on the matter.
In May, 2015, Turkmenistan, Azerbaijan, Turkey and the EU signed a declaration committing them to facilitating "joint efforts for the preparation of the draft of a legal Framework agreement on natural gas supply from Turkmenistan to Europe," and establishing a working group to examine the legal and logistical hurdles for this initiative.
Turkmenistan is keen to diversify its gas export routes from China and – in relatively minuscule amounts – to Iran. But its main initiative, the Turkmenistan-Afghanistan-Pakistan-India, faces security issues that have put the viability of that project in doubt.
Turkmen gas flowing into Europe, however, is far from certain too with both politics and logistics working against it.
If Turkmenistan is to hook into the southern gas corridor it will need to build a cross Caspian subsea pipeline under the Caspian Sea, which has five states bordering it: Azerbaijan, Iran, Turkmenistan, Kazakhstan and Russia.
Russia and Iran say that until there is a solution to the Caspian Sea's legal status they will oppose any Trans Caspian initiative: states have different rights and obligations if it is a sea from those they would have it were a lake and until that is resolved, in theory they can block subsea pipelines.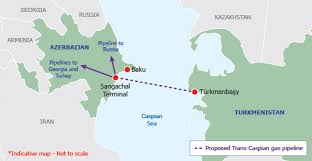 Proposed Trans Caspian gas pipeline
A July 14 meeting of the foreign ministers of each of the five states in Astana did not produce a concrete outcome. "We have confirmed on the political level, that we have a general attitude and understanding to come to the signing of the convention at a summit of heads of state next year in Astana," Kazakhstan's foreign minister Erlan Idrisov told a press conference following the meeting adding that there is no exact time for summit.
Experts need additional time for further talks, although there is no certainty that even that will be enough. "We had four difficult issues that need additional negotiations," Idrisov said, naming navigation issues and seabed delineation as well as transit issues.
Kama Mustafayeva