Partners Spend $1bn on Caucasus Line in 2016
Partners spent about $1bn developing the South Caucasus Pipeline Extension (SCPX), Caucasian part of Southern Gas Corridor (SGC) in 2016, BP said February 21. SGC consists of (SCPX), Trans-Anatolian pipeline and Trans-Adriatic pipeline, adding up to 3,500 km and aimed at bringing 16bn m³/yr of Shah Deniz gas to Turkey and Europe by 2021 at a total cost of about $45bn, including the gas field work.
In 2016, SCP (including SCPX) spent about $27mn on operating expenditure (opex) and around $974mn in capital expenditure (capex), BP reported. The pipeline has been operational since late 2006, transporting Shah Deniz gas to Azerbaijan, Georgia and Turkey. SCP's daily average throughput last year was 19.9mn m³/d during 2016.
The SCP has a dual operatorship with BP as the technical operator being responsible for construction and operation of the SCP facilities and Azerbaijan's state-run oil company Socar, as commercial operator, responsible for SCP's commercial operation.
The main construction works have continued at both compressor stations and the metering station in Georgia, with one of the compressor staions and the metering station to be ready this year. The other compressor station is 55% complete and no date was given for delivery.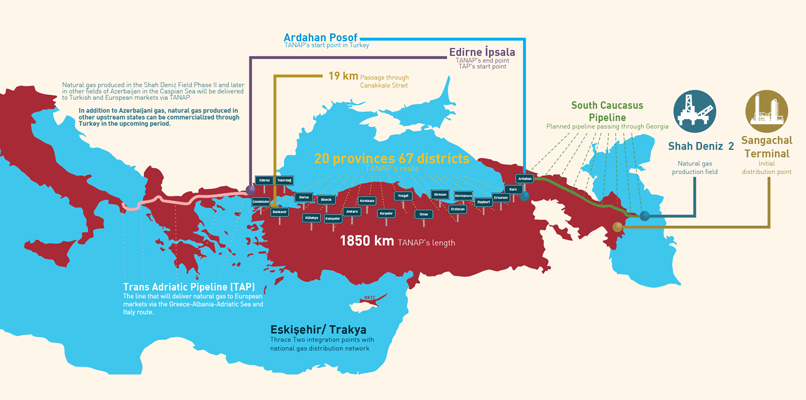 (Credit: Southern Gas Corridor Company)
The SCP shareholders are: UK BP (28.8%), state AzSCP (10.0%) and SGC Midstream (6.7%), Malaysian Petronas (15.5%), Russian Lukoil (10%), Iranian Nico (10%) and Turkey's TPAO (19%).
Azerbaijan desk