Oz Ichthys LNG Ships First Cargo
The Ichthys LNG project at Darwin in Australia's Northern Territory has shipped its first cargo of LNG, operator Inpex announced October 23.
"The first cargo from Ichthys LNG is a historic moment for Inpex, Japan and Australia. It demonstrates our commitment to being a safe, reliable long-term energy supplier," Inpex's president director for Australia Seiya Ito said. The first shipment departed late October 22 aboard the carrier Pacific Breeze (banner photo courtesy of Inpex). It is destined for the Inpex-operated Naoetsu terminal in Niigata Prefecture in Japan.
Ichthys is scheduled to gradually increase its production volume of LNG to approximately 8.9mn metric tons/yr of LNG when it reaches its production plateau. Approximately 70% of the LNG produced by Ichthys LNG is scheduled to be supplied to Japanese customers.
Total added later on October 23 that Ichthys LNG will develop reserves of more than 3bn barrels of oil equivalent of resource, including around 500 million barrels of condensate. At full capacity, the offshore facilities and the two-train onshore liquefaction plant will supply 8.9mn mt/yr of LNG and 1.65mn mt/yr of liquefied petroleum gas (LPG), along with 100,000 barrels of condensate per day. LNG is currently being produced from the first liquefaction train, with the second train expected to start up as well in the coming weeks.
Ichthys LNG is led by Inpex (operator, 62.245%) alongside Total 30%, Taiwan's CPC 2.625%, Tokyo Gas 1.575%, Osaka Gas 1.2%, Kansai Electric 1.2%, Jera 0.735% and Toho Gas 0.42%.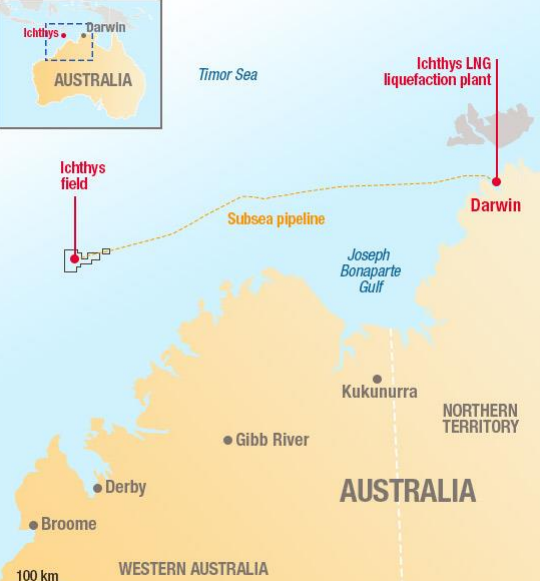 Ichthys LNG venture (Map courtesy of Total)