Pomorze: Seeds of Polish Shale Gas Counter Revolution
Those whose mother tongue is not Polish certainly need some practice to pronounce "Strzeszewo" properly. For foreigners who recently arrived to this hamlet in the northern edge of Poland, its name must be quite challenging. Probably even more challenging for them will be to persuade some of the locals that Strzeszewo is not threatened by the hunt for shale gas.
Just another dot on the map of exploration for shale gas in Poland, the community is apparently not very different from any other. About two dozen modest yet cosy dwellings, two grocery stores, a bus stop and fresh flowers are at the front of a wooden cross standing at the crossroads.
If you take one of the roads to the North, you pass moraine hills covered with oak, birch and beech woods and soon get to pinewoods growing on dunes. Another half an hour walk takes you to the wide beach with fine grained sand, one of the most quiet and most beautiful stretches of European coast.
This secluded shore was witness to a dramatic history, when at the end of the World War II, a soviet submarine torpedoed the liner Wilhelm Gustloff evacuating around 10,000 German civilians and several hundred officers from occupied Gdynia. It was the greatest maritime disaster of all times, dwarfing the much more famous fate of the Titanic.
Further from the sea, South from Strzeszewo, two previously unremarkable villages; Lebien and Rekowo, hide in the sea of meadows. People there have got used to some noises and trucks traffic of late. Two years ago Lane Energy Poland - owned by Isle of Man headquartered 3LegsResources - chose this area as a location for the first well spud by the foreign company exploring for shale gas in the country.
Lane Energy, allied with the American heavyweight ConocoPhillips, drilled two wells from the pad located between Rekowo and Lebien. The code for the second one is LE-2H, with H standing for "horizontal". This well was the trailblazing effort to explore Pomeranian shale rock formation, an approximate four kilometers below ground.
According to the company, the well "recorded a flow rate of 450-520 mscf/d at the end of a 17 day period before it was suspended."
Now the company has started its fifth well in Poland. The Czech service company MND is drilling in nearby Strzeszewo.
The company informed that the full tests on this well were planned "in order to optimize understanding of the geology before planning further horizontal wells". As the release specified, at least one diagnostic fracture injection will be performed in the form of the DFIT or a short duration and small volume fracturing mode.
This well may seem as nothing more than just another exploration wellbore in Poland, but this time it's different and not because of geology.
Contrary to other locations, in Strzeszewo the company is facing some distrust and suspicion.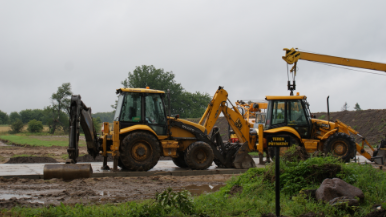 Revolution storming
One of the reasons may be that this time the shale gas revolution is almost storming the gates of local residents. The pad is located close to the first line of houses. In addition, as some of the locals claim, this storm came by surprise.
"One morning in June we were woken up by the heavy equipment working 300 meters from our houses" – said Grazyna Mazanowska, living in one of the first line houses.
"The well is around 400m away from the nearest houses (…) well in excess of regulatory requirements" ­– PR specialist working for Lane Energy Katarzyna Terej observes.
300 or 400? One way or the other Grazyna Mazanowska repeats that it's too close to feel comfortable with new neighbors. "I'm afraid" – she declares and tells the story of a smoldering shale gas counter revolution in Strzeszewo.
At the end of June she persuaded a group of residents to sign a letter addressed to local authorities. They were asking why the villagers weres presented with a fait accompli. The group also organized a demonstration and invited some local media.
In July, disturbed by "too general explanations" of authorities, the group decided to launch a formal initiative. They called it the Healthy Land of Lebork District (Zdrowa Ziemia Powiatu Leborskiego) and Grazyna Mazanowska became its leader.
The chief of Zdrowa Ziemia presents a list of questions and fears.
Is there enough of water? What is an exact composition of fracking fluids? What if accident happens?
The head of the movement in Strzeszewo says she is also afraid of property prices slump. "What with house prices, what with farming land value?"
Zdrowa Ziemia is not the only anti-shale group in the Pomorze region. Similar initiatives are forming on some concession areas, especially along the Baltic seaside and in Kashubian Lake District, where thousands of second homes are located.
In August, Zdrowa Ziemia set an alliance with 17 other groups and demanded implementing new regulations, that would guarantee compensations for property owners if the prices go down and for local tourism and agriculture if they lose revenue because of shale gas exploration and production.
In their manifesto, published by local media, they claim that new regulations, including recently amended new Geology and Mining Law, protect rather future profits of companies than interest of the public.
They also warn that "decreasing tourism will lead to bankruptcy of the local industry and will increase unemployment", while "possibility of contamination will discourage buyers at home and abroad from buying land and local agricultural products".
Calming down fears
Authorities of Pomorskie assure they understand those fears. Malgorzata Maria Klawiter, who serves as a Plenipotentiary for Shale Gas in Pomorskie Voivodeship, stresses that first of all local communities are not used to industry presence in their area.
"Let's imagine waking up in the morning in a small village and seeing a large seismic vibrator truck on your country road - this would surprise everyone" – she notes - "Adding that not many people read the information on gmina's noticeboards and that information was not disseminated in advance properly, we receive the first fears" – adds Klawiter.
"Water, soil and air pollution, noise, traffic, possible damages to environment, difficult neighbourhood, property value loses" - Malgorzata Maria Klawiter reminds that similar fears stemming from human need of peace, healthy living and safety are well known all around the globe.
Both Lane Energy and ConocoPhillips are trying to calm down fears. Companies' representatives ensure that they went to great lengths to avoid any conflict with local communities in Pomorze. At the meetings with locals the Lane CEO Kamlesh Parmar guaranteed that the company was respecting all regulations - the local Dziennik Baltycki daily reports.
The company assures that it voluntarily carried out some environmental impact studies on two horizontal wells last year and is doing so also in Strzeszewo well. "These are similar in nature to that conducted by Ministry of Environment in cooperation with PGI last year at Lebien and are carried out by an expert company on our behalf".
Major problems with minority
Some experts suggest that protests, as those in Strzeszewo, get more publicity than they deserve. Others warn that underestimating fears of locals may turn into major problem for the companies.
The authorities of Pomorze rate protest in Strzeszewo as far from extreme. There are certainly places where larger portion of population manifest their aversion to new neighbors.
On the other hand, many locals speak of their hope that gas production, coming close to their backyards, will bring income for communities and job for children.
At the same time, people have a right to believe that gas may be lesser of two evils, as Poland is the nation powered by coal. Everyone knows what rock burst and slag heap means. Some areas in the South and West are among the most polluted in the European Union, with frequent acid rains, long weeks of smog, and winters with concentration of suspended particulate matters permanently exceeded, sometimes more than tenfold.
General public support for shale gas in Poland, measured last year by CBOS, reached 75% and over a half of those asked in this nationwide survey, would accept shale gas, even if it was coming "close to where they live".
The poll also suggests that a major factor behind support for shale gas is Poland's current dependence on import from Russia. While only 40% of surveyed are not disturbed by possible impact on human health and environment, 80% say that shale gas will increase energy security of the country.
Not familiar with mining, Pomorze is one of two provinces where exploration works are most intensive. Another poll, carried out in this Northern region by the Pomorskie Obserwatorium Reporterskie, point to slightly lower level of acceptance.
Average support shale gas development in Pomorze reaches 60%, although interestingly, percentage comes down under 50% in the countryside. Unfortunately, the poll does not measure support in the areas where drilling is actually taking place.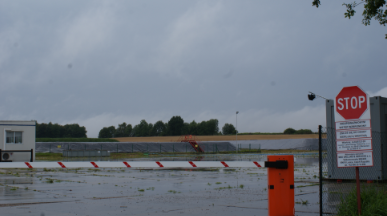 Guests from outside
In the recent paper, the Polish think-tank Instytut Kosciuszki advised companies and authorities to launch consultations prior to drilling.
However ridiculous such a recommendation may sound, the fact is that expertise of shale gas companies suggest that usually majority of locals are not too much interested in information campaigns.
"We invited local communities from Strzeszewo and Wojciechowo to the type of meeting that we always hold for local communities. Only 3-4 persons from the local community appeared" - Katarzyna Terej says – "The meeting was also attended by a much larger number of people from various groups, who all appeared to be from outside the area. This is not unusual" – she adds.
On the other hand inhabitants of Strzeszewo say they don't feel well informed.
"People are prone to fear, when they lack full information, it' s easy to generate emotions" – explains Henryk Pieper, who owns the local shop in Strzeszewo.
"There are fears that it will turn out to be harmful in the future. None can tell us for sure, what will happen in several years. The main concern is water. Our health is more important than money" – adds Henryk Pieper.
Henryk Pieper confirms the story of unexpected guests coming to their village. "First, an agent looking for employees came here. Then one day we just woke up to see heavy equipment transporting concrete on our country road. We were told gas would be extracted here".
The Plenipotentiary, Malgorzata Maria Klawiter emphasizes that when people lack information, the Internet becomes the main source of knowledge.
"They have never been facing such an investment before, so fear rises" – she explains - "When emotions reach such levels it is too late for discussions. Now the guarantee is something the locals seek."
Some locals in the front of the shop offer additional explanation for discontent. "Guests from outside are visiting this place" – says a man in his 50s, who refuses to go into details.
Grazyna Mazanowska does not hide the fact that Zdrowa Ziemia is supported by some members of Palikot's Movement (Ruch Palikota), the party, which won 10% of seats in 2011 elections and was founded as recently as in 2010 by Janusz Palikot. She speaks of a support from an assistant of the MP in Pomorze, who helped with organizing a meeting with academics, environmentalists and a German MEP, warning of potential threats to environment.
"We attended because we don't know anything about it and we want to know as much as possible" – Mazanowska says.
While the investor's representative "prefers not to comment on the activities of any one particular movement or party", the Ruch itself hardly tolerates any suggestion the party opposes shale gas development in Poland. The Movement offers different explanation: social sensitivity. According to several statements, the Movement is the only political party which reacted positively to signals from local communities.
Another member of Zdrowa Ziemia - Monika Galasiewicz says that other political parties were contacted as well, but refused to help. She complains on lack of public consultations. "We were ignored. There were no consultations at all. Meeting was organized when press got involved."
Galasiewicz argues that Poland needs a real debate on shale gas. She says that now any objection is stigmatized as pro-Russian. "We are called freaks, obscurantists or just Gazprom agents."
Better communication
The Plenipotentiary agrees that current model of communication must be corrected. Malgorzata Maria Klawiter says that the regional authorities has prepared a program aimed at creating model of better communication between companies, authorities and local communities. The project is now waiting for the approval of the funding institution.
"If both sides understand what it is all about and what is the position of the others, it would be easier to communicate and accept each other's needs. I certainly believe that dialogue and information could lessen the suspense and lead to some arrangements between the community and the company" – she declares – "but starting this dialogue now is more difficult than it was before the industry begun the activities in the place."
The plenipotentiary adds that central government should provide necessary knowledge and information and companies engage with more openness in a wider dialogue.
She also proposes not to reinvent the wheel and argues that ExxonMobil has already set an example in Germany.
"I hope companies investing in Poland will think about similar approach and maybe unite for the sake of the future of shale gas industry not only in Pomorskie and Poland, but for the sake of the future of shale hydrocarbons in Europe". "If all stakeholders will not come together to discuss all the issues" – she stresses – "I cannot predict a positive public answer for shale exploitation."
Seeds of discontent are sown in the healthy land of Pomorze. Will protests crop up or will growing understanding bring a mature compromise? Natural Gas Europe will keep you informed…
Michal Zielinski has been reporting and blogging on shale gas exploration in Poland since 2009. Formerly at the BBC World Service, he is currently based in Krakow and working for Poland's most popular radio station, RMF FM.