OMV Buys Uniper Stake in Russia's Yuzhno Russkoye
Austria's OMV announced late March 5 it has signed an agreement to buy a 24.99% share in the Yuzhno Russkoye gas field from Germany's Uniper.
OMV has agreed to pay $1,850mn (or €1.749bn) plus cash on the balance sheet per December 31, 2016. The transaction is anticipated to close by end-2017 and be effective from January 1 2017, assuming foreign investment control clearance in Russia and other approvals.
OMV CEO Rainer Seele said: "The acquisition will build a new core area, Russia, in our upstream portfolio adding 100,000 boe/d to OMV's production. After closing, OMV will produce in total more than 400,000 boe/d. This transaction is fully compliant with the execution of our strategy and significantly reduces OMV's production cost."
Yuzhno Russkoye is one of the largest gas fields in Russia, situated in the Yamal-Nenets region of western Siberia. Current plateau production of the field amounts to 25bn m3/yr (at 100%). It is the key resource for the Nord Stream pipeline which supplies Germany directly with Russian gas.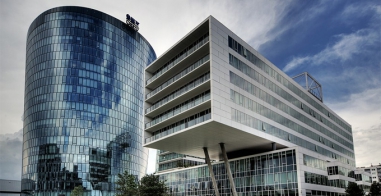 OMV HQ in Vienna. Its CEO Rainer Seele used to head Wintershall, which will remain a partner in the Gazprom-led Yuzhno Russkoye field (Photo credit: OMV)
Uniper CEO Klaus Schafer said the divestment would help Uniper "achieve our deleveraging target well ahead of schedule" and would not impact Uniper's strategy as E&P is "no longer at the core of our future development." He added: "We have valued the joint ownership with Gazprom and [BASF-owned] Wintershall over more than seven years as an excellent and trustful partnership, and at the same time we are convinced that the sale of our stake to an experienced E&P company like OMV will allow for a smooth transition." Fossil fuels firm Uniper was spun off from E.On last year.
Wintershall has 25% of Yuzhno Russkoye but, as Gazprom's first investment partner there, has a 35% share in the economic rewards from the field.
Uniper will continue to generate roughly 5% of Russian electricity production through its majority stake in one of Russia's largest private generators, Unipro, and said its "historic partnership with Gazprom will not be affected as we jointly continue to secure gas supplies to Europe for the next decades." Schafer and Gazprom CEO Alexei Miller met March 3 at Gazprom's HQ to affirm their willingness to see through the Nord Stream 2 project, which aims to add another 55bn m3/yr of subsea transmission capacity between Russia and Germany.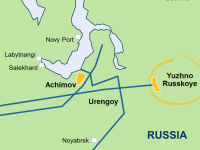 Yuzhno Russkoye field's location in western Siberia (Map credit: OMV)
OMV upstream chief Johann Pleininger said: "With remaining recoverable reserves of around 580mn boe (OMV share), Yuzhno Russkoye becomes a major source of reserve replenishment in OMV's portfolio." The deal should enable OMV to reach its strategic target of a 100% reserves replacement rate for around 5 years, based on OMV's 2016 production.
Yuzhno Russkoye is expected to generate attractive cash flows without requiring significant investments, noted OMV, with capital expenditure expected to be only $20mn/yr until its license expiry at end-2043. OMV is entitled to dividends starting with the financial year 2017 and is expected to receive approximately $200mn per year mid-term.
OMV itself made a significant divestment just two days earlier, on March, 3 when it agreed to fully divest its wholly-owned Turkish oil product marketer and distributor Petrol Ofisi, acquired seven years ago, to trading group Vitol for €
1.368bn. Until last month, Saudi Aramco had been tipped as a likely buyer from OMV.
Mark Smedley