Ocean LNG Inks Brazilian Supply Deal
Ocean LNG, the new global LNG marketing venture 70%-owned by Qatar Petroleum (QP) and 30% by ExxonMobil, has signed a long-term LNG supply agreement (SPA) with Brazil based Celse.
Celse is the joint venture of Golar Power and privately-owned Ebrasil which in mid-October took the final investment decision to develop the 1.516-GW Porto de Sergipe power project near Aracaju in the northeast Brazilian state of Sergipe.
Under the agreement, Ocean LNG – which was established only last month for the purpose of marketing QP's international LNG supply portfolio sourced outside of the State of Qatar – will supply 1.3mn mt/yr of LNG to Celse on an ex-ship basis. The shipments, which will begin in 2020, will be used at Celse's Sergipe power project.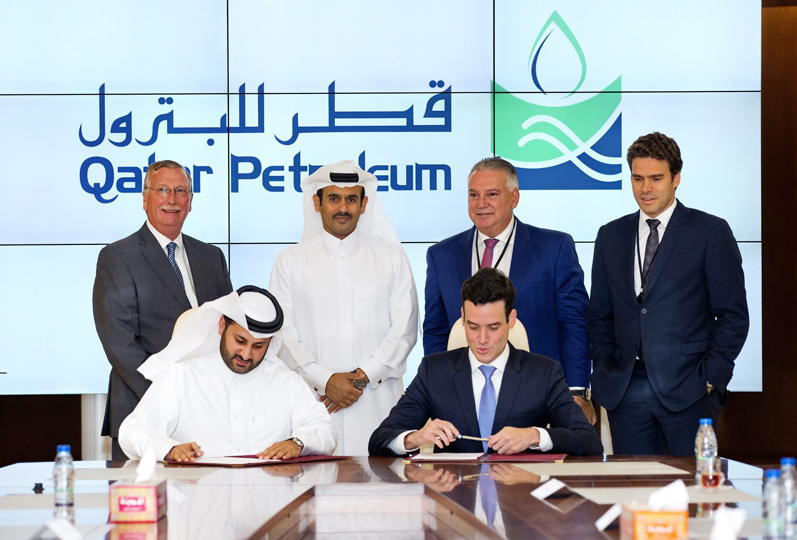 The first long-term LNG supply deal into Brazil is signed by the CEOs of Ocean LNG and Brazilian venture Celse, with QP CEO Saad Sherida al-Kaabi standing second left and Golar Power CEO Eduardo Antonello far right. Standing far left is ExxonMobil VP, LNG, Richard Guerrant (Photo credit: QP)
QP CEO Saad Sherida al-Kaabi said that this is the first SPA signed by Ocean LNG and that it is also the first supplier to deliver LNG into Brazil under a long-term contract: "Brazil is an important LNG market and we are proud to contribute to meeting Brazil's gas demand."
Celse CEO Eduardo Malan stated: "This is an important milestone in the development of the Porto de Sergipe power plant. Golar Power is proud to partner with LNG industry pioneers Qatar Petroleum and ExxonMobil and their newly formed Ocean LNG joint venture as its long-term fuel supplier."
The agreement was announced by Golar LNG on November 14 and by QP two days earlier, when a signing ceremony is believed to have occurred.
Golar Power itself is 50% owned by Golar LNG and 50% by New York-based investment fund Stonepeak Infrastructure Partners.
Mark Smedley