NT drilling approvals pave way for new gas supplies [NGW Magazine]
The Northern Territory's recent approval of a shale gas drilling plan, its first since a two-year moratorium on hydraulic fracturing was lifted in March 2018, is good news for both the territory and the country as a whole.
On July 24, Santos announced that its environmental management plan (EMP) for two wells in Exploration Permit (EP) 161 had received government approval.
The green light comes as the government continues to implement a list of 135 recommendations that a 15-month long scientific inquiry deemed necessary to mitigate the risks associated with fracking. Since the recommendations were made, the government has created detailed codes of practice, shifted of responsibility for approvals to the environment minister, improved transparency and disclosure requirements and has designated a series of "no-go zones" for upstream activity.
The panel's recommendations have allowed the territory to justify the reopening of its unconventional resources for development, despite protests from farmers and environmentalists. NT environment minister Eva Lawler said the government had implemented a "robust, clear and transparent" set of environmental guidelines in accordance with the recommendations.
The approval not only paves the way for companies to begin developing the territory's unconventional gas assets in earnest, it could also lead to a significant uptick in domestic production that would help stave off looming natural gas shortages.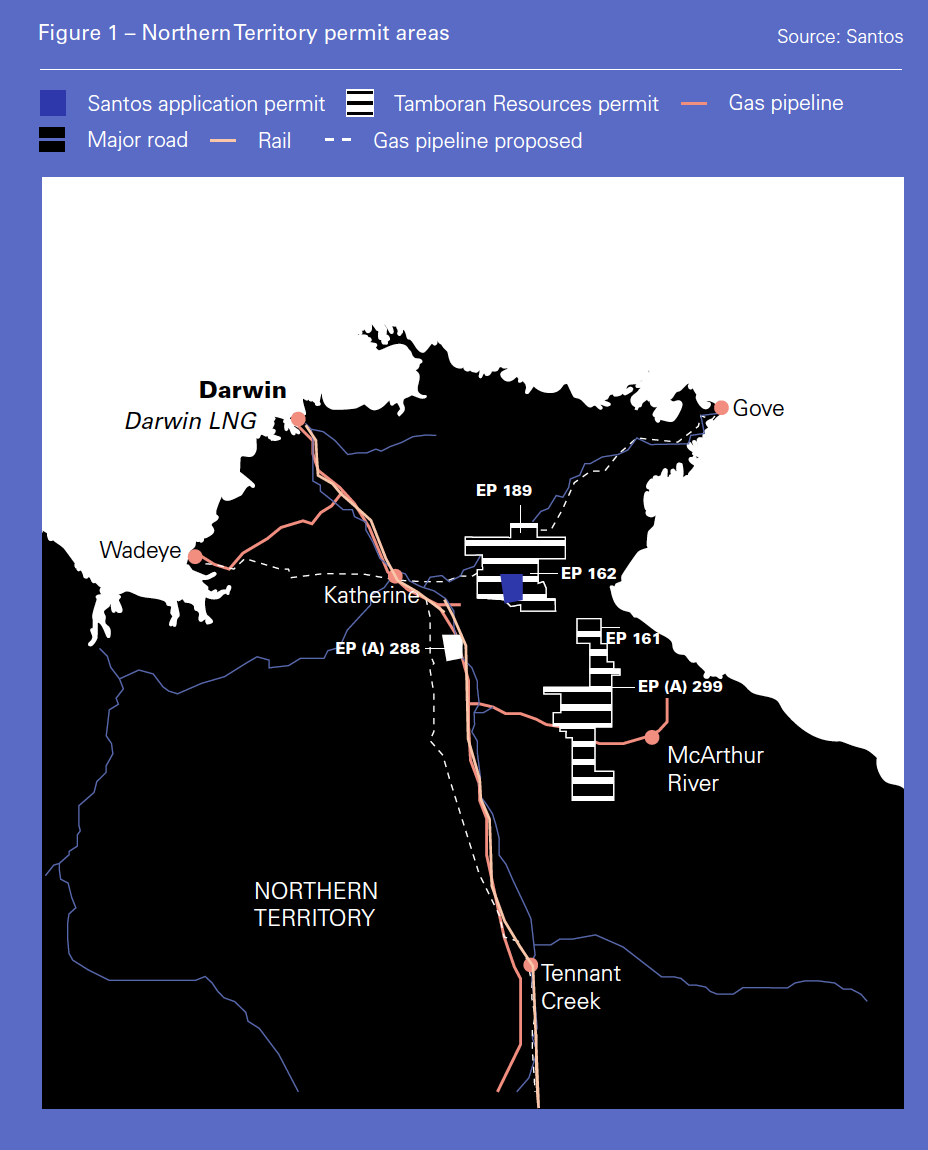 Green light
Santos can now move to drill the the Tanumbirini 2H and Inacumba 1/1H wells in the McArthur Basin's EP 161. Santos operates the permit with a 75% interest, while Tamboran Resources holds the remaining 25%
The company's managing director and CEO Kevin Gallagher said the well approvals cleared the way to restart onshore shale gas exploration in the basin and that the company would be moving "as quickly as possible and doing our best to beat the approaching wet season".
"We drilled Tanumbirini-1 in 2014 and liked what we saw, so we are delighted to be in a position to resume exploration drilling," Gallagher said. Tanumbirini-1 was drilled to a total depth of 3,945 metres and intersected multiple intervals of organic-rich rock at the primary objective Mid-Velkerri level. Elevated gas readings were encountered over a total gross interval in excess of 500 metres.
Santos only has one drill rig operating in the NT – Ensign 965 – and is waiting for it to finish the conventional Dukas-1 well in the Amadeus Basin before deciding on the next drilling location.
Lawler said the EMP had been approved following a public consultation process that had attracted 22 submissions, resulting in Santos revising its plans for waste and spill management while also overseeing a reduction in environmental risks.
While Santos has secured the first drilling and fracking approval, the company is likely to be followed shortly by Origin Energy, which arguably made greater strides in its development efforts before the 2016 moratorium (see box).
Of the territory's shale plays, Beetaloo has garnered the most attention. Some estimates put the basin's resources at 500 trillion ft³ of gas. Origin's Kyalla test well in 2016 prompted the company to estimate recoverable resources of 6.6 trillion ft³.
Beetaloo is widely seen as a game changer for the Australian onshore upstream and has frequently been compared to prolific US shale regions such as the Marcellus and Barnett. Origin has been a little more cautious, preferring to reiterate that it is still only in the exploration phase.
The sheer size of the resource numbers being bandied about, however, has many within the industry excited about shale's long-term potential.
Following Santos' drilling approval announcement, the NT director of the upstream group, Australian Petroleum & Production Association (Appea), Keld Knudsen said: "The industry will play a crucial role in growing the territory's economy and promoting regional development through further investment in developing the NT's natural resources."
Knudsen added that Appea's members were ready to invest billions of dollars if currently planned exploration was successful. The industry is waiting and watching to see if Origin and Santos can convert a highly speculative area into the next major hydrocarbon frontier, which could help to ward off looming energy shortages on the east coast market.
East coast connections
NT's gas market has been connected to the east coast grid since late 2018, when Jemena commissioned the Northern Gas Pipeline (NGP). The pipe's first commercial operations started January 3.
The 622-km, 90 terajoule (2.34mn m³)/day conduit connects Tennant Creek in NT to Mount Isa in Queensland and grants the east coast market relatively easy access to a potentially major new supply source. Jemena has already said that if NT's gas plays are proven to be commercially viable then it will increase NGP's capacity to 700 TJ/day. The pipeline operator's early calculations suggest such an expansion would cost A$3-4bn (US$2.06-2.75bn).
This would be a small price to pay when considering that the Australian Energy Market Operator (AEMO) has warned that Victoria and New South Wales could experience annual gas shortages of 20 petajoules by 2024. To alleviate the issue, AEMO has recommended building LNG import terminals, a far from palatable option politically speaking, given that the country displaced Qatar as the world's largest LNG exporter in terms of capacity earlier this year.
An expanded interstate pipeline would be able to undercut LNG supplies imported via the various floating, storage and regasification unit (FSRU) based projects that have been proposed along the eastern coastline. If that is the case, then not only will upstream investors be watching Santos and Origin's efforts closely, so too will the various companies with import projects on the drawing board.
Origin's opportunity
When the NT government approved Santos' EMP for civil works at and around the well locations in June, it provided similar support for Origin's works at EP117 in the Beetaloo Sub-basin. Origin received the all clear to begin a civil construction programme involving the installation of access tracks, camp pad and lease pad at the permit.
The permit is one of three (including EP76 and EP98) in the basin in which Origin holds a 70% operating interest, with Irish Falcon Oil & Gas owning the remaining 30%. Origin and its partner intend to drill two wells in the basin this year, targeting two liquids-rich gas plays, Falcon said on July 31.
Origin has a 70% interest in three exploration permits spanning 18,500 km2 of the Northern Territory, with Falcon controlling the remaining 30%.
Falcon reported that a water extraction licence was in place to drill a well at the Kyalla gas play, with drilling approval expected in August. Water bores have been drilled and the access road and the well pad is nearing completion, it said. A water extraction permit has also been secured to sink a well at the Velkerri play, where the construction of water bores and access roads has been approved.
Clearance for well pad construction and drilling is pending, according to Falcon."We look forward to updating the market when the JV re-commences drilling in the highly prospective Beetaloo Sub-basin in 2019," Falcon CEO Philip O'Quigley said.