Novatek: Russia's not-so-secret weapon [NGW Magazine]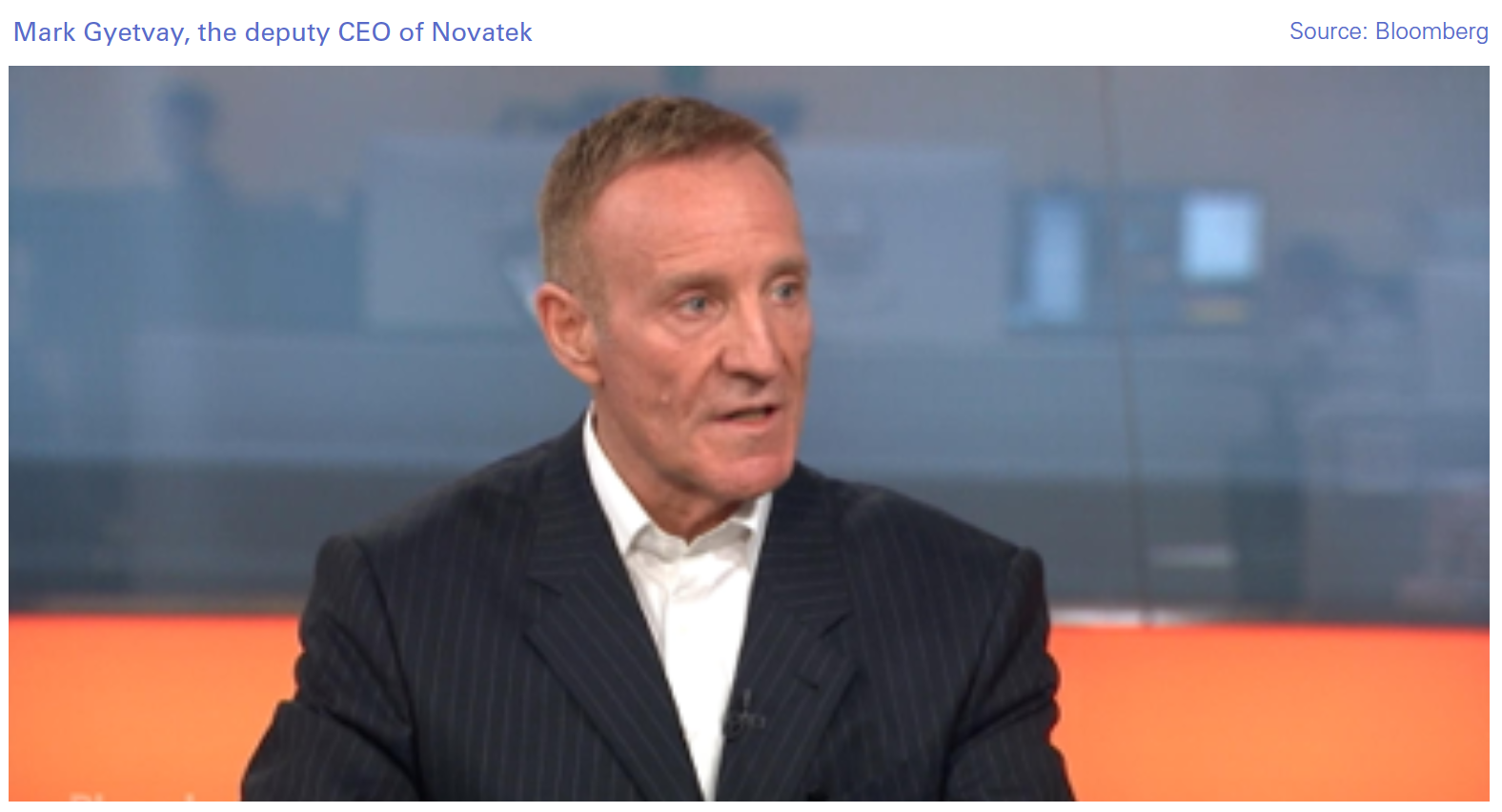 NGW: Yamal LNG has put the company at the forefront of global LNG producers, to the extent that you have been dubbed the Ferrari of the LNG market. Can you summarise the key factors that contributed to this?
Novatek: Yamal LNG (Figure 1) was a tremendous success for not only Novatek, but for all of our partners and contractors involved in this game-changing project. We focused on delivering it on budget and on schedule, which is consistent with our historical operations.
We had limited scope to miss key milestones because of the harsh climatic weather, so a tremendous effort was put into the planning phases of ensuring the timely delivery of all of the essential equipment and modules. Moreover, we expedited equipment where feasible to ensure that there would be no delays during construction. There are numerous examples to cite but it was a collective effort by many.
NGW: Part of this success are your transshipment arrangements. How are these working out in terms of cutting down time to market and costs? How is this helping you reduce the landed cost of your LNG?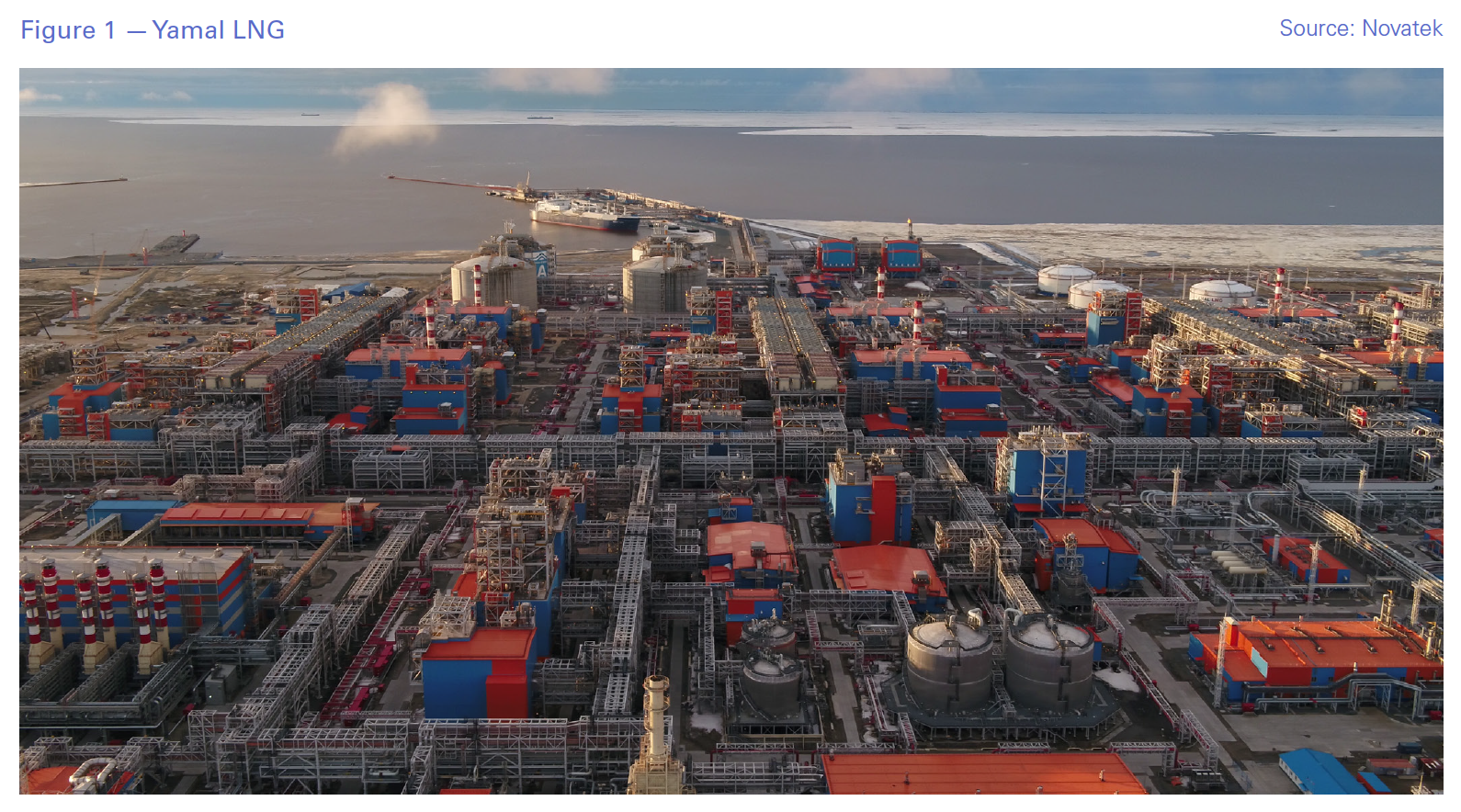 Novatek: We have focused a significant amount of time optimising our logistical model, as the Yamal LNG project is cost competitive. Our gas molecules have been delivered to over 26 countries, demonstrating the success of our shipping and marketing efforts.
Transshipments play a key role in reducing our transport costs and improve commercial margins and profitability. We also used ship-to-ship transfers this past winter to reduce the transit time of our Arc7 ice-class tankers (Figure 2) heading westbound to Europe (Figure 3), which allowed the current tanker fleet to shuttle back and forth between Norway and the Sabetta port most efficiently.
We also use the Northern Sea Route on eastbound shipments (Figure 3) when the navigational season is open to transport LNG to the key Asian Pacific consuming region. This allows us to reduce our transit time and nautical distance by roughly half and reduces boil-off gas. It also makes us competitive.
We are planning to build a new transshipment terminal in Kamchatka in the Russian Far East with an annual capacity of 20mn metric tons to serve the Asian markets, as well as an eastbound transshipment terminal in Murmansk. These will serve as future LNG offtake points for Arctic LNG 2 and our other LNG projects.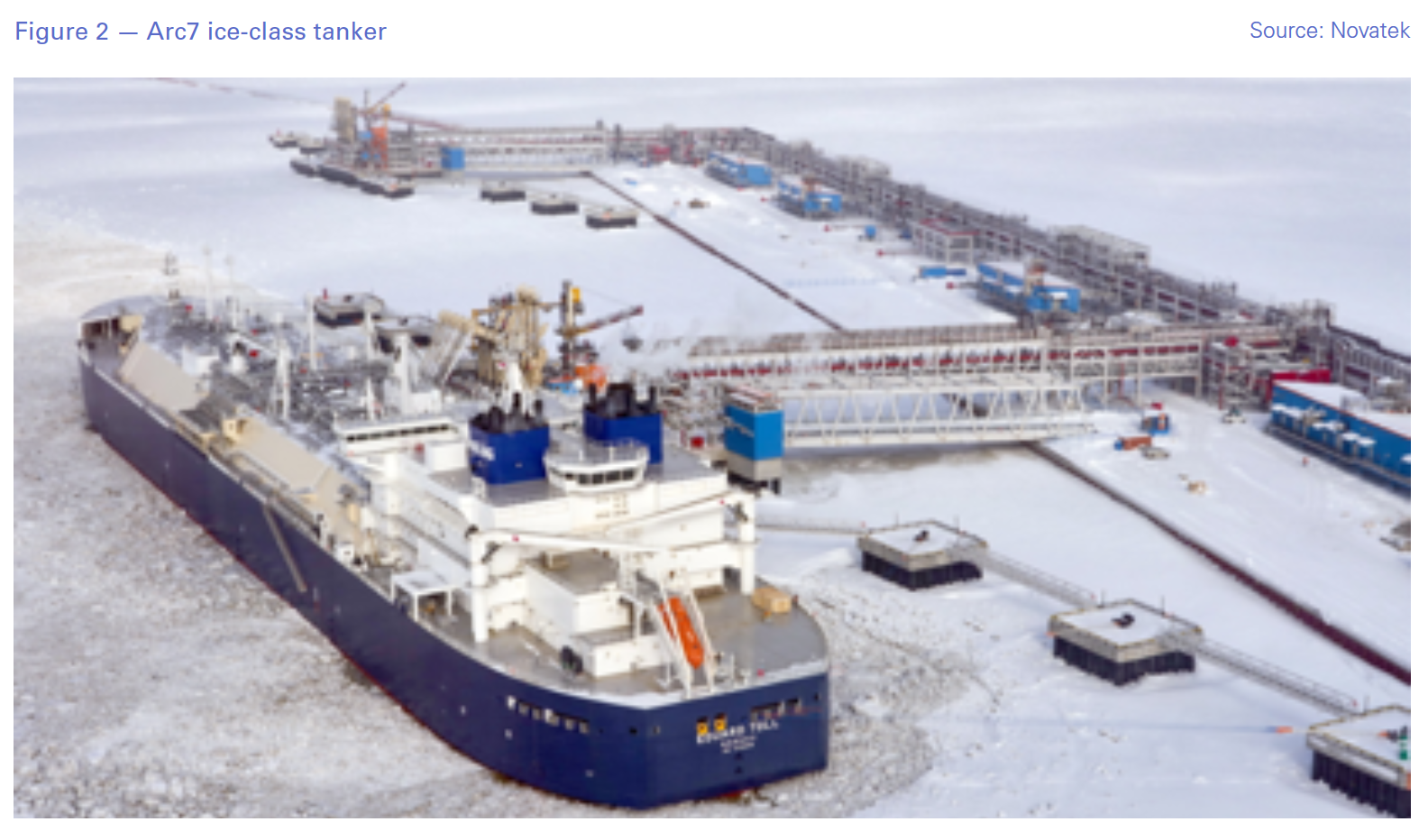 NGW: What do you attribute your success in LNG sales to Europe to?
Novatek: We have demonstrated that we are a reliable supplier of LNG and, as such, buyers are interested in procuring LNG from us. There is nothing magical about our LNG sales in Europe that I would attribute this success to any single factor. We are building our LNG platform based on delivering competitively priced LNG to market.
NGW: How does new technology and local construction help?
Novatek: Arctic LNG 2 will be built based on gravity-based structures (GBS) that will house all main components of the liquefaction process (Figure 4). This reduces our need to build on the permafrost and use insulated pilings and so on. Using GBS will significantly reduce our environmental footprint well as reducing the costs of construction.
We will also leverage some of the existing work performed previously on Yamal LNG, such as the main Sabetta port, the international airport and dredging work in the Ob Channel. But the most significant cost reduction comes from eliminating most or all of the onshore infrastructure with the use of the GBS platforms.
NGW: Can you explain the ownership structure of Arctic LNG 2 project, and how this is contributing to its success, particularly as the LNG market still relies on long-term contracts?
Novatek: Arctic LNG 2 recently closed its shareholder structure as we sold our target 40% to Total (10%), CNPC (10%), Cnooc (10%) and 10% to a joint venture comprising the Japanese firms Mitsui and Jogmec. Partners will off-take their proportionate volumes either FOB Murmansk or FOB Kamchatka. This ensures that each party will market their own volumes based on their specific requirements, so the marketing requirement depends on their own portfolios.
NGW: How is Yamal LNG fourth train progressing and what is new in comparison to the existing facility?
Novatek: Yamal LNG train 4 is progressing as planned and was about 61% completed at the end of the third quarter 2019. We will commission the facility sometime in the first quarter 2020. Train 4 is different in both sizes at 900,000 metric tons versus 5.5mn mt/yr each for trains 1 through 3, as well as the liquefaction technology used. LNG trains 1 through 3 were based on the C3MR liquefaction technology from Air Products, whereas Train 4 is based on Novatek's proprietary Arctic Cascade liquefaction technology.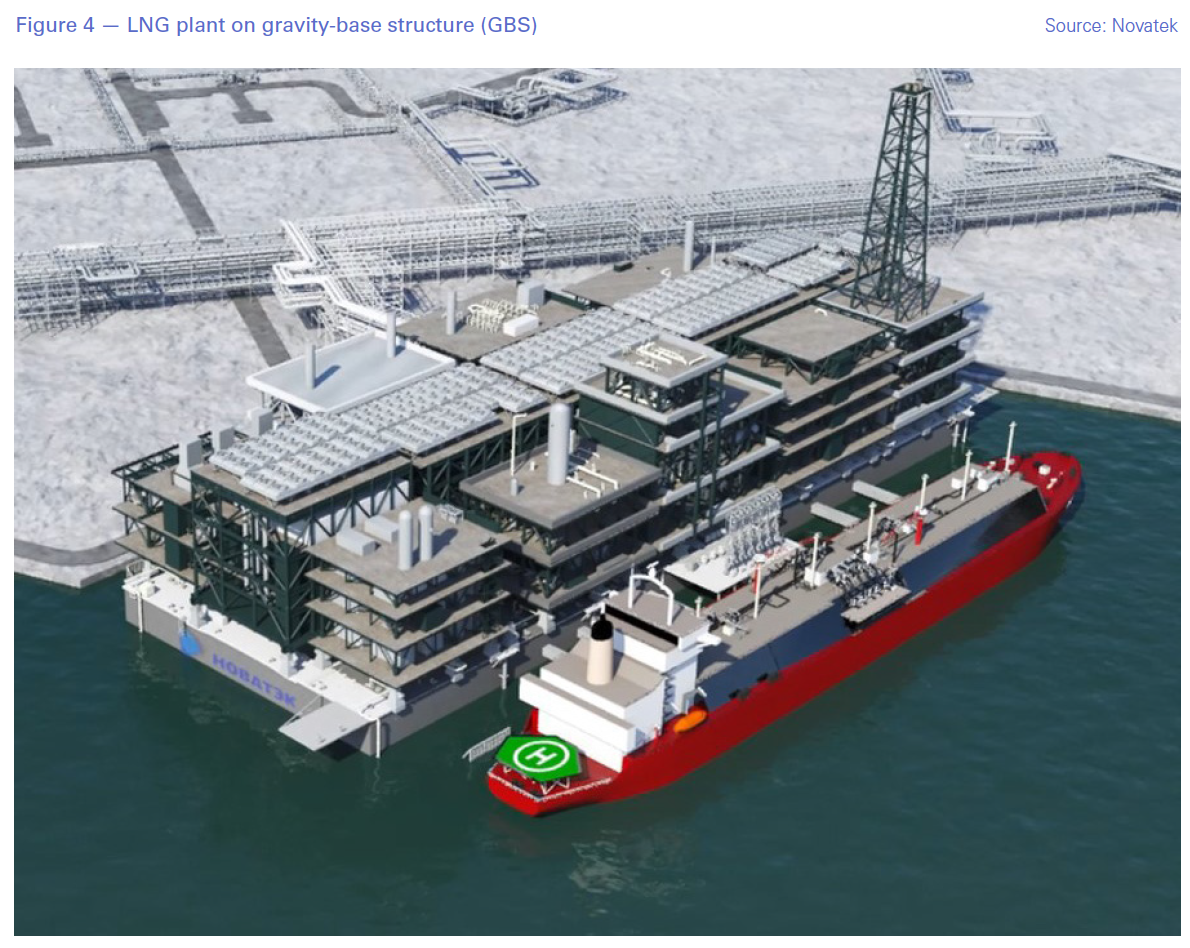 NGW: You said that Ob LNG will be developed exclusively with Russian-made technology. What is the latest and what is its timing?
Novatek: Yes, the Ob LNG project will use a modified version of our Arctic Cascade and Russian sourced and manufactured equipment. We are targeting around 5mn mt/yr and will most likely make a final investment decision (FID), in the second half of 2020. This represents the latest information on this new project.
NGW: You said that the break-even cost of Arctic LNG 2 is as low as $4/mn Btu. Is this correct? How do you achieve this in arctic conditions?
Novatek: I prefer not to discuss this question at this time because there are differences between what people consider "cash-cost" versus "full cost". All I will say, however, is that we will deliver some of the lowest cost LNG to market and that will define the success of this project and our ability to successfully market LNG to all key consuming regions.
NGW: You are very bullish that global LNG demand will be even higher that the IEA forecasts. What happens if changes in market conditions in Asia, thwart this and LNG prices stay low? How low is still profitable for you? Who are your main competitors?
Novatek: Yes, we are quite bullish on LNG demand through 2040 and beyond. The Asian markets, including India, represent more than 80% of the expected demand growth through this forecast period, and we see no reason this demand should not materialise with "blue sky" policies being adopted and the transition from coal to clean burning natural gas continues unabated. We are already seeing infrastructure investments being made in the India markets, which precedes demand. Moreover, the low prices stimulate demand growth and we take a quite conservative outlook on future LNG prices in our project forecasts.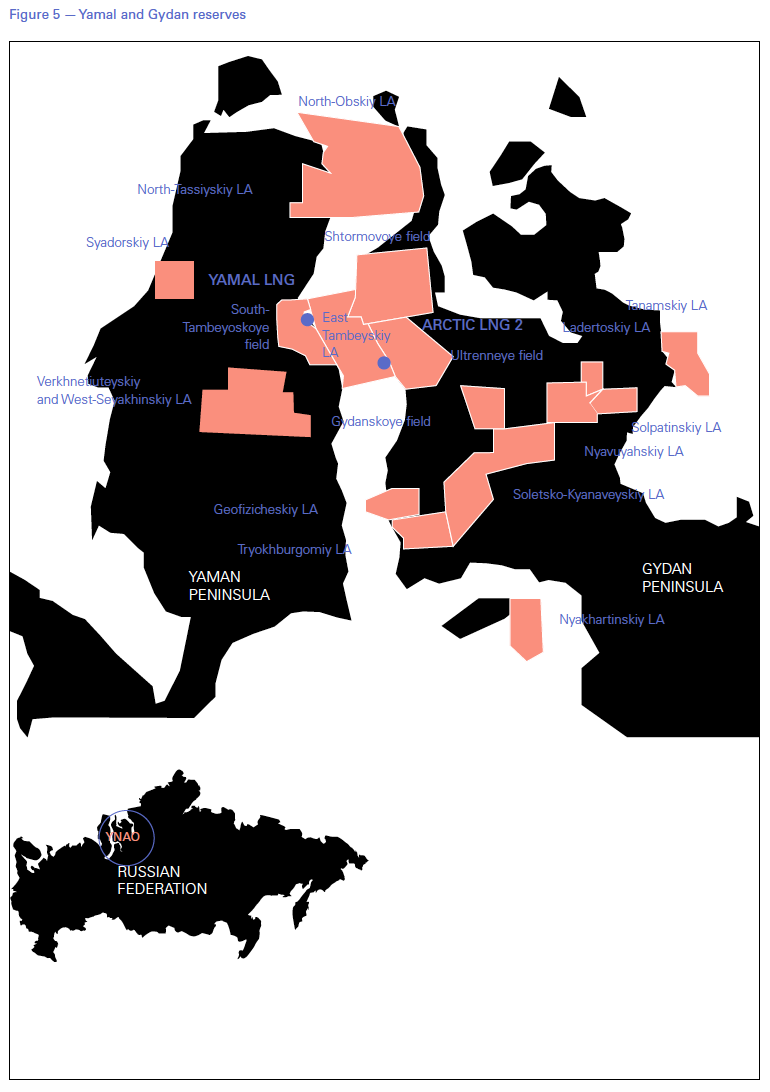 We are building an LNG platform that aims to bring one of the lowest landed LNG costs to market, so we believe we can achieve this aim with our massive hydrocarbon resources, optimised logistical model, and commercial trading transactions like swaps. We have clearly demonstrated our ability to bring competitively priced LNG to market, so I don't foresee this as a major obstacle ahead of us.
As for competitors, we believe there will be five major LNG centres around the world supplying LNG to market – US, Russia, Qatar, Australia and Mozambique. It is not a "zero sum" game and each producing area will have the opportunity to market and sell their LNG volumes as long as they can deliver LNG cost-competitively to market.
NGW: Do you have enough proven reserves to support these projects, and for how long? Which gas-fields are providing this gas and what are their reserves? Are there more prospective gas finds? Achieving 222% reserve replacement rate and achieving an 8.5% increase in marketable gas production in 2018 was remarkable, underpinning Novatek's success story – how confident are you that this will continue?
Novatek: We have conservatively around 3 trillion m3 of natural gas on the Yamal and Gydan peninsulas (Figure 5) to support our LNG platform, and this figure will grow with additional licence acquisitions and exploration activities.
Presently, the South-Tambeyskoye field serves as the gas-field for the Yamal LNG project, and we recently discovered additional resources in the lower Jurassic layers. For Arctic LNG 2, the prolific Utrenneye field (Figure 5) will feed gas (Figure 6) into the three gravity-based platforms and this field also has potential upside to existing resources by developing the lower Achimov and Jurassic layers.
We recently acquired in August 2019 by state tender the Soletsko-Khanaveyskiy licence area, which combined with the Geofizicheskiy and Trekbugorniy areas, will form the gas feedstock for Arctic LNG 1, a LNG project that we will develop after the launch of Arctic LNG 2. We are also exploring the North-Ob (Figure 5) licence area and have successfully drilled our first exploration well in 2018 that the consulting firm WoodMac considered the largest gas discovery that year. We will drill the second exploration well in 2020, and this field will feed the Arctic LNG 3 project expected post-2030.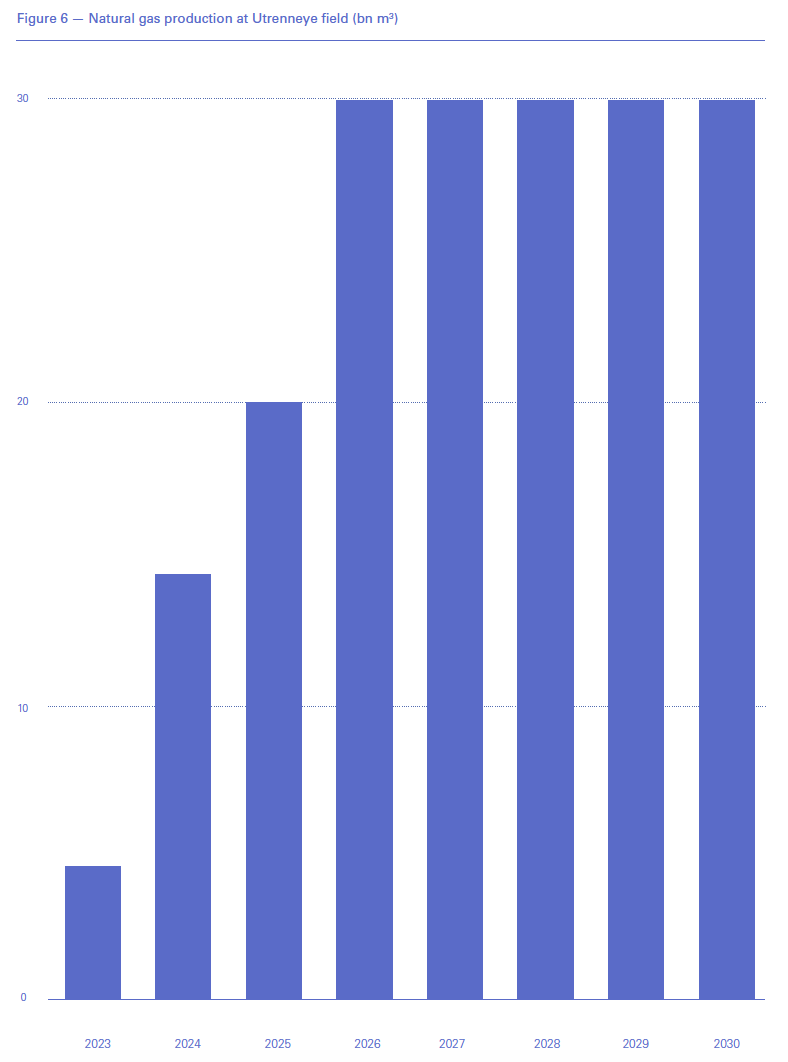 We will most likely announce a final investment decision (FID) in the second half 2020 for our Ob LNG project using the gas produced from the Verhnetiuteiskiy and West-Seyakhinskiy licence areas. This project is to produce 5mn mt/yr of LNG using a modified version of our proprietary Arctic Cascade liquefaction technology.
We have a series of other licence areas on both the Yamal and Gydan peninsulas that require more exploration activities before considering future LNG projects, but it is safe to say that a lack of high quality resources is not one of our problems. This geographical region has enormous hydrocarbon potential which underpins our optimism to create a formidable LNG platform in the Russian arctic.
NGW: Your stated aspiration is to reach 70mn mt/yr by 2030 at very competitive prices. Can you tell us about this and how you plan to achieve it?
Novatek: I have already alluded in the prior question to a series of future LNG projects that form the basis of our LNG ambitions – Yamal LNG, Arctic LNG 1, 2 and 3, and Ob LNG. We are confident that our prolific hydrocarbon resource base will yield additional LNG projects. Our LNG platform is scalable to meet the growing need for affordable, secure, and sustainable energy, and we believe our LNG project portfolio is highly attractive to potential industry partners due to the cost-competitiveness of our projects, the massive low-cost resources and geographical proximity to deliver LNG to Europe and the Asian Pacific markets.
NGW: What drives Novatek?
Novatek: The incredible success of Yamal LNG has obviously transformed Novatek from a purely Russian domestic gas producer to a global gas player with large ambitions. Novatek was not a privatised company created from the oil ministry or the gas ministry of the former Soviet Union, in distinction to many of our Russian oil and gas peers. We have essentially built our natural gas business from zero production or reserves in 1994 to become now the second largest holder of proven gas in world and the sixth largest gas producer.
Our success has been driven by a relentless focus on cost-control and project execution, combined with a highly qualified management team. We have consistently ranked in the top tier globally amongst our oil and gas peers in many of the industry's main operational and financial performance metrics – reserve replacement rate, reserve replacement cost, finding and development costs, lifting costs, return on invested capital to name a few. We are finally getting our long overdue recognition.