Norwegian Problems Hit June Output
Actual Norwegian oil and gas output drifted further from the forecast figures for the second month running in June, according to data published by the upstream regulator Norwegian Petroleum Directorate (NPD) July 12.
Total gas sales for the month were 9.40bn m³, down 0.3 m³ from May and down from the forecast 9.87bn m³, but higher than in June 2018, when they were 9.18bn m³. Production this year is 61.41bn m³, compared with 6o.62bn m³ in the same period of 2018; but down from the forecast of 61.85bn m³. Earlier in the year output had beaten the forecast.
Oil production in June was a tenth lower than the Norwegian Petroleum Directorate's forecast, and 3.4% below forecast so far this year. The main reasons that production in June was below forecast is technical problems and maintenance work on some fields, it said.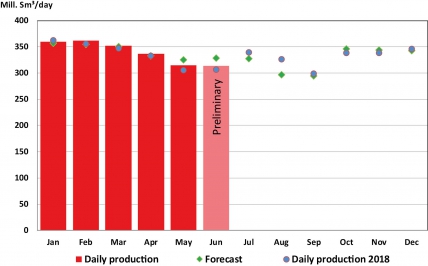 Source: NPD