Norway's Pipelines Suffer Least from EU Demand Slump: Cedigaz
Europe's imports of pipeline gas by pipeline were down sharply in the first half of the year compared with the same period last year, but Norway saw the smallest loss, according to analysis by French consultancy Cedigaz July 7. "This seems coherent with the fact that Norwegian long-term contracts are largely spot indexed (with little volume flexibility) which is less the case for Russian and Algerian contracts," Cedigaz said.
Gas demand has been low globally this year so far, while US LNG exports to Europe have risen sharply, owing to their need for a market at almost any price. Oversupply has brought down prices in all three regions: North America, Europe and Asia.
Monthly pipeline flows were also relatively stable over the six-month period, according to data from pipeline operators' group Entsog. They reached a minimum in May of 20.6bn m³ against a maximum 23.1bn m³ in March.
However compared with last year, Europe's pipeline imports were down by 18% in the first quarter and 20% in the second quarter (see graph). Overall, European pipeline imports stood at 130bn m³ in the first half, an estimated 30bn m³ (19%) decline compared to the same period last year. And "remarkably, daily flows remained below the minimum recorded in the 2016-2019 period on almost every day of the semester," said Cedigaz.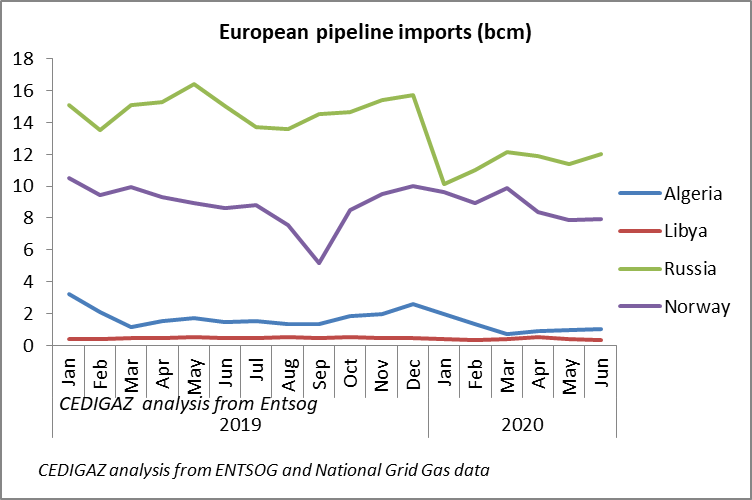 As much the biggest exporter, Russia bore the brunt (72%) of the year-on-year decrease in terms of volume with a 21.8bn m³ decline in the first semester, followed by Algeria (-4.2bn m³), Norway (-4.1bn m³) and Libya (0.4bn m³). But in relative terms, Algeria was hit the hardest with a 38% contraction of its pipeline exports to Europe, against a 24% drop for Russia, 16% for Libya and just 7% for Norway.
As prices plummeted to levels unseen before, buyers turned to spot index sources such as LNG and Norwegian gas, making use of the volume flexibility embedded in long-term oil index contracts. However it is very likely that Russian and Algerian shipments were below buyers' contractual obligations in the first semester suggesting a possible increase in imports from those countries in the second half of the year, said Cedigaz.