Nord Stream 2, Wasco Sign Weight-Coat Contract
Russian gas export monopoly Gazprom has agreed to pay some €600mn ($675mn) to Dutch Wasco Coatings to weight-coat the linepipe for Nord Stream 2.
Its wholly-owned Swiss subsidiary Nord Stream 2 announced the contract with Dutch Wasco Coatings on September 7. Also in the deal are pipe storage and logistics services.
Wasco will operate an existing weight coating plant in Kotka, Finland, and a second plant at Mukran, near Sassnitz on the German Baltic coast, as well as three storage yards located around the Baltic Sea for storing the pipes. Hanko, Finland will be one of three storage locations, with the two other ports in Sweden at sites still to be confirmed.
The first pipes will be delivered from the pipe mills to the coating plant in Kotka end of September and to Mukran early November. Coating operations will start in the first quarter of 2017. First gas through the new 55bn m³/yr system, which like Nord Stream 1 will consist of two parallel pipes, is expected to flow in late 2019.
"This important contract is a key milestone for the Nord Stream 2 project: It will provide the logistical back-bone for the construction phase and is fully in line with our project schedule," said Nord Stream 2 chief project officer Henning Kothe. "We are also pleased that Wasco will be co-operating with the ports, which successfully participated already in implementation of the existing Nord Stream."
For Wasco, "this is a milestone project for us as this is the single largest contract win to date. We also look forward to cooperating with local partners in the logistics hubs with some already having experience from similar project," said Wasco Group CEO Giancarlo Maccagno.
Steel pipes will be transported from the pipe mills to the coating plants, from where the coated pipes will be transshipped to the storage yards and later to pipe-lay barges by pipe carrier vessels.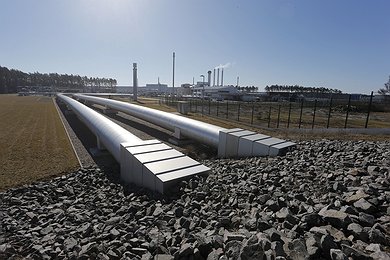 Landfall for first Nord Stream line in Germany (Credit: Nord Stream)
At the coating plants, the concrete weight coating added to the high-density steel pipes will double their weight to 24 metric tonnes to ensure the stability of the pipeline on the seabed. In all, some 200,000 sections of linepipe, each 12 metres long and 48-inch in diameter, will be needed for the twin pipeline system.
When construction starts in 2018, half of the pipes have to be concrete weight coated and readily available at the logistics sites along the pipeline route to meet the Nord Stream 2 construction schedule, Nord Stream 2 said.
William Powell