Nord Stream 2 'Ready to Proceed'
Nord Stream 2 is a commercial venture that is entangled in a political game. That's perhaps the most appropriate summation of an extensive discussion on the controversial project which, despite all obstacles, aims to start in four or five years' time.
The commerciality of NS2 was stressed not only by the company itself at a gas conference organised by S&P Global subsidiary Platts September 27-28 but by one of the key partners in the consortium that was expected to develop the project until intervention by Poland forced a radical re-think.
The CEO of Engie Global Markets, Philippe Vedrenne, said NS2 remains one of the solutions to cover the EU's anticipated gas supply gap. By comparison with average production and consumption over the last four years, he argued, Europe was likely to need an extra 144bn m³/yr in imports by 2035 as domestic production fell and demand recovered.
"We see increasing reliance on Russia as something we have to live with. It is seen by some as a risk for gas supply; however we believe co-operation is in the best interest of all parties involved." Vedrenne said. Russia, he added, remains "extremely well placed to replace declining indigenous (European) production."
Vedrenne noted that Engie was supposed to join NS2 as a partner in a Gazprom-led joint venture. It is already a partner in NS1, the less controversial precursor. However, he acknowledged, the situation changed when Poland's competition authority in July refused to approve such a partnership, an action which then prompted the prospective partners to abandon their joint venture plans, which they had previously expected to formalise at the end of this year.
Vedrenne commented that Gazprom's planned partners in NS2 – OMV, Shell, Uniper, Wintershall and Engie – had submitted a joint response to the objections of the Polish competition authority in order to demonstrate the NS2 project would benefit the European gas market. Moreover, he added: "We still consider it a very important project."
NS2, and an onward connection from Germany, was necessary to bring gas down to Slovakia and then onwards to southeastern Europe, Vedrenne argued. "If we say NS2 is not a good option for Europe, then what are the real alternative options?" he asked, "a South Stream revival?" It would be longer, more expensive, and a landing point in Bulgaria would ensure less integration into the European market, he said. As for Turkish Stream, Vedrenne asked, was Turkey a suitable country for transit?
Nord Stream 1, the less controversial precursor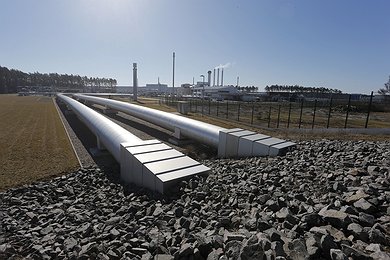 (Credit: Nord Stream AG)
Gazprom's transit agreement with Ukraine expires in 2019. Vedrenne said transit through Ukraine should not be completely halted as that would be unwise. But then he asked: "What investments are required to revamp and expand the system?"
Ulrich Lissek, NS2's communications director, likewise emphasized the argument that the EU's own energy reference scenario included a role for Russian gas. NS2, he said, was "a cost-effective contribution to emissions reduction as it makes more gas available to replace coal fired generation." And in response to the argument that NS2 did nothing to diversify EU gas supply sources or supply routes, he said: "NS2 is a long-term additional transport route for additional gas. It will supplement – not replace – existing transport routes."
The project, Lissek insisted, was proceeding. "NS2 remains on track," he said. In March, it had signed a binding contract for 2,500 km of large-diameter pipe, enough for both strings of the planned 1,200-km system. In September, the first deliveries of pipe were made to Finland to have concrete coating added – in a contract NGW understands is worth some €600mn ($675mn) – and in November the first coated pipe would be delivered to the project's logistic hub at Mukran, on Germany's Baltic coast.
However, he argued, "In the end, we are in a political game: the US, Russia, Iran, Iraq, Syria Turkey and Ukraine. And in between, just a pipeline."
Nevertheless, Lissek said, "we will follow our timeline… We will ask the German regulator to give a permit for NS2," adding that the German government agreed that NS2 would fulfil a useful role.
But Lissek did note that NS2 might still have a fight on its hands to win EU recognition of its status as import pipeline, which will affect its regulation. "If the German regulator recognises NS2 as an import pipeline, then does the European Commission accept this, or do we have to go to court?" he asked. The EC is expected to rule on this issue before the end of the year.
Vedrenne made Engie's continued commitment to the project absolutely clear. "The status quo is not an option," he said. No alternative project could bring so many benefits. "It will be a game changer, opening up central and east European markets," he said. It would improve social welfare for the whole of Europe. But, he acknowledged, "the support of the European Union is important for the success of such a project." What was necessary, he concluded, was that "the European Commission should organise a healthy debate on how to split the benefits of NS2 between EU member states."
For Lissek, the bottom line was simple. "In '19 or '20 we will start operation."
John Roberts, Chief Analyst