Nord Stream 2 and the Role of the EC
Critics of the Gazprom-led Nord Stream 2 pipeline within the European Commission need to distinguish between the body's regulatory and political objectives, the author of a new paper Andreas Goldthau said at its launch July 11.
Speaking at an event organised by the European Centre of Energy and Resource Security (Eucers) at Kings College, London, he said that the pipeline would be a "litmus test" for the European Commission (EC): "Is it a market watchdog or a political actor?" He said this had not been determined but the EC should be neutral in the way it thinks about the energy sector and it has to apply competition law if it suspects the market is being rigged. Rules should not be applied selectively, he said.
He said there were no legal grounds for blocking the pipeline. Once the gas was landed all the capacity in the onshore pipelines would be sold on the Prisma platform and be controlled by the existing regulations on third-party access. Regulation is not the right forum for discussion of political objections, he said.
Two European Union energy commissioners – Miguel Arias Canete and Maros Sefcovic – have both voiced apprehension about the line: Canete has said that the EC will be vigilant about the rigorous application of EU law while Sefcovic has said that eastern European countries will clearly have their energy security reduced because of it.
But Goldthau, who cited both officials in his opening remarks, said that their concerns were used to support the geopolitical argument, whereas in fact the line would fulfil an EU objective of improving the gas market as long-term Russian contracted gas competed with hub-priced Russian gas and more interconnectors allowed gas to flow west-east. A precondition for that, he said, was physical integration and compliance with the appropriate regulations.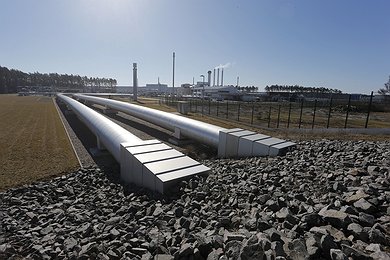 Nord Stream 1 emerges at Greifswald, northern Germany (Credit: Nord Stream)
A panel discussion after Goldthau had summarised his report considered the risks of a civil service acting also as a political entity. The EC might decide to apply certain rules to Gazprom that were not applied to other external suppliers for example, and these decisions could expose it to the risk of a judicial review.
According to Katja Yafimava of the Oxford Institute of Energy Studies, the EC had been reluctant to transfer sufficient decision-making powers to the Agency for the Co-operation of Energy Regulators, which was established by the Third Energy Package as an independent body. In either event, whether political or regulatory, market players needed transparency. At the moment the situation is unclear, she said.
Energy security consultant John Roberts said that Goldthau's report was fair up to a point: more gas meant more competition and more trade and security; but the interconnectors and LNG import terminals on which this cycle depend are relatively small in scale and not built out yet. There would still be a problem with European security of gas supply if a major supplier, be it Russia or Norway, failed to deliver as contracted, especially in southeast Europe and Turkey which are reliant now on transit through Ukraine.
And Gazprom had made no concessions, he said, with regard to allowing the Brotherhood line which crosses Slovakia to move into reverse flow, a way of exerting pressure on Slovakia and Hungary.
He concluded the NS2 line was "obviously" both a commercial project and a geopolitical one; as well as the means by which Gazprom's western partners may be allowed to develop business within Russia. The EU would be right to take both political and commercial questions into account, he said, perhaps coming up with a 'bundled' solution for Gazprom to trade within Europe that dealt also with the loss of Ukrainian transit revenues and the anti-trust case against it.
Roberts' arguments are similar to those of former Hungarian regulatory chief Peter Kaderjak who said in May that allowing NS2 to proceed would increase price divergence in eastern Europe, lead to bottlenecks between Germany and Czechia and between Czechia and Slovakia, and mean that Russian contractual gas flowing from east to west would prevent spot gas from entering eastern Europe.
Goldthau concluded the July 11 event by remarking that it might be true that gas was a public good, but that markets need to work. Europe falls short of the US gas market, he said. The EC should not be picking winners but should allow the market to do its job.
Eucers director Friedbert Pfluger described the paper, which had been funded by the five western partners of Gazprom – Anglo-Dutch Shell, German Uniper and BASF, French Engie and Austrian OMV – as balanced and scholarly.
The paper, Assessing Nord Stream 2, is available on the Eucers website.
William Powell