Nigeria's T7: resetting the narrative [LNG Condensed]
Nigeria LNG's (NLNG) Trains 1 and 2 have production capacity of 3.33mn mt/yr each, Train 3 has 3mn mt/yr and Trains 4-6 4.1 mn mt/yr, providing total capacity of 21.8mn mt/yr, according to International Gas Union data. Train 7 would add a further 8mn mt/yr capacity, an increase of 35%.
The first six trains were built in relatively quick succession, coming on-stream between 2000 and 2008, putting Nigeria firmly on the global LNG map. However, no new capacity has been added in the country since then, despite the floating of multiple projects, the existence of substantial proved gas reserves and significant gas flaring.
Anglo-Dutch oil major Shell estimates that Nigeria has proven gas reserves of 202 trillion ft3, and unproved reserves of 600 trillion ft3, so there is plenty of gas to feed additional LNG capacity.
NLNG managing director Tony Attah said: "The history of the LNG industry in Nigeria is chequered ... We started our LNG industry 24 months after Qatar, but Qatargas has attained a production capacity of 77mn mt/yr with an additional target of 30% LNG production in the immediate future. I believe it is time to reset the narrative."
The NLNG consortium says that it is aiming to take the FID on Train 7 in the fourth quarter of this year and hopes to bring it on stream in 2024. NLNG is owned by the state-owned Nigerian National Petroleum Corporation (NNPC) (49%), Shell Gas (25.6%), Total Gaz Electricité Holdings France (15%), and Eni International (10.4%).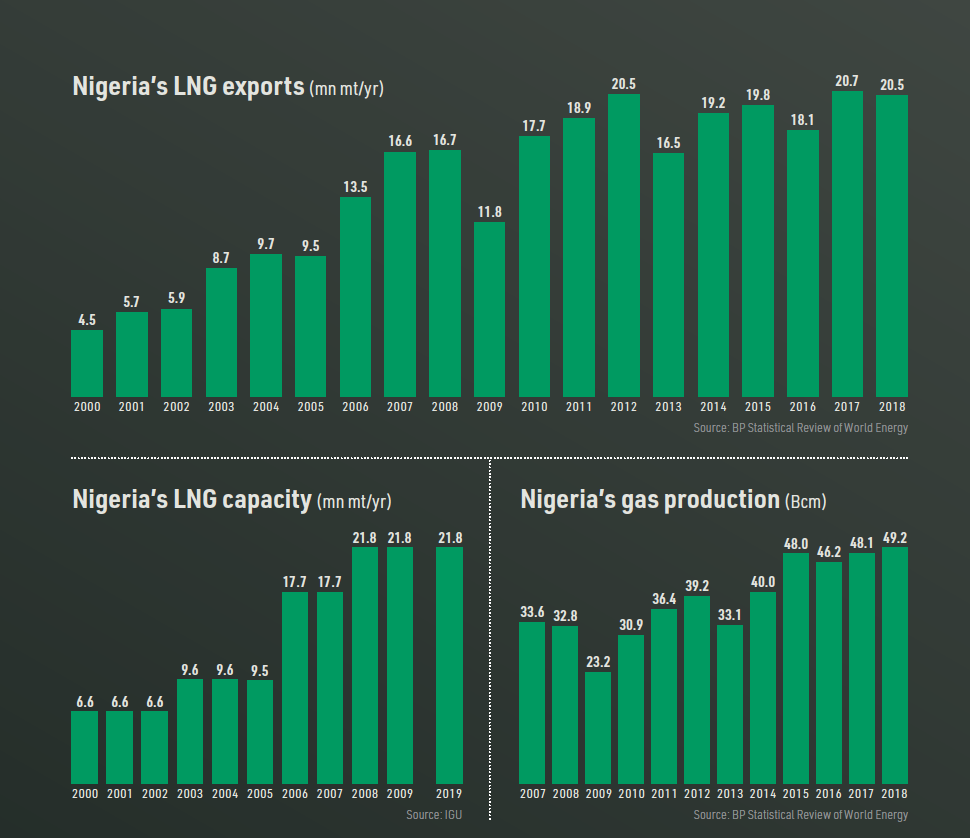 Local content
While many countries face a decision over whether to allocate gas reserves for their domestic or export markets, the situation in Nigeria is a little different. Increased gas supplies to domestic consumers could create a political environment within which new LNG export capacity is developed.
Local content is key to the realisation of this prospect.
Attah said: "The Nigerian Content (NC) Plan … has made clear and robust provisions to deepen Nigerian content in line with the Nigerian Oil and Gas Industry Content Development Act, significantly higher than what was achieved in the previous NLNG projects...This synergy will ensure that value-added opportunities for Nigeria are indeed maximised and the Train 7 project is delivered to meet international standards of quality and safety."
NLNG puts the total investment that the FID will trigger at almost $12bn, including upstream development. The consortium says it is seeking $7bn from financial markets to help finance the project. This process should be facilitated by the payment in July 2018 of the last instalment of the $5.45bn shareholder loan taken out for the construction of previous trains, including Train 6.
More than 10,000 jobs will be created in the Train 7 construction phase, and the project should also benefit Nigerian companies as contractors.
In March, the Nigerian Content Development Monitoring Board (NCDMB) approved the Nigerian content of the NLNG Train 7 project at the existing Bonny Island site in the eastern Niger Delta. NLNG agreed in June 2017 to allow NCDMB to assess its plans, a deal that NLNG describes as an industry first.
NCDMB has praised NLNG's procurement policy, including a recent order for six new vessels by NLNG subsidiary Bonny Gas Transport, with local engineering companies benefitting from the contract. NCDMB said that NLNG has worked hard to identify the required capacity in the local supply chain. NLNG held a series of workshops with potential Nigerian contractors in Abuja, Port Harcourt and Bonny in order to secure more Nigerian content.
NCDMB executive secretary Simbi Wabote said: "It is very important to have clarity of what local content is about. Local content is not corporate social responsibility. It is not a favour that a company does to a country or a people. It is purely business. It is about giving local companies an opportunity to deliver value through the value chain."
According to the NCDMB, non-cryogenic vessels, non-cryogenic valves, the condensate unit and protective coatings will be supplied by Nigerian companies under the Nigerian content plan, while 70% of control valves and non-cryogenic pumps will be assembled in Nigeria. It is also hoped that Nigerian firms will have opportunities to bid for maintenance contracts.
Momentum building
Although previous delays provide grounds for scepticism, momentum on the project finally appears to be building. In July 2018, NLNG awarded front-end engineering design (feed) contracts on the project to two consortia: B7 JV Consortium and SCD JV Consortium. B7 JV Consortium is made up of KBR, Technip and Japan Gas Corporation; while SCD JV Consortium comprises Saipem, Chiyoda and Daewoo. The next step will be the award of the engineering, procurement and construction (EPC) contract, the pricing of which will be determined by the feed process.
KBR worked on all existing trains at Bonny Island, while a consortium of KBR, Technip, Snamprogetti and JGC (TSKJ Nigeria Ltd) was previously awarded a feed contract for what were expected to be Trains 7 and 8, each with production capacity of 3.5mn mt/yr, in 2007. The years of delay saw NLNG change its approach and opt for a single additional train with 8mn mt/yr capacity.
A reminder of the previous failed attempts to get the project off the ground underlines the fact that development is by no means guaranteed. The timing is still uncertain. As recently as July 2018, NLNG expected to take the FID by the end of last year. However, now that the federal government in Abuja has finally swung its support behind the project progress is more likely.
Abuja may have been persuaded to sanction the project by the positive impact it will have on its own finances and the number of jobs it is likely to create locally. According to NLNG figures, in the two decades of its existence, it has generated more than $100bn in income and paid over $16bn in dividends to the state in the form of the NNPC, plus $6.5bn in taxes and $13bn for feed gas.
Legislation delayed
Oil and gas sector development in Nigeria has been held up in recent years by the delayed passage of government legislation setting out sector regulation, including new terms of investment in the gas sector. The long-delayed Petroleum Investment Bill has been broken up by the government of President Muhammadu Buhari, with its constituent parts passing into law at different rates.
A few substantial investment decisions have now been taken as a result, including on two gas plants, each with production capacity of 300mn ft3/d, which will be developed by Shell Petroleum Development Company, and Seplat Petroleum and the state-owned Nigeria Gas Company respectively.
This could help unlock the development of the roughly dozen other LNG projects that have been planned in Nigeria over the past 15 years.
Successive governments prioritised domestic gas requirements over new export projects, but simultaneously failed to put the reforms in place needed to create a vibrant domestic gas industry. This included a failure to increase regulated gas prices to a commercial level to encourage upstream investors to sell their gas onshore rather than flaring it, and to tap non-associated gas reserves that have been identified but not yet developed.
A resolution of the uncertain investment regime coupled with a positive FID on Train 7 could trigger more interest both in developing Nigeria's untapped gas reserves and exploring for more gas.
Axxela looks to inland LNG
Although none of the other LNG export projects proposed in Nigeria over the past two decades have been developed, plans for a small inland LNG plant have been announced, which has long-term potential to boost LNG use within Nigeria itself.
Transit Gas Nigeria, an offshoot of Nigeria's Axxela, signed a gas purchase order with the Nigerian Gas Marketing Company (NGMC) in April to pipe gas to Ajaokuta in Kogi State in the centre of the country. The Department of Petroleum Resources has already awarded an operating licence and the Federal Ministry of Environment has completed the required environmental and social impact assessment.
The volumes involved have not been announced, but LNG will be taken by truck from the plant to power plants and industrial customers in the northern half of the country. Customers will need to have their own LNG storage facilities.
In a statement, Axxela said: "The NGMC and Transit Gas have adopted a world class development approach in collaborating with a global team of experienced engineering, procurement and construction contractors, technology providers, and other professionals to ensure project delivery."
Axxela said that development would be fast tracked and completed by the end of next year, which seems ambitious. Moreover, Nigeria's thermal generating capacity is currently heavily concentrated in the Niger Delta, in the far south of the country, so the Ajaokuta project may initially be designed to meet industrial gas demand and then later power plants that have not yet been built and so may be a long way from actually being developed.
Axxela estimates that switching power generation from small-scale diesel generators to larger gas-fired plants will result in an average 40% reduction in generation costs.
The piracy problem
The Niger Delta has a long, well-documented problem with militant attacks, including on gas pipelines, but Gulf of Guinea pirate gangs have now begun to attack LNG and LPG carriers. There has been just one confirmed attack on an LNG carrier this year, but sources in Nigeria suggest more may have been unsuccessfully targeted on other occasions.
While there are more frequent attacks on oil tankers, with the aim of both robbing the crew and seizing oil, LNG attacks seem motivated purely by robbery. The Nigerian navy is providing support to oil tankers and LNG carriers exiting Nigerian waters, but the attacks have continued.
According to International Maritime Bureau (IMB) figures, Nigeria had twice as many confirmed pirate attacks as any other country in the first half of this year, at 21. Crew members have been killed, robbed and taken hostage. According to the IMB, an incredible 92% of hostage takings, 89% of vessels fired upon and 73% of kidnappings at sea worldwide in the first half of this year took place in the Gulf of Guinea.
Buhari has this year allocated an additional $195mn to pay for new equipment to fight piracy in the region, but the problem does not seem to be going away.
LNG Condensed Volume 1, Issue 7 - July 2019 - Now Available: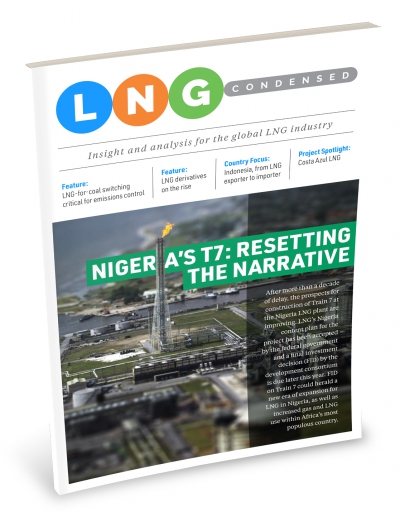 Volume 1, Issue 7 - July 2019
In this Issue:
Editorial: LNG's Exposure to Geopolitical Risk Can Only Rise
Nigeria's T7: Resetting the Narrative
LNG-for-Coal Switching Critical for Emissions Control
LNG Derivatives on the Rise
Indonesia, from LNG Exporter to Importer
Project Spotlight: Costa Azul LNG
Technology: Compressor Efficiency Improvements
and more!
LNG Condensed brings you independent analysis of the LNG world's rapidly evolving markets.
Covering the length of the LNG value chain and the breadth of this global industry, it will inform, provoke and enrich your decision making. Published monthly, LNG Condensed provides original content on industry developments by the leading editorial team from Natural Gas World.
LNG Condensed is your magazine for the fuel of the future.
Sign up to NGW Basic FREE now to receive LNG Condensed monthly (you will find every issue of LNG Condensed in your subscriber dashboard)