Nigeria Resumes Exports by Pipe, After Fire
Nigeria has resumed piped gas exports, following a fire late January 2 that severely disrupted the Escravos Lagos gas pipeline system (ELPS) and forced most of Nigeria's gas-fired power generators offline.
West African Gas Pipeline Company (WAPCo) operations general manager Austine Ebekozien confirmed to NGW January 8, that gas supply to Ghana through Escravos has resumed, following the bushfire outbreak Jan.2 on the ELPS. He told NGW by telephone that the ELPS has been restored since January 7 and that gas supply to Ghana was back online. He also said that WAPCo was in constant communication with the Nigerian authorities and had been informed by email as soon as ELPS went back online.
WAPCo is jointly owned by Chevron (36.7%), state Nigerian National Petroleum Corporation (25%), Shell (18%), Ghana's Takoradi Power (16.3%), with 2% stakes held by Togo and Benin's state gas companies. It operates the West Africa Gas Pipeline (WAGP), a system of 691km of pipelines opened 2009 linking Itoki Lagos, Cotonou, Lome, Tema and Takoradi opened almost a decade ago that was the first cross-border gas transmission system in sub-Saharan Africa. Ebekozien told the 2017 Nigeria Gas Summit in Lagos that WAPCo plans to attract more investors and upgrade to a bi-directional pipeline system that could increase capacity up to 1bn ft3/d and potentially flow Ghanaian gas eastwards, as well as separately extending westwards from Ghana to Cote d'Ivoire. But the pipe has underperformed on expectations.
WAGP has consistently failed to operate anything near its nameplate capacity because import countries struggle to source and in some cases pay for Nigerian gas supplies. In early 2016, these troubles were worsened by attacks of the militant Niger Delta Avengers on production and transport facilities in the Niger Delta area, although such sabotage largely ceased around mid-2017. Nonetheless, disruption of Nigerian gas exports in 2016/early 2017 curtailed supplies to Ghanaian power plants, which in turn affected electricity sales to neighbouring Benin, while in Togo, the thermal power plant in the capital Lomé, run by US firm Contour Global, has run on pollutive heavy fuel since 2016 and set back any plans to switch to natural gas for the time being.
Inside Nigeria meanwhile, last week's power outages that resulted from the ELPS fire are largely over; although there are still some outages, these are not primarily seen to be resulting from the fire. Power supply has since been restored to many parts of Lagos, Ogun and Ondo States on a three, six and twelve-hour basis.
NNPC group general manager Maikanti Baru last week ordered an immediate assessment of the fire's damage and cause, but as yet no details from this have yet filtered out.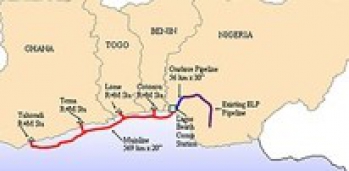 West African Gas Pipeline (Map credit: WAPCo)