Nigeria Gas Production Rises, But So Do Threats
Nigeria's gross gas production in March 2017 reached 226.91 billion ft³ (6.4bn m³), according to the latest report from state-run Nigerian National Petroleum Corporation (NNPC). That was 2.8% higher than the March 2016 figure of 220.67 bn ft³, and 11.7% higher than February 2017's 203.14 bn ft³ total.
The March 2017 figure equates to a daily gross gas production figure of 7.319 billion ft³.
The latest NNPC Monthly Financial and Operations Report said that gas for export totalled 101bn ft³ in March, while 34bn ft³ went to the domestic market, and 87bn ft³ were reinjected, flared or used as fuel gas for pipes and process plants. All figures were up year-on-year and on February 2017.
The report published June 10 also said that gas supplied to power plants averaged 689mn ft³/d this March, up 18% from 582mn ft³/d in February 2017. Gas to power generation correspondingly increased to 3.056 GW from 2.761 GW. But it also noted continuous and nationwide interruptions in the country's gas distribution network, with the number of downstream pipes vandalised increasing from 49 in February 2017 to 94 as at March 2017.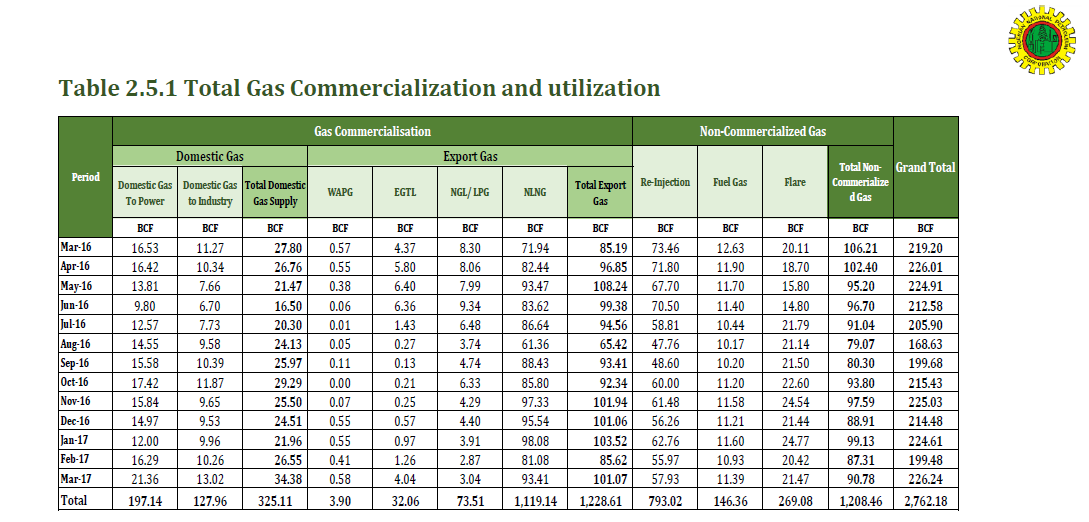 Extract from the latest NNPC Monthly Financial and Operations Report (Graphic credit: NNPC)
Last week the minister of state for petroleum Ibe Kachikwu said that Nigeria had a chance of returning to the 2.2mn b/d oil output, following the repair of damaged infrastructure in the Niger Delta. Current output is 1.5mn b/d as at early June 2017, following the lifting last week of a 17-month force majeure on Forcados and resumption of normal crude exports there.
Yet there could be more pipeline attacks in the future, as a coalition of militants in the Niger Delta region on June 5 issued a five-point communique saying they would target oil company directors and expatriates and launch attacks against oil and gas platforms.
Kachikwu told the BBC's Stephen Sackur last month that the government had solved the issue of Niger Delta militancy in the space of one year. But the militants counter that the government of Muhammadu Buhari, the reformist president, is not sincere in finding a lasting solution to the crisis in the Niger Delta.
Although the government has plans to legalise small-scale refineries as a way of putting a stop to pipeline attacks, militant groups feel this is not enough. They are concerned with the welfare of their communities and the government's neglect of the Niger Delta. In Ogoniland, an area of Rivers State blighted by oil spills, the government has yet to initiate a clean-up a year after the vice president Yemi Osinbajo in June 2016 had said one was underway.
A coalition of Niger Delta Watchdogs, Bakassi Freedom Fighters, Niger Delta Warriors, Niger Delta Peoples Fighters and Niger Delta Volunteers now alleges that the government is using Niger Delta oil and gas revenues to negotiate with the Jihadist group Boko Haram in releasing the kidnapped Chibok girls. The government has in the past denied paying a ransom of any kind to Boko Haram.
Omono Okonkwo