[NGW Magazine] Unpicking Russia's Strategy
Long-term energy strategies should be straightforward in countries where so much power is centralised, such as China: but Russia's remains in draft form after two years, perhaps reflecting disagreements at the top.
Russia's energy strategy isn't really a strategy, but some of the country's coping mechanisms in connection with the energy sector appear to be working effectively, according to the director of the Energy Centre at the Moscow School of Management Skolkovo – and NGW advisory board member – Tatiana Mitrova.
In a panel discussion at the Atlantic Council entitled 'Russia's Energy Strategy', she described Russia's actions as more about the choices it faces in this sphere: whether to seek more international co-operation or to pursue a more solitary path; to increase entrepreneurship or increase the role of the state; or to go for a market-driven economy or more of an administrative command system.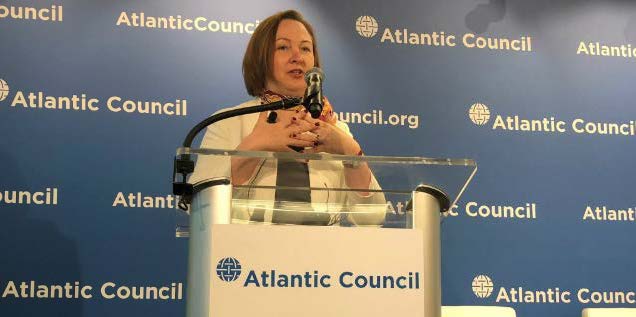 Tatiana Mitrova (Credit: Atlantic Council)
Focus on tactical goals
Mitrova said the different groups of influence inside the Russian establishment are pushing things in different directions. The Russian 'Energy Strategy 2035' document, which had not been approved since its unveiling two years ago, she explained, is a good illustration of the conflicts between those dynamics. "Different parties are trying to put inside this document different ideas, goals and, as a result, it is absolutely impossible at the moment to find any consensus," she said.
"We cannot see a holistic, long-term strategic vision, but it doesn't mean that there are no tactical goals," which she said are clearly articulated in the energy strategy.
Crucial elements
Mitrova listed the official goals of the Russian energy strategy: to sustain Russia's position in the global energy market; to seek market diversification with a significantly higher share of its sales going to Asia; energy availability and affordability for domestic customers; and a strong reduction in energy intensity and emissions and more renewable energy.
The first two pillars of the strategy have been given the most weight, according to Mitrova, because hydrocarbons represent the largest share of Russia's federal budget revenues. She reported that these revenues had been providing over half the total federal budget income just a few years earlier but have dropped to 40%, which had been painful and is forcing the government to seek solutions.
These "tactical adaptations" have been extremely successful. She named the "Opec Plus" deal, which she said had provided high revenues from oil exports, with Russia contributing by cutting its own output.
This, she said, is something which would have been unimaginable just a few years earlier. After the oil price fell, the majors slashed capital expenditure and costs generally, repeating the mantra "lower for longer" and aimed for profitability in a sub-$50/barrel world. Since the start of the year though, thanks to the agreement between Opec and Russia, output declines in Venezuela, rising demand and geopolitics – notably the threat of sanctions on Iran – the oil price has been above $60/b and even lately $70/b.
She said: "Russia managed to increase its oil production despite sanctions, despite this period of low oil prices, despite this increasing isolation. So of course there was a drop in brownfield production, but at the same time new greenfields came onstream."
Oil production
Despite the unfavourable environment, Mitrova said that Russia's oil production sits at historical highs and exports are increasing: in 2017 they rose 1%, partly owing to domestic demand being in decline, freeing up output for foreign markets.
When greenfield projects are underway, she said oil producers will have to go for more sophisticated deposits, and deal with financial and technological sanctions in order to sustain oil production by finding ways to replace import technologies, or incentivise enhanced oil recovery through taxation. "That's something that we expect to happen post 2020, when the first signs of the decline in oil production will occur."
Gas driven by Yamal
Gas, she added, is a very high priority, and Russian gas exports have been on the increase for several years in a row. It is not only pipeline gas which is booming: it is also a new position in the global LNG market, which even the Russian government did not see coming. "Novatek's ambitions and a really strong effort to develop Yamal LNG have been extremely successful. Moreover, they are now preparing a series of new projects – four different plants, which could make Russia a large LNG exporter, as large as Qatar or Australia," she noted.
Moreover, she said Novatek has obtained a patent for its new liquefaction technology that can be produced domestically and functions in Arctic conditions, saving 30-40% on liquefaction costs. Meanwhile, she said the availability and affordability of gas for domestic customers is "not that rosy."
US sanctions
In response to a question about the effect of US sanctions upon Russia's energy industry, Mitrova explained that while some believe sanctions are making the business stronger, others say the sky is falling. "The truth is somewhere in the middle," she observed.
She reported that according to Skolkovo's modelling, there is no observable impact upon the operations of Russia's oil and gas industry, adding that: "There is definitely impact from the financial sanctions, because companies that used to borrow money at 3-4% now have interest rates of 13-14%, which is actually making them extremely cautious on new investments."
While state-controlled companies have access to state financing from the Russian domestic banking system, she said others are beginning to suffer while seeing their accumulated safety cushion, built up during the years of high oil prices, deflate.
Developing domestic technologies
Meanwhile, technological sanctions have only targeted future oil and gas production, like Arctic, offshore and unconventional production, but their effects look to increase over time. So far, the restricted access to technology has only had a "negligible" effect. But "by 2025, we see that 5% of the Russian total output could be lost; by 2030, it could be 10%."
She said Russian companies had to develop their own technologies if they were to escape this fate. While most drilling equipment in western Siberia is now Chinese, China has indicated that it does not want to take sanctions risk on providing Russian companies with more sophisticated technologies.