[NGW Magazine] Tanap Readies for mid-June Start
The Turkish facilities for the Tanap pipeline are almost done as Azerbaijan and Turkey prepare to launch on June 19. The EU helped bring the line into being, but nobody knows yet where all the gas will come from.
From a distance the Turkish offtake facilities for Azerbaijan's $7.99bn, 31bn m³/yr TransAnatolian gas pipeline (Tanap) are dwarfed by the expanse of the alluvial Eskisehir plain. Surrounded by acres of sprouting wheat, the twin units of the pipeline's compressor and measuring stations appear small in comparison to their significance as the first operational realisation of the European Union's long-held vision of a southern gas corridor (SGC) to deliver gas to Europe from reservoirs in the Caspian Sea.
The 31.5bn m³/yr capacity line being developed by a consortium of Azerbaijan's Socar (58%), Turkey's state gas importer Botas (30%) and the UK major BP (12%) is now nearing completion, with the commissioning of the first operational phase, provisionally scheduled for June 12, having been brought forward from June 30 owing to the Turkish general election scheduled for June 24.
Actual gas flow is expected to start within a couple of days of commissioning with Tanap officials confirming that for safety issues, no gas will flow during the commissioning ceremony itself. What will be commissioned is the start of delivery of up to 6bn m³/yr of gas to Turkish gas importer Botas under a 25-year deal. Construction and testing of the 1,340 km of line from the Georgia-Turkey border to the Eskisehir site was completed last year. The process of packing the line started in January and was completed by March 11.
According to Tanap project company CEO Saltuk Duzyol, the gas in the line came from the first and existing phase of the Shah Deniz development with gas from the second phase not due to be supplied until formal commissioning and the linepack reaches the right pressure.
Ramp up will be conducted according to the terms of the contract between the Shah Deniz consortium (BP 28.2%, Turkish Petroleum 19%, Petronas 15.5%, Lukagip 10%, and Iran's NIOC 10%) with transit scheduled to rise to 1.9bn m³/yr by the end of June 2019, then to 3.8bn m³/yr by the end of 2020 and 5.7bn m³/yr by end of June 2021. According to Duzyol, the volumes are to be calculated on an annual basis but with daily nominations and allocations of capacity, allowing for actual daily delivery to vary with seasonal demand. Tariffs are calculated based on both annual and daily reserved capacity, on a point to point basis. The facilities at Eskisehir itself consist of two parts: a compressor station for onward transit of volumes to Greece and facilities for receiving the gas for delivery into the Botas grid. The latter includes two filtration units to remove impurities, one of which is kept in reserve; and a facility for testing the purity of the gas. There is also a measuring station for monitoring throughput. Operations are monitored through an onsite control room, but ultimate control of the site is conducted from Tanap's main control centre sited in the Turkish capital Ankara. Completion of the remainder of the line as far as the Turkey-Greece border is expected by the end of 2019. Constructed with 48-in pipe on land and two parallel 36-in pipes across the sea of Marmara, this section of line will have a capacity of around 24bn m³/yr.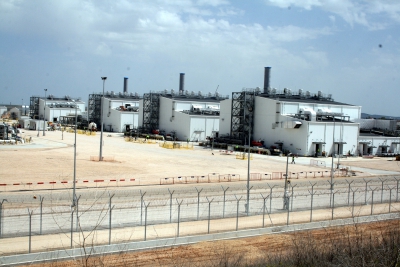 Compressors (Credit: David O'Byrne)
Measuring station exterior (Credit: David O'Byrne)
Tanap project company CEO Saltuk Duzyol (Credit: David O'Byrne)
Current plans for Tanap cover only the transit of 16bn m³/yr of Shah Deniz gas, with 6bn m³/yr supplied to Botas at Eskisehir and 10bn m³/yr to be transited to the Greek border where it will be transferred to the 10-20bn m³/yr Trans Adriatic Pipeline (TAP) to be carried to Italy and beyond. According to Duzyol, the schedule will see supplies to TAP starting between April and July 2020, depending on that line's state of completion; Tanap itself will be ready to supply gas from the end of 2019.
Future options
Although scheduled to begin operations next month, much remains to be decided on how to realise Tanap's full future potential. The line has a nominal capacity of 31bn m³/yr as far as Eskisehir of which only 16bn m³/yr has been allocated; and of 24bn m³/yr from Eskisehir to the Greek border of which only 10bn m³/yr have been allocated. How that capacity will be filled depends on the developers of upstream reserves in Azerbaijan and other potential suppliers such as Turkmenistan and Iraq – all of which have been suggested as possible suppliers to Tanap – and the development of necessary interconnectors. In turn those developments will necessarily rely on the developers securing customers for the gas.
Some capacity is expected to be used by Turkish importers – either Botas or private gas companies, as Turkish gas demand goes up and Botas' existing import contracts expire. It has four that total 20.45bn m³ all due to end by 2024. For the bulk of the capacity though a number of interesting options exist beyond filling the 10bn m³/yr of spare capacity in the TAP line. One feature of Tanap which has been little remarked on is that once complete, in addition to Eskisehir it will feature a second offtake point on the north side of the Sea of Marmara at Gelibolu where it will connect with Botas' existing loop transit line around the Sea of Marmara.
According to Duzyol, this offtake point will be operational before the end of 2019, and as with the Eskisehir facility will have an annual capacity of 6bn m³/yr, although so far no plans have been announced for its use. This second offtake point has been included at the request of Botas in order to allow it to supply gas it imports via Tanap to users in the high demand region west of Istanbul, in the case of a failure in supply from Turkey's western import line from Russia. The 36-in loop line, connects with both the 11bn m³/yr Turkey-Greece interconnector and the 14bn m³/yr Transbalkan lines, and with a compressor station installed would have a capacity of 9-10bn m³/yr.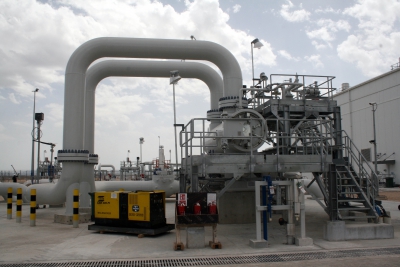 Filtration unit 1 (Credit: David O'Byrne)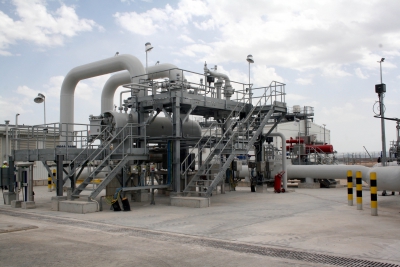 Filtration unit 2 (Credit: David O'Byrne)
The planned commissioning of Gazprom's 15.75bn m³/yr TurkStream line at the end of 2019 will leave TransBalkan surplus to requirements. Botas officials have suggested that they would like to see the line reversed and made available for transiting Russian or other gas into the Balkans.
Coupled with the completion of the 182-km Greece-Bulgaria interconnector, expected to be completed in 2020 and to have an eventual capacity of 5bn m³/yr, reversing the Transbalkan lines would create a second loop line running through Turkey, Greece and Bulgaria, with existing connections north to Romania and Ukraine, and a further connection to Serbia under discussion. This would offer a number of possible new export routes and markets for gas to be transited via Tanap. Not least is the possibility of supplying Ukraine, whose existing gas supplies from Russia are expected to come under pressure as Gazprom reduces flows through the Transbalkan lines.
David O'Byrne