Egypt Plays Catch-Up
Egypt is now looking forward to a period of enviable economic growth and regional expansion as gas production rises and imports turn into exports, and it is making the most of this with reform of the national industry as well.
Egypt's energy developments and reforms continue at a fast pace, chalking up some big successes on the way. Its minister for petroleum, Tarek El-Molla, expounded on these during a keynote presentation at the International Gas Union (IGU) Workshop in Cairo on 19 April.
Since discovery of the first gas-field Abu Madi in 1967, Egypt's gas reserves have shot up, particularly during the last two to three years, with the development of giant Zohr being the game-changer.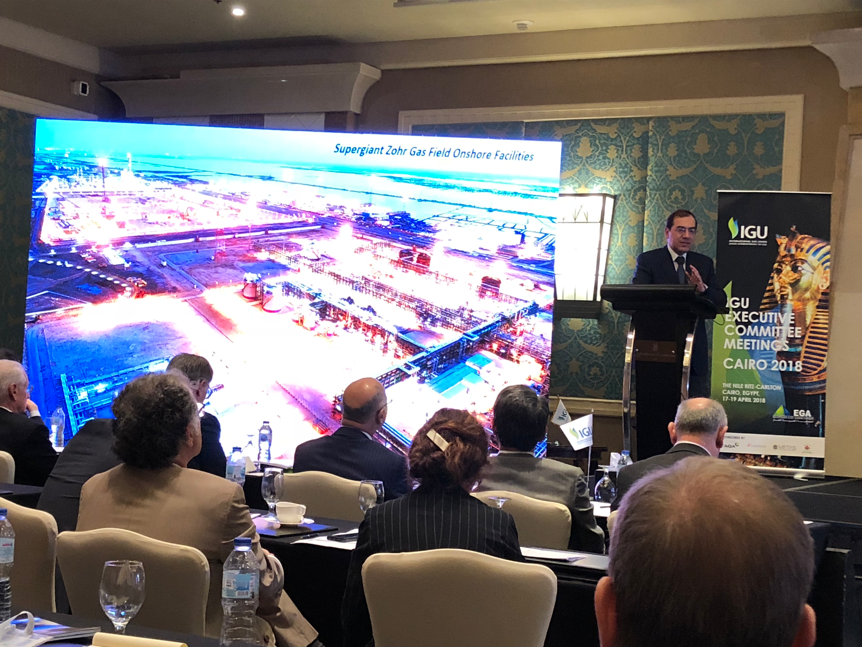 Tarek El-Molla addressing the IGU Workshop in Cairo, with the Zohr gas treatment facilities as a back-drop
Egypt's oil and gas sector is being developed on the basis of three key pillars, with corresponding action areas:
Energy security: boosting and diversifying energy supply
Financial sustainability: by addressing historic debts and reforming energy subsidies
Sector governance: improving oil an gas sector governance
In the four years between 2013 and 2017, Egypt signed a total of 83 exploration and production agreements with international oil companies (IOCs), with minimum investments totalling around $15.5bn. In the meanwhile, it's managed to reduce its historic debt to the IOCs to $2.3bn, which is the lowest it has been over this period.
Gas props up the economy
The government has embarked on a massive programme to cut energy subsidies dramatically over the next three years and increase fuel prices to reflect real production costs. The budget proposals now being debated by parliament will cut fuel and electricity subsidies by 19% and 48% respectively during the 2018 to 2019 financial year, reducing Egypt's budget deficit.
The cut will lead to a more efficient and profitable oil and gas sector and a more sustainable future for the country. Following gas sector liberalisation, it will also enable the private sector to compete on a more equal footing.
A recent report by the International Monetary Fund (IMF) forecasts that Egypt's economic growth rate will rise to between 5.2% and 5.5% during 2018 to 2019, compared with 4.2% last year, on the back of reforms and more natural gas production. The IMF also confirms that Egypt's economy is recovering and that its reform programme is yielding encouraging results.
But the greatest achievement in 2017 was bringing the giant Zohr gasfield on line in 28 months from discovery. Securitisation of payments was key to getting drilling started early, soon after discovery. An important challenge was dealing with hydrogen sulphide which needed special pipeline alloys and the installation of desulphurisation units in the onshore gas treatment plant, which when completed will comprise of eight 350mn ft³/d units. One unit was commissioned in December and a second in April, increasing production to 800mn ft³/d. A lot more needs to be done to complete phases 2 and 3, but the minister said the project is on track to achieve output in the range of 2.7 to 3.0bn ft³/d by the first quarter of 2019. With this, gas production will reach close to 7.8bn ft³/d, exceeding demand by over 1bn ft³/d – more than enough to fully use Damietta's liquefaction capacity of 0.7bn ft³/d.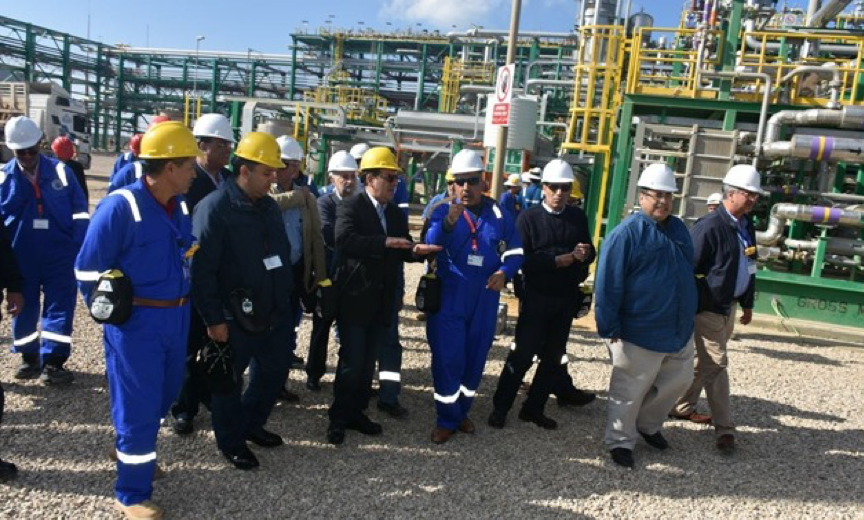 El-Molla visiting the Zohr gas treatment facility during the official start of operations (Credit: Egypt Today)
With yet-to-find gas estimated to be anywhere between 50 and 150 trillion ft³, this has the potential to increase substantially. The minister confirmed that natural gas production will exceed demand by over 1bn ft³/d by 2019.
This will help Egypt achieve self-sufficiency by the end of 2018, stopping LNG imports by June and resuming LNG exports next year. It is something that attracted the interest of the European Union, and has led to the signing of a Memorandum of Understanding (MoU) for energy co-operation.
Egypt's recent major achievements in this sector, combined with its strategic location, make it likely to become the eastern Mediterranean's hub for the export of energy to Europe.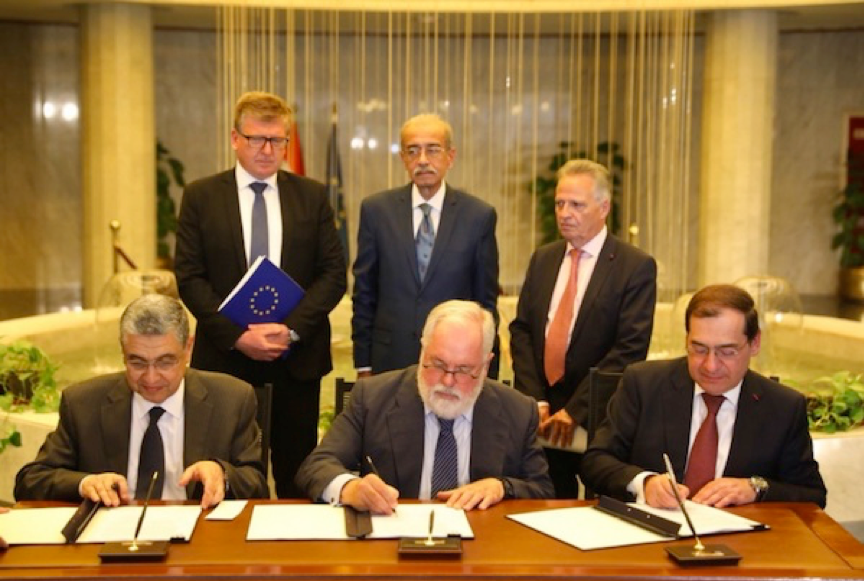 Left to right: Egypt's minister for electricity and renewable energy Mohamed Shaker, EU climate action and energy commissioner Miguel Arias Canete and El-Molla signing the energy co-operation MoU on April 23 (Credit: Energy Egypt)
Neighbourhood deals
This is also supported by bilateral agreements with its neighbours Israel and Cyprus to supply gas either for Egypt's domestic market or for liquefaction at its LNG plants and thence export. However, these face a number of commercial and geopolitical challenges before they become reality. But as El-Molla said, they are promoting co-operation and regional peace.
In fact Egypt and Cyprus are about to sign an inter-governmental agreement facilitating gas pipelines between the two countries. But this still needs a gas sales agreement before gas actually flows between Cyprus and Egypt.
Liberalising the gas sector, now in progress, is a major step, opening it up to private companies. It also supplies the preconditions needed to turn Egypt into the energy hub – a major focus of interest in the country. Without a hub aggregating otherwise stranded gas, the east Mediterranean will struggle to export its gas.
The MoU with the EU is the culmination of many discussions and close co-operation over the last few years. It aims to contribute to EU's strategic objectives of energy security and diversification of gas supplies. It will also assist Egypt to develop its renewables and help it achieve its first strategic pillar of energy security by boosting and diversifying its energy supply.
The EU and Egypt agreed to work together over the next four years to establish Egypt as an energy hub, to promote energy efficiency strategies and policies, promote renewables, provide technological, scientific and industrial support and generally to support Egypt's energy sector. It is estimated that this support may amount to €3.8bn ($4.5bn) between 2018 and 2022. The EU has already provided Egypt with €300mn in energy support grants so far.
Through this MoU Egypt has become a part of the EU energy security framework: it "recognises Egypt's active participation in the ongoing Euro-Mediterranean energy co-operation and the country's growing pivotal role in energy supply and transit to the Euro-Mediterranean energy market." It will "contribute to fulfilling the EU's strategic objectives to enhance security of supply and diversification."
Commissioner Miguel Arias Canete, who signed the MoU on behalf of the EU, said: "Egypt can lead the way of the clean energy transition in the eastern Mediterranean and thus contribute to the Paris climate goals and the worldwide decarbonisation effort."
He added: "The EU stands ready to support Egypt in its energy market reforms and to boost sustainable energy investment." Increasing power generation using renewables is helping Egypt meet its burgeoning electricity demand, while moderating dependence on natural gas, more of which may also then be exported.
The ministry for electricity is planning to drive this home by imposing quotas for renewable energy by mid-2019. It plans to force industry to source 6% to 8% of its energy from renewables.
The ministry is also planning to establish a domestic market of privately generated renewable energy by establishing guidelines on how private renewable companies distribute and charge homeowners and consumers for electricity. Eni is one of five companies that have made offers to build solar power stations under this framework. These measures, apparently, are being received positively by industry.
Canete's visit was followed by EU's foreign policy chief, Federica Mogherini, at the end of April, to sign further agreements and to strengthen co-operation under the framework agreement 'EU-Egypt 2017 to 2022', in areas such as energy, transport, sanitation, health, education and the empowerment of women. The EU is Egypt's largest lender with a portfolio of €11bn in grants and loans.
Ministerial criticism
During his IGU Workshop address, El-Molla expanded on the ministry's plans to prepare Egypt's next generation to become ready to drive and manage this growth, ensuring that the new liberalised energy industry and systems are run on international standards.
The organisational structure is outdated and needs reform. It has become ineffective and it is riddled with conflicts of interest, such that state companies cannot compete, even though they employ more than 240,000 people. Companies have become silos and lack synergies. The sector needs properly trained people, proper organization and proper governance.
The ministry is in the process of implementing a plan to fast-track future leaders. It is assigning identified high-flyers to IOCs for six to 12 month periods to receive training to international standards. It is a long journey, he said, but the ministry is optimistic. It has the full support of the IOCs and the World Bank, who are also providing consultants to advise on restructuring.
The ministry has also embarked on a modernisation project in order to be prepared for what it expects is coming soon: self-sufficiency, more substantial gas discoveries, the major expansion of the energy sector and exports. Egypt will also need more pipelines and storage facilities, and to expand and modernise its ports.
Foreign investors needed
Separately, El-Molla said Egypt is looking to attract as much as $10bn in new foreign investment in the oil and gas sector in the financial year 2018 to 2019, as a result of new discoveries offshore. Most oil and gas majors operating in the country – including Eni, Anglo-Dutch Shell, French-owned Edison and BP – have announced recently plans to expand their existing activities in Egypt.
After much uncertainty, Shell has now confirmed that it is ready to resume deep-water oil and gas exploration offshore Egypt, starting with West Nile Delta field 9B which is expected to reach between 350mn ft³/d and 400mn ft³/d by 2019. BG, which had operated the field, was slow to invest more while the government failed to pay in full for existing gas supplies. BP is also in the process of selling off its mature oil fields in Egypt to shift its focus to developing gas reserves.
Earlier in April, El-Molla confirmed that Egypt is looking beyond Zohr. The country is preparing to announce new licensing rounds for 10 to 11 blocks in the Mediterranean, in waters west of the Nile Delta and through to the border with Libya, during Q2 2018 and more in the Red Sea by the end of 2018, as well as speed up production from recently discovered fields. In addition, the Egyptian government approved a decree in April allowing the Egyptian General Petroleum Corporation, the Italian Egyptian Oil Company and BP to explore and develop oil and gas fields in the Nile Delta.
Charles Ellinas