[NGW Magazine] Guyana Needs NOCs too
A territorial dispute with neighbouring Venezuela has slowed the development of Guyana's energy sector in the last few years, but experts say development could be hastened over the coming years to strengthen the country's security.
One of South America's poorest countries, Guyana has neither oil nor gas production. Foreign majors have nonetheless made a significant number of oil and gas discoveries in the former British colony in recent years. In 2000, the US Geological Survey identified the Guyana-Suriname Basin as having the second highest resource potential among unexplored oil basins in the world.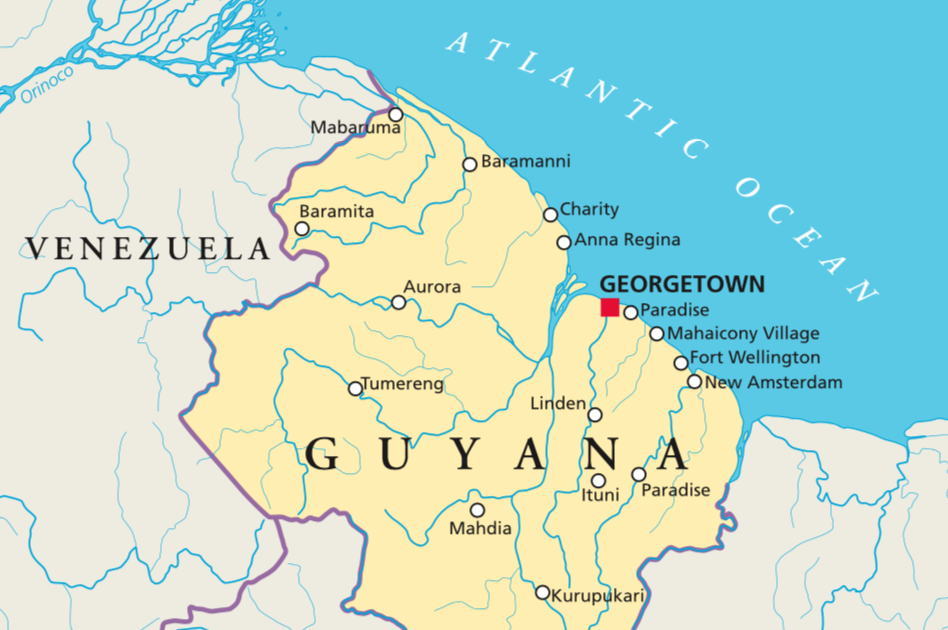 The basin has mean recoverable oil and gas reserves of more than 13.6bn barrels of oil and 32 trillion ft³ of gas, according to the survey. The government said in March 2018 that it was looking at hiring consultants to start the process of auctioning off a number of offshore blocks that have still not been tendered.
Specifically, Guyana is planning to recruit a company that will help advise on valuing and negotiating its remaining offshore areas, Guyana's minister of natural resources, Raphael Trotman, said in an interview with Reuters.
"The cabinet has made a decision that any future allocations will be made based on advice from a firm of international repute that has advised governments on this kind of thing before and that is how we intend to proceed," Trotman said. The minister added that the government has a list of qualified candidates for the role but declined to identify them.
Among those firms interested in exploring offshore Guyana are Spain's Repsol, Italy's Eni, France's Total and US-based Chevron Corp, according to Trotman. Brazil's Petrobras and a few other majors are also reportedly interested in bidding for the country's remaining blocks. The government remains committed to developing the natural gas sector, Guyana's minister of public infrastructure, David Patterson, said in January.
He said that in an offshore concession owned by US supermajor ExxonMobil and its partners, there are between 30mn and 50mn ft³/day of natural gas, according to local reports. Since the late 1990s, Guyana has awarded hundreds of offshore blocks to a group led by ExxonMobil.
The company, in a consortium with China National Offshore Oil Corp and US independent Hess, has made seven discoveries off the country's Atlantic coast to date, including over 3bn barrels of oil and gas resources. It inked a new deal with the government in 2016 for a new four-year licence to explore the blocks, with the possibility of two three-year extensions.
However the consortium's blocks stretch across Guyana's vulnerable maritime borders with both Venezuela and Suriname, an area that is facing renewed security problems with Venezuela.
In January, the United Nations referred the border dispute to the International Court of Justice (ICJ), after talks that lasted more than a year failed to yield any progress.
Since the consortium discovered oil offshore in 2015, Venezuela has resurrected a historic claim, which dates back more than a century, to Guyana's Essequibo region. The disputed area covers around two thirds of the country and most of its offshore acreage. Guyana claims that valid land borders were established in 1899 by an arbitration court decision, but Venezuela has never recognised that decision.
However experts say that building strong partnerships with energy companies would serve to reinforce the country's territorial sovereignty against Venezuela's claims. Trotman has indicated that he may negotiate directly with national oil companies (NOCs) on certain blocks, in order to help defend the country's sovereignty and security. "Venezuela will likely reject an ICJ ruling in favour of Guyana," a Latin-America analyst at the consultancy Verisk Maplecroft Sam Benstead, told NGW.
"This makes it even more crucial that Guyana encourages investment from NOCs to act as a deterrent to Venezuelan aggression," he added. If Venezuela attempted to seize assets from NOCs, it would legitimise an international response from the owner country, the analyst said in a recent research note.
In addition, the presence of NOCs in Guyana "would increase support for the country's case against Venezuela in international courts," he added. Although greater investment in the country's offshore sector could favour Guyana in relation to its territorial dispute with its neighbour, Benstead pointed out that the development of the country's gas market still faces a number of other obstacles. "Although gas has been found in the Liza discovery, there are no plans for export," he said. "This is because there is a limited local market and no export infrastructure, making the proposition uneconomical."
Exploration wells drilled in the Stabroek Block (Credit: ExxonMobil)
Both Guyana and Suriname face challenges in developing gas because there are currently no existing local markets for it, experts have said. So if large quantities of gas are ever produced in the region, a use would need to be found for it.
Officials in Guyana have spoken of the possibility of developing local industries like chemicals that would employ gas-fired power or use gas as feedstock, for which the gas could be used. However no concrete plans have as yet been formalised.
Another possibility would be to build export infrastructure such as a pipeline to the nearest market, which would be Trinidad & Tobago, however that would require a considerable level of investment – which the state does not appear to be in a position to provide. However with interest in Guyana's offshore sector steadily going up, it may not be long before the country can start to attract those investors that would give the country's gas export infrastructure the boost that it needs.
Sophie Davies