[NGW Magazine] Yamal to Asia, the Faster Way
The start of LNG exports from Yamal is a decisive shift in Russia's Far East development strategy, bringing it closer to China and set to improve the economy of the region.
With the start-up of the first 5.5mn metric tons (mt)/yr train at Yamal LNG late last year, Russia is ready to expand its share of the Asian gas market and to gain access to China in particular. Chinese entities have a 29.9% stake in Yamal LNG, with CNPC on 20% and Silk Road Fund the rest.
The new source of supply will increasingly affect the global LNG market, although its confinement in winter to mainly European markets will reduce its ability to arbitrage without further investment in storage capacity near Asia.
If Sakhalin Energy is expanded and Arctic LNG-2 goes ahead, by 2025 total Russian pipeline and LNG exports capable of reaching Asia could amount to 106.5bn m³/yr, equivalent to Nord Stream 1 and 2 – although this would not be only Gazprom's equity gas, unlike its Europe-pointing pipelines.
Nevertheless all these projects are very important to Russia, as it has often talked about the need to diversify its gas market and the 'Asian pivot'. It is too heavily reliant on EU countries that while they pay more per unit than the domestic markets do, now are becoming less lucrative: the European Union is doing all it can to limit the economic rent Gazprom may derive from these sales. And Asian gas demand growth seems limitless.
Projects under way
When complete, Yamal LNG's output will be either 16.5mn mt/yr or 17.4mn mt/yr, depending on whether the operator adds a small fourth train; and it is Russia's second, following the 9.6mn mt/yr Gazprom-led Sakhalin Energy project, whose expansion, with the help of Anglo-Dutch major Shell, is still in doubt. It comes just before the Power of Siberia pipeline (38bn m³/yr), a direct onshore line to China, comes onstream which is due in 2020, starting off slowly.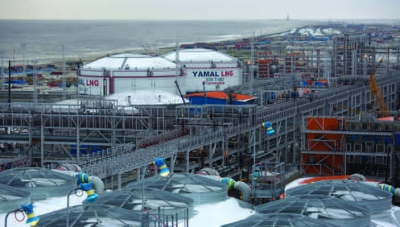 Yamal LNG (Credit: Total)
Yamal LNG Project (Credit: Yamal LNG)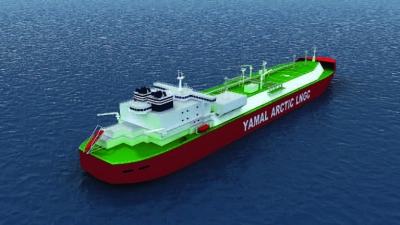 ARC7 tanker (Credit: Yamal LNG)
The Power of Siberia's Russian section is already substantially completed (75.5% as of late March) and uses only Russian-forged steel, as part of the national drive towards cost-savings and self-sufficiency in high-grade technology.
As with Sakhalin Energy, Yamal LNG is just over half-owned by a Russian entity with 50.1% – although this time it is a private company, Novatek, which is partly owned by French Total, that is in the driving-seat. A few years after Power of Siberia, Arctic LNG-2 could be launched, coming on in three stages between 2022 and 2025, and also using Russian technology. That is to be another three-train project of 18.3mn mt/yr capacity and it will depend on a different resource base from Yamal LNG, although geographically close to it: the Gydan Peninsula is just across the Gulf of Ob from Yamal.
Both Yamal LNG and Sakhalin have been producing above nameplate so far: Sakhalin Energy produced "upwards of 10.9mn mt" in 2016 compared with the projected 9.6mn mt/yr, Gazprom said; while the freezing Yamal winter also helped liquefaction at Novatek's plant. Output was 9% higher than planned, at least for the first few months of operation.
Benefits of the NSR
LNG cannot be shipped eastwards to Asia through the Northern Sea Route (NSR) at present between November and June without icebreakers. But a trans-shipment depot at Kamchatka would allow for storage in summer and onward shipment from conventional tankers in winter, depending on the size of the storage.
However, Russia's state-owned nuclear icebreaker operator Atomflot is planning to make more such vessels in order to keep the eastern part of NSR open throughout the year.
Taking a cargo from Sabetta to China, South Korea, or Japan takes two weeks using the NSR but over a month going through the Suez Canal, MOL Europe & Africa commercial manager for LNG and offshore, Kota Okada, told NGW in an interview in March; and Asia is less than a week's sailing from Kamchatka.
The NSR is strategically very important to Russia as it leads to the Far East; a logistics base at Kamchatka could support the transport of other goods from Russia to Asia as well. But the focus for now is on LNG: Russia wants to increase LNG exports as fast as possible, as it is strategically important, MOL says.
In February 2018, MOL signed an MoU with the Far East Investment and Export Agency, part of the ministry for the development of the far east, obliging the two sides to co-operate with each other in the development of the NSR and the Russian Far East.
This explains Moscow's immediate and substantial support for the Yamal LNG project when sanctions were imposed – mobilising state Sberbank funds and investing in Sabetta port construction – allowing the project to remain on time and budget.
While other projects in the world are focused on a certain rate of return and conventional economics of gas production costs and netbacks, for Russia the overriding aim is relationships – especially with China, South Korea and Japan – and the strong strategic position these relationships may bring.
MOL is also thinking about the hydrocarbon resources under the Arctic, some of which arguably belong to Russia although there is no convention yet on dividing up the spoils under the ice (see Mastery of the Arctic).
Experience and relationships gained from shipping would stand MOL in good stead if these resources are ever to be developed. Russia's own upstream activities in the Arctic need foreign technology which is now prohibited by sanctions. US major ExxonMobil decided last year to abandon its Kara Sea project, where it partnered with Rosneft, leaving the latter without the means to produce oil and gas from the one well they drilled.
MOL already has a relationship with a Chinese operator: it shares the Yamal LNG fleet, which will have three Arc-7 icebreakers and four conventional tankers, with Cosco Shipping. Arc-7s break the ice by going stern-first, which is where most of the vessel's weight is. The tankers go through ice up to 1.5m thick at over 5 knots, but can still move through it even when the ice is 2.1 metres thick.
MOL's first MOL Arc-7 tanker Vladimir Rusanov was built at a cost of $350mn, Okada said, and has completed ice testing in the Kara Sea in March. After the hull was inspected for signs of stress in the Sea of Murmansk, it sailed to Sabetta to collect the first cargo.
Ice Trials of "Vladimir Rusanov" – MOL/CS's First Arc-7 (Credit: MOL)
MOL is to receive another vessel in September 2018 and the third Arc-7 a year later, all from the DSME yard in Korea.
Fluxys' 180,000 m³ LNG storage and trans-shipment tank at Zeebrugge will be complete and on schedule next year, a year after Yamal LNG started although it is not apparently being delivered late. In the meantime Yamal LNG tankers can use Gate in the Netherlands, Montoir on the French Atlantic coast or Grain LNG in southeast UK, for trans-shipping or for injection and withdrawal from land-based facilities.
Sovcomflot was to have built a number of tankers but sanctions hit the project, so in the event, it built only the Christophe de Margerie, named after Total's previous CEO who drove the French company's Russia strategy. Conventional LNG tankers have four engines; Arc-7s have six, giving them 50% more power when needed – for ice-breaking, not in open water, when they are not used – plus azipods.
Designed by ABB, they allow the propeller shafts to be swung round: the heavy stern is what breaks the ice so they need to turn round. That also means two bridges and more officers: there is a crew of 35 for ice-class, normally it is less than 20. The tough operating regime – temperatures are often below -30C and sometimes reach -50C – means more equipment; and therefore more engineers are needed to service it. There is also a lot of redundancy as equipment cannot easily be dispatched from shore when the tanker is cutting through ice, and so also needs to be carried around.
MOL works with port operator Rosmorport, which controls the majority of Russia's harbours and has experienced ice pilots for ice navigation and MOL contributes to the cost of training its crew, who are MOL employees, Okada said.
Before Yamal LNG there was not much demand envisaged for Arctic vessels, although nuclear vessel operator Atomflot has helped train crews in ice navigation. MOL is also required to help the development of Polar Water Operations Manual, which is one of the requirements under the Polar Code, he said.
If Arctic LNG 2 goes ahead, that will need new vessels. The 18.3mn mt/yr plant, yet to be approved, is to come on line in stages, from 2022-2025.
By that point, the hope is the eastern sea route will be open for longer but also there will be more nuclear icebreakers. As things are, less and less ice forms each year – this has been noticeable even over the last decade – so this could be feasible, he said.
Vessels that service output from Norway's Snohvit LNG plant are not designed for ice as it does not form in the Barents Sea along Norway's northern coast, but Yamal LNG could sublet its own tankers to them if needed for using the NSR; or conventional tankers for
Snohvit could pay Atomflot an escort fee. Arc-7 tankers, being icebreakers, do not require an escort, he said.
Traders at London's IP Week gas panel last month took the view that the start of Yamal trade into China this summer could herald a new dynamic in summer supply fundamentals, with Vitol's head of LNG Pablo Galante Escobar suggesting it could lead to weaker summer prices once shipments start arriving in the Asia-Pacific market 14 days after leaving the Yamal LNG complex (NGW Magazine, Vol.3, Issue 5, p20-22).
William Powell