[NGW Magazine] Shell, BP Grow India Market
Capturing a growing share of downstream demand is one way to offset the thinning margins available to producers from a fiercely competitive wholesale market. India, with its huge potential, is a case in point for Shell and BP.
Anglo-Dutch major Shell is planning to capitalise on the rising demand for gas in India by expanding in the downstream LNG space. It is mulling building an LNG truck loading facility at the Hazira terminal in the western state of Gujarat.
"Shell is keen to participate in the Indian gas market and we already have a position in the Hazira LNG terminal. The Hazira JV is exploring options to build a truck-loading facility at the LNG terminal and we hope to build upon our existing DLNG expertise to meet future Indian customer demand," a Shell spokesperson told NGW via e-mail, without providing details of the costs involved.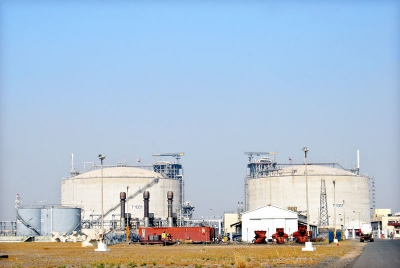 Hazira LNG & Port (Credit: Hazira LNG Private Limited)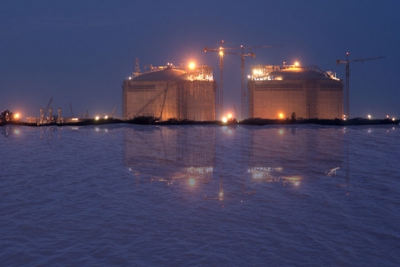 Hazira LNG & Port (Credit: Hazira LNG Private Limited)
In a country like India which has inadequate pipeline infrastructure, using trucks to supply LNG to end-users, especially smaller ones not connected to the grid, makes a lot of sense. China, where demand for gas is expanding too, has seen significant increase in popularity of distribution of LNG by trucks. The technology also exists for partial offloads from trucks, following experiments in Poland carried out by the dominant gas supplier PGNiG.
Shell Gas, a unit of Shell, holds 74% stake while Total has the rest of the joint venture that operates the Hazira terminal, which is now connected with the Hazira-Vijaypur-Jagdishpur line (HVJ), the Dahej-Uran pipeline (DUPL), the Gujarat State Petronet (GSPL) transmission system; and east-west pipelines.
BP, on the other hand, is pursuing opportunities for LNG imports into India through India Gas Solutions (IGS), its gas marketing venture set up in partnership with Reliance Industries. IGS will be flexible towards the model it adopts in importing LNG into India, whether it books capacity in one of the terminals or goes for swap deals. At present, IGS administers the existing gas sales contracts to customers for production from the KGD6 block.
The company also has focus on infrastructure to accelerate transportation and marketing of natural gas within the country. IGS has signed a memorandum of understanding with the state of Andhra Pradesh so that both parties can increase the utilisation of gas in the state where R-series and gas from the follow-on projects come ashore. "As the gas market develops and a gas hub is set up, customers will not be concerned about whether the gas being offered is from a domestic field or imported as LNG - just like it is irrelevant whether domestic or imported crude was used to make the petrol or diesel for your car. IGS aims to offer greater reliability of supply to customers by offering gas from a portfolio of domestic gas and LNG in this scenario. IGS will flexibly choose the model which best meets the customer needs," BP told NGW in April.
BP and Reliance have since then taken final investment decision to develop Krishna Godavari satellite cluster offshore, which they expect to add 1bn ft³/day to their marketing portfolio by 2022.
LNG as transport fuel
There has been a lot of discussion on LNG as transport fuel in India, especially for long distance trucking, given the focus on clean energy to tackle air pollutions. The present Indian government has been pushing hard to increase the share of natural gas in the overall energy mix and transport is an important area of focus.
Last year, the government formally announced that LNG can be used as an automobile fuel. Before making the formal announcement, India's first pilot project of an LNG-fuelled bus was launched in November 2016 by the country's oil minister Dharmendra Pradhan in the southern Indian city of Kochi.
LNG trucking can mean two things: LNG-fuelled trucks; and trucks carrying LNG. Shell is eyeing both. "We are exploring both segments for the Indian market. The overall size of the Indian transportation fuel market is quite significant, estimated at about 100mn mt/yr of liquid fuel demand, with 300,000 new trucks added to Indian roads every year. Accordingly, there is a sizeable opportunity for LNG as a transportation fuel even if a fraction of the segment converts to LNG as a fuel," the Shell spokesperson said.
According to Shell, today, transport accounts for 28% of global final energy demand and 23% of total global greenhouse gas emissions; half of transport relates to heavy duty trucks and marine fuels. "Switching heavy-duty vehicles to LNG diversifies the fuel mix and can help reduce harmful air pollution. LNG's development as a successful fuel option will depend on the right regulatory framework, infrastructure development and a good business case for customers to invest in new vehicle technology, engines and/or modifications to their existing fleets and vessels," the spokesperson stated.
BP said: "For transportation, there is a need to create an eco-system where using CNG and LNG for transportation is not just economic but offers a good customer experience. With the growth of renewables in power, the need for using gas as a bridging fuel will emerge over time."
City gas distribution
The Indian government has mapped out a vision to expand the share of gas in the country's fuel mix from the current level of 7% to 15% by 2022. The densely populated eastern states of India have traditionally seen low gas use per capita because of a lack of pipeline connections and the lack of LNG terminals on the east coast.
State-owned Gail is now building an ambitious 2,655-km Jagdishpur-Haldia-Bokaro-Dhamra Natural Gas Pipeline (JHBDPL) project. In addition to supplying gas to industries, the pipeline will also provide clean energy to households in some of the biggest cities in east India. The city gas network-laying activity in Varanasi, Bhubaneswar, Ranchi and Cuttack has already started and activities in other cities, Patna and Jamshedpur, will start soon. Recently, Indian government invited bids for city gas permits across 86 more cities and districts. The bidding process is expected to be completed by July while the fields will begin commercial supply by March 2020.
Shell believes future gas demand growth in India is largely underpinned by industrial and city gas distribution (CGD) projects. "The Petroleum and Natural Gas Regulatory Board of India has recently initiated the ninth round of CGD projects bidding, expanding the coverage to 156 new districts. Such initiatives will help accelerate plans to triple the reach from the current 3mn to 10mn connections. LNG already accounts for about 50% of India's gas consumption and will continue to grow further as the demand expands," Shell said.
BP too believes that gas should be preferred to liquid fuels in all sectors. "In industry, we need to rebuild the confidence of the customers that gas will be a reliable and competitive source of energy. City gas offers large potential and needs an aggressive push to create the distribution network," BP said.
Import capacity grows
The Hazira LNG import terminal began operations in 2005 with a capacity of 2mn mt/yr which was increased to 3mn mt/yr in 2008 and then to 5mn mt/yr in 2013. There have been reports in the last year that the capacity is likely to be increased further. There seems to be no clear timeline as to when that will happen. "An investment decision on expansion of the terminal continues to depend on market depth and commercial viability," Shell said.
Last year, Shell dissolved the joint venture for an LNG terminal that it was planning with consortium partners at Kakinada on the east coast. Asked if Shell has dropped the idea of participating in any new terminal project in India in the foreseeable future, it said: "Shell believes that India holds the potential to be a major market for LNG and we have been, through our involvement in the market for over two decades, pursuing a number of growth opportunities including the LNG receiving terminal at Hazira. We would consider investments further downstream based on the attractiveness of the opportunity and fit with our strategy."
Unlike Shell, BP is not part of any terminal business in India. However, the company is open to the idea of being involved in this business. "IGS is the vehicle to pursue LNG imports. IGS continues to evaluate opportunities in LNG terminals which can offer a sustainable competitive advantage," BP said.
Shardul Sharma