[NGW Magazine] Russia takes a hit for TurkStream
Russia's need to get at least TurkStream 2 built could make it vulnerable: it also wants to retain a presence in Syria, while Turkey's goals are different. So far though Russia has given way.
Turkey's pre-emptive invasion of Syria led to a diverse international response. Iran – Syria's major patron – and the US oppose it, but Russia's seeming acquiescence is surprising – at least at first glance.
Indeed, the conflict created serious problems in reaching a compromise between the different Syrian factions and winding down the conflict. It also undermined Moscow's credibility as a Damascus' defender. But Russia's response shows its determination to succeed with its gas export plans, in which Turkey is a key ally.
When the Arab Spring erupted, and civil war overwhelmed Syria, Turkey saw the chance to extend influence in the Middle East at Iran's expense.
Al-Assad's Alawite regime was Iran's proxy and in pursuing his goal, Turkey's president Recep Tayyip Erdogan was ready to embrace even Isis as allies. One could also assume that Isis received supplies and possibly weapons from Turkey. Washington turned a blind eye to this as it shares a goal with Ankara: ousting Assad and weakening Iran.
When Russia's apparent military engagement in Ukraine started in 2014, the US and many other Western countries imposed strict sanctions on it. The watershed year of 2014 marked the end of the long post-Cold War era, when Moscow could still regard the West, including the US, as its partner.
As the relationship with the US reverted almost to Cold War levels, the relationship with Tehran predictably warmed up and Moscow delivered to Tehran S-300 missiles.
Moscow also decided to follow Tehran in engaging in conflict in Syria. And here, Putin's foreign policy needs to be assessed. Western, especially American, mass media tended to present Putin as the fanatical dictator who was anxious to restore the former USSR or the empire of the Russian tsars at all costs.
But Putin is much smarter and flexible than the US elite, and he can draw on the collective savvy of Moscow's elite whose interests he must balance.
These groupings assess their capabilities realistically and they do not share the illusion of the people in Washington, who still believe that the collapse of the USSR was caused by superiority of the entire American socio-economic and political system.
Moscow did not believe that it was the capital of a superpower. At the same time it saw US problems rising. Bogged down in Iraq and Afghanistan and in absolute economic decline, the US has allowed Moscow to increase its influence and attempt at least a partial return to its Soviet-era dominance, including in Syria, where it had established a military base.
Still, as the situation unravelled in Syria, Russia's position was under threat and the collapse of the Assad regime could lead to Russia's expulsion from its bases. In addition, Moscow had no illusions about a stable democratic government in the post-Assad era, and imagined the transformation of most of Syria into territories controlled by Isis or similar forces.
As well as being winnable from the Russian perspective, and necessary, the war also had other benefits: it provided an opportunity for testing Russian weapons. All these considerations led Moscow to engage in the fight on the side of Damascus and implicitly Iran. The engagement led to increasing tensions with a variety of anti-Assad forces, including Turkey, whose relationship with Washington and Europe had been declining for a long time.
Still, Russia's engagement implied that Assad could survive and Iran increased its influence at Turkey's expense, just as Ankara was toying with neo-Ottomanism and its national role as a bridge between between Europe and Asia.
The conflict between Ankara and Moscow took a dramatic turn in 2015 when Turkey shot down a Russian plane. Moscow ended all trade with Turkey, imposed an embargo on Turkish foodstuffs and created problems for Russian tourists, which hurt the Turkish economy.
Despite everything, Moscow thought about a future rapprochement: it liked Turkey's antagonism of the US and the worsening relations between the two, as it was bad news for Nato. In 2017, after an unsuccessful coup, the purge of the armed forces intensified, and Ankara officially announced that the plot had been inspired by Fethullah Gulen, a Muslim cleric and politician who lived in the US, which refused to deport him.
Second, Moscow needed Turkey to arrange Russia's disentanglement from the Syrian war. Unlike the US, it could agree to share influence with several players in the region if the Kremlin's interests were respected, such as safe Russian military bases.
Once it became clear that the Assad regime and the Russian bases would survive, Moscow wanted de-escalation and a peace arrangement, in which Syria would be, in a way, divided between various players, de facto if not de jure. By contrast, Tehran wanted Assad to control the entire territory of the country, which it could then control through him.
The desire to find an acceptable solution to the Syrian crisis required Turkey's participation. Moscow also assumed that Ankara would understand that the dream to oust Assad was not realistic, and Ankara would cooperate with other players. Third, Turkey was most important to the construction of TurkStream.
TurkStream and the Russo-Turkish détente
Gazprom rolled out plans for the TurkStream project in December 2014 to replace the ill-fated South Stream project, which was abandoned by Russia in the face of EU opposition. Initially, the pipeline was going to consist of four strings capable of pumping up to 63bn m³/yr to Turkey and Europe, but its capacity was later halved.
Despite the downing of a Russian plane over the Turkey-Syria border, Moscow did not proclaim the project dead. Its position was, in many ways, conditioned by the situation with a similar project – North Stream 2. It soon became clear that the project faced stiff resistance in Brussels. The Kremlin is cautious. Consequently, TurkStream acquired a new importance as a viable alternative. Turkey, being outside the EU and having tense relations with Washington, was an asset to Russia as it could display independence of thought. This provided the Kremlin with an incentive to forget about the incident with the plane soon enough, and to be satisfied with a formal apology.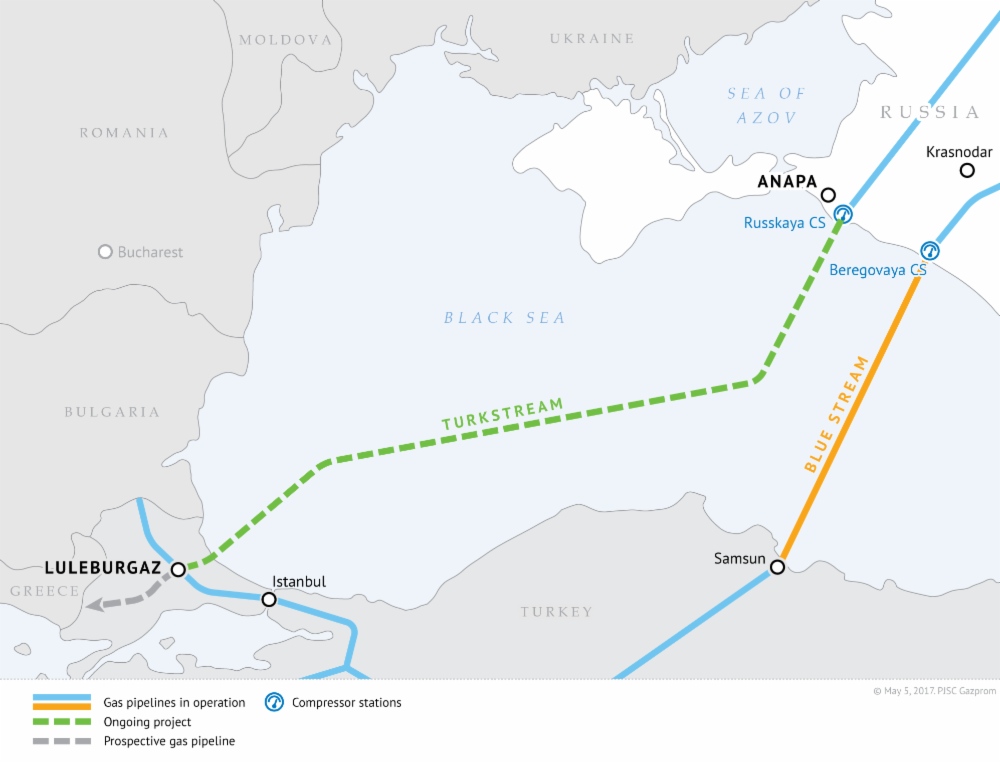 TurkStream map (Credit: Gazprom)
Trade restrictions were lifted, and Russian tourists once again populated the beaches of Antalya. Ankara also decided to play Moscow against Washington, and possibly Tehran, and thought Russian gas would provide Ankara with flexibility to choose a gas supplier. Consequently, it finally provided the green light for building TurkStream. Moscow sped up construction, in case Turkey changed its mind.
When the offshore work started, Putin was present in the Black Sea and called Erdogan to congratulate him on launching of the project without bureaucratic delays. Here Putin, of course, contrasted Turkey with the EU, which had created problems with North Stream 2. He also needed to butter up Ankara so the process of laying gas lines on the seabed went on unimpeded. The S-400 deal was the most obvious sign of Moscow's benevolence.
S-400 deal
Russia was able to keep the USSR's military-industrial complex and research base going even in the 1990s. During Putin's tenure, Russian military hardware was able to catch up with the West and even overtake it in some instances, such as the anti-missile S-300.
The US and Israel were anxious to prevent these weapons going to Iran, which had bought some, as they would effectively protect Iran from an Israeli or American strike against Iran's nuclear sites. Russia later cancelled the deal. It was only after the 2014 crisis with the West that the S-300s were finally delivered to Iran. In the case of Turkey, the situation was different. Not only was Moscow willing to sell Ankara the more advanced S-400s, but even provided credit. While trying to please Ankara, Moscow became quite forgiving in dealing with Ankara's transgressions. This was, for example, the case with the Idlib incident.
Idlib incident
Turkey joined Russia and Iran in dividing Syria between them while retaining al-Assad in power. This did not suit Iran but it could do little by itself. Each side had its own area of responsibility. Idlib province was allotted to Turkey, where it sponsored the Free Syrian Army (FSA). But on January 6 a drone attack was launched from Idlib against Russian bases in Khmeimian and Tartus. Moscow downplayed the episode and did not blame Ankara. At the same time, the Russian press reported that TurkStream was still laying down pipes along the bottom of the Black Sea.
Moscow also abandoned any support for the Kurds, which had supported them since the Soviet era. Ankara made it clear that TurkStream would get through and the gas terminal for accepting gas would be built. Moreover, Turkey announced its permission for the other gas lines of TurkStream, at exactly the same time as the beginning of the Turkish assault.
In another milestone for TurkStream, Gazprom announced in a separate statement on January 19 that it had secured all the necessary permits for the pipeline's second string through Turkey's territorial waters and exclusive economic zone (EEZ). Turkish authorities approved the offshore stretch of the pipeline's first string in 2016.
This permission was extremely important for Russia. Indeed, the first string of TurkStream was designed just to provide gas for internal Turkish consumption, whereas the second string could provide gas for export to Europe. Moscow struck a cautious note here, that Russia would not extend the second string to Europe until it had an iron-clad guarantee.
Gazprom CEO Alexei Miller has repeated that both of TurkStream's strings would be running by the end of 2019. Speaking at a press conference however, Russian foreign minister Sergei Lavrov cast doubt on whether Russia would go ahead with the second string, designed to deliver gas to Europe. "The second [line] will only be constructed if we receive ironclad guarantees from the European Commission that they will not pull the same trick as happened with the South Stream regarding Bulgaria," he warned. South Stream, which would have made landfall in Bulgaria, was cancelled after the EC ruled that it violated procurement law, prompting Sofia to halt all work on the pipeline.
Russian foreign minister Sergei Lavrov (Credit: The Kremlin)
Lavrov also alluded to a recent initiative by the EC which he said was aimed at blocking another Russian pipeline project to Europe, Nord Stream 2. In November last year, the EC proposed that bloc energy law should be applied to all gas pipelines entering EU territory. "Rather dirty play, of course, but hopefully the purely economic nature of the project, and the fact it is supported… by leading European energy companies will still prevent these dishonest games from getting the upper hand," Lavrov said.
Still, the opportunity exists. Nearby Athens has a deep-seated grudge, against both Brussels and Washington. The same could be said about Budapest. It is not clear that both Washington and Brussels could muster enough pressure to stop them, not just from buying Russian gas – nothing viable could be offered as replacement – but to move the gas line to the Austrian border. Bulgaria also seems to have changed its mind and is ready to take advantage of TurkStream.
Thus, Russian gas could reach central and western Europe along the "Turkish road." One might remember here that the Turkish army reached the walls of Vienna by the end of the 17th century. The Ottomans were finally defeated by a European coalition. It remains to be seen whether Brussels could repeat this feat and repel a Russian gas "army."
Dmitri Shlapentokh